How Two Comedians Made It Work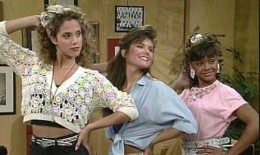 Bob and Tobly McSmith are the two New York-based comedians behind the raunchy off-Broadway hit Showgirls! The Musical! and its natural predecessor, Bayside! The Musical! Grace Bello profiles the pair for Narratively, where Bob and Tobly talk about their early days in the East Village, where they got started holding down day jobs and spending their nights in dive bars doing boundary-crossing comedy performances (think peeing your pants onstage).
In 2004, the pair moved into a two-bedroom apartment on Avenue B in the East Village and "slowly went insane together," says Tobly. At this point, they both had entry-level day jobs in Midtown. However, most of their money went towards alcohol. "I'd walk to work, eat off the dollar menu, walk home, immediately start drinking," says Tobly. Like many young, broke twentysomethings in New York, they thought they might try comedy or start a band. Except that these two followed through with their "drunken ideas," as Tobly puts it.
…"We both had those day jobs, too," she says. "We would go and throw up on each other and then show up at nine a.m. the next day at work and try to be normal."
When they started to find success from their first musical, Tobly used earnings from her day job to help fund the production. "'I put my whole life savings into it. And that wasn't trust fund or family money; that was money I had saved,' she says. 'That's putting it all on the line and believing that it will work.'"