Get Thee to a Ruby Tuesday's if You Have Any Pity Left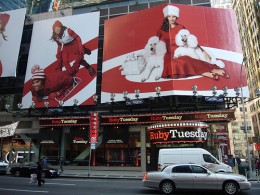 I don't know what in the world led me to be reading about the financial fate of Ruby Tuesday's and Red Lobster on this fine Friday afternoon, but there it is. The name of this article is "Ruby Tuesday is Doing Even Worse Than Red Lobster" (LOL) and I am kind of in love with it, especially the first sentence:
If you think Darden Restaurants (DRI) is struggling to get Red Lobster back on track, just imagine how much harder things must be for Ruby Tuesday.
Wow, burn. My grandmother and I happen to love the salad bar at Ruby Tuesday's, but I guess that doesn't mean much to reporter Rick Munarriz, who reports RT's third quarter losses with a suspicious level of editorializing.
Nevertheless and despite a last-ditch effort of adding breaded chicken strips in November (too little too late, RT), Ruby Tuesday will be closing 30 of its 779 nationwide restaurants in the coming months, so now is your chance to get in there and show your support.
If the phrase "pretzel bread" does anything for you, you might be in for a nice surprise:
Ruby Tuesday and Red Lobster are taking their fading popularity seriously. Red Lobster's plan was to add more non-seafood dishes to its menu in late 2012. Ruby Tuesday's been trying to mount a comeback by introducing pretzel bread burgers and flatbread pizzas at single digit price points.
It's not working, even though Ruby Tuesday is trying to argue otherwise.
When the fall that's all that's left, Rick, it matters a great deal.
Photo: matt hutchinson