A Day in the Life of a Sex Researcher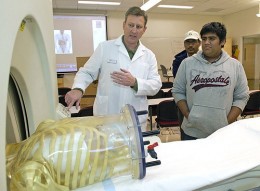 Nan Wise collects orgasms for science! And has written about it for the Atlantic:
As I drive the five miles from my house in suburban New Jersey to Rutgers University Brain Imaging Center, I take a mental inventory of my data. So far, I have collected 13 self-stimulation orgasms but only 6 orgasms brought about through partner stimulation. The goal is to have an equal number of both.
I feel the familiar wash of anxiety about to launch me into the low-level panic typical of a graduate student in her dissertation year. Except I am no typical graduate student — I am a 56-year-old sex therapist turned cognitive neuroscientist whose day job is to study the human sexual response, and my dissertation is on genital stimulation and female orgasm.
Nan Wise's study involves studying the brain pattern of subjects who agree to masturbate with a dildo inside of an MRI machine! Wise is in charge of analyzing the data, making the subjects feel comfortable, making sure the technical details of the test are executed correctly, and putting clean sheets on the scanner table. She was also of course, the test's first subject, wherein she tucked a Xanax in her bra and then accidentally lost control of the dildo and sent it flying across the room. So there is that!
I mean, god bless Wise's vagina science, and her style, though I'm not sure how much money you'd have to pay me to get into an MRI machine with a dildo. All human money?
Photo: COD Newsroom