A Conversation with a Photographer Who Earns $50,000 a Year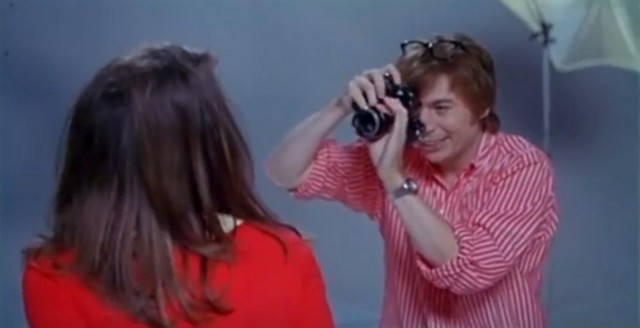 Mike: How old are you, where do you live, and what do you do?
Grant: I'm 28, live in Chicago, Ill. My fiancée and I just moved to a neighborhood called Logan Square last weekend. I am a photographer.
Mike: How long have you worked as a photographer?
Grant: Really only since April when I was hired at the company I am currently at. I went to college to study photography and I remember loving it since I got my first camera from my grandmother in middle school. I've been doing random odd jobs for people in photography since I was in high school.
Mike: How much do you currently earn as a photographer?
Grant: $25 per hour, and I typically work 40 hours a week.
Mike: So about $45K to $50K a year, you'd say?
Grant: Yeah, or there abouts. We (my fiancée and I) try to photograph weddings, events, families, or anything else on the side to supplement our incomes as well.
Mike: So your fiancée is in the business with you?
Grant: Yeah, well I have always been doing random jobs, but starting last year or so we have been working together to try to take the business side of that a little more seriously and market ourselves a bit — business cards, newsletters, networking etc. She has really stepped up into a studio manager role, essentially handling all the nitty gritty of the business for us. We really complement each other in that aspect of the business so it's particularly nice.
Mike: Does she earn as much as you?
Grant: No. Which is why it's nice to have the extra income from the photography business. We have lived together for two years, so we have kept our accounts separate, but I'm sure down the road we will combine things to make managing our accounts easier. We got engaged about three weeks ago.
Mike: Congrats!
Grant: Thank you!
Mike: Do you talk about money with your fiancée?
Grant: We haven't really gotten to discussing shared accounts in full detail yet. We got engaged, had friends from out of state visit, and then last weekend we moved, so it's kind of been a crazy month. However, we regularly talk about money with each other. She is much wiser with her money than I am.
Mike: How so?
Grant: She makes ends meet on a tight budget without too much stress, whereas I tend to give up and just ignore my problems until they manifest into something worse.
Mike: What does your housing situation currently look like?
Grant: We live in a two-bedroom, one-bath unit on the first floor in a three flat. It's $1,075 a month with all utilities included (water, heat, gas, electric). The place we moved from was $1,395 with only water included, and if we would have stayed this year they would have wanted $1,485.
Mike: I'm very jealous of that rent.
Grant: I've never been to New York, but I heard rent is insane.
Mike: It depends on where you live, but I live in a studio apartment and pay $1,600 a month.
Grant: Christ almighty.
Mike: I KNOW. But honestly, that's pretty good for my neighborhood.
Grant: So, I lived in a studio in roughly the same neighborhood as the $1,485 place and it was $765 a month. That was a few years ago, but there are still places like that available here. That studio was half a block from Lake Michigan on the north side of the city.
Mike: What do your other living expenses look like in terms of utilities, groceries, entertainment, etc.?
Grant: I work about 60 miles from where I live, so I spend about $80 in gas in my truck a week at roughly 25–28 miles to the gallon. So, I budget about $450 a month in gas and I'm usually under that.
• $150 for insurance for the apartment and truck.
• $170 for both of our cell phones
• $180 for my student loans
We spend anywhere from $100 to $250 per person per month in food. Since we live together, we make sure that the shared costs are as equal as possible. Usually we try to keep the shared budget for food about $200. I make the minimum payment on my credit card which is $30. There are a bunch of random expenses as well. Its about $20 a month to keep our website up for the business which I pay for. We have a cat and he tends to eat too much so I budget $15 for him each month.
We typically try to keep entertainment costs as low as possible, but being the summer and living in Chicago we end up going to bars and seeing shows. I budget about $180 for shared entertainment expenses and then I track my own personal entertainment expenses separately. As low as $100 for personal fun which includes fast food (which I have a weakness for), music, or whatever else I want to buy — typically my personal entertainment spending is where I have the biggest problems. Oh and although lately we have been trying to keep it to a minimum we almost always spend $50–70 a month on craft beer. Damn craft beer always ruining my budget.
Mike: Haha. Well, beer is often necessary. So you would consider yourself a "budgeter" then?
Grant: Until recently no. My soon-to-be wife is a good influence. She got me to start using mint.com more religiously since everything I spend is on my check card anyways. When I got this job I started noticing that even though I was making $25 an hour vs. the $12 an hour at my last job, I was still broke all the time. That kind of woke me up towards needing to budget a bit more even if it was going to be loosely.
Mike: What does your debt situation currently look like?
…that's also kind of depressing going to school, studying for four years, taking out all these loans, spending all this money and working the same job you had before.
Grant: Yeah, well I kind of forgot to talk about that in my budget. When I was going to school I opened three credit cards which I am gradually paying off. I haven't started paying off the two with the bigger balance yet, but in September I will have made my last $182 payment to close the smallest card.
Also, I was living in Milwaukee with a friend for a while where my rent was — don't have a heart attack Mike — $438 a month. I moved out of MKE to be with my now fiancée and through a series of events was promised an $80K a year job which was then taken away from me a day before I was scheduled to move back to Chicago to be with my girl. So, when I moved back I didn't have a job at all and I racked up a bunch of parking tickets when I first started living back here. Because a standard Chicago ticket is $50 and doubles in 14 days, before I knew it I had about $5,000 in tickets owed and my car was booted. I'm finally down to about $800 left and the monthly payment on that is $60. SO, I have about $7,000 in those two bigger credit cards left, $800 left to City of Chicago, and my student loans are around $10,000 left. I own my truck.
Mike: And you're also self-employed and have to set aside money for taxes?
Grant: Well, my day job is through a large company — that is business as usual. As far as our photography business goes, we will probably have to deal with that this year, where in the past I have not made enough money to bother. At least I hope we make enough with the business to have to pay taxes.
Mike: You had to take out a few loans for college — did you pay for college yourself?
Grant: I did take out three separate loans. My mother and stepfather are very good with their finances and helped out a ton with college. I worked about 20–30 hours a week at around $11/hour during college to supplement my situation, but they also gave me a monthly amount which changed over the course of my college career to be able to live in the city and go to school. Between my grandmother, mother/stepfather, and father/stepmother they all paid for the remaining balance aside from my $10K in student loans. I think the idea was that I understand the severity of the cost of the school, but also that I not leave college and have $60,000 in loans as some young adults do. And to be honest it's kind of rare to have a good decently well paying job in photography. For a long time during and after college it was $10–12/hour. And that's also kind of depressing going to school, studying for four years, taking out all these loans, spending all this money and working the same job you had before.
Mike: Which is pretty typical for a lot of young people today, unfortunately.
Grant: The first job I ever had was selling house paint at a retail location. I made $7 an hour. After working there on three separate occasions and most recently right before I got this job for a total of 9 years, I was still making $12.42 an hour. I remember being very depressed that I had the same damn job I did when I started working after college.
Mike: How did you change that? Meaning, how did you figure out how to earn more money?
Grant: Well, after going through two jobs and not being happy with them after I moved back to Chicago, I applied for an opening at the paint store and when they told me they wanted me back, I asked for more money. And even though it wasn't using my degree, I was trying to move up within that company. Being in that business — or for that matter any business right now I guess — it's difficult to compete with a slew of other people in the workforce that have as much or more experience than you do. So I was applying at the paint store for a manager position which would've been about mid- to low- $30K per year. During that time I also was in touch with a friend whom I did some side photography work with and who had been hired at the company I am at now. She advised me of the upcoming position and basically got me the job by vouching for me. I had been going through the vetting process with the paint store for the manager position and they called maybe two days after I got the offer from my current job saying that I didn't get the paint store manager position, after all. I didn't tell the hiring manager, but even if she wanted me, I wouldn't have taken that job, which is kind of satisfying.
Mike: Do you have savings goals? Do you save for retirement?
Grant: I do have savings goals, but I haven't been able to bring them to fruition yet. Getting rid of my debt is my first priority, although when I am in a better position financially speaking I will try to start saving (photography equipment is insanely expensive). I have worked for a few companies that offered a 401(k) but I ended up taking out the money I contributed when I first moved back to Chicago to fund my expenses. Currently, the company I'm working for has a PST. It's like a 401(k) but there is no employee contribution. They just give you money to invest in retirement at the end of the year based on the profits of the company. I've only been here four months, but I'm really looking forward to that benefit.
Mike: What about benefits like health care?
Grant: Until recently I've been without health care for a long time. My current job does however offer a pretty great plan which costs me about $45 a month. I couldn't tell you the last time I've been to a doctor though. My fiancée hasn't had insurance in a while though and could use it. We are looking forward to when I can provide that for her through my job. As far as saving for emergencies and such related to health care, we always take them as they come.
Mike: Are you and fiancée thinking about saving for a house?
Grant: We'd like to. I always thought that a house was an unobtainable goal, but I began looking a few months back when our lease was going to be up. I forget the calculations, but I realized that what we are paying in rent would get us a pretty decent house or even save us money. Granted, you have to have a down payment for it. I'd like to be seriously in a position to consider buying a house as an option in two or three years.
Mike: So does that mean you're starting to save for that down payment now?
Grant: To be honest, no. We both have been in "make it work" mode for basically as long as we can remember. Since we had to put a security deposit down this month, we're both broke. But starting in September, with our lower rent, it will save us each at least $250 a month. I know for me I'd like to use some of that to reduce my total debt, improve my credit rating and eventually save for a down payment. I don't really like to think of things this way, but I expect that when we actually have a wedding, my family, as generous as they are, will probably give us some amount of money. Even if it's a small amount, we don't plan on spending a lot on a wedding. Hopefully we can use something like that to build our savings together.
Mike: Are you planning on paying for your wedding or will your parents be helping with that?
Grant: We haven't really discussed it yet, but we are planning on a very small ceremony and just having a big party for everyone to come to for the wedding. My friends recently got married and are having a party this month much in this same fashion. They brewed all their own beer for the wedding. I'll probably steal that idea and enlist his help to do it. Also, there will be grilled animals there. All in all, I expect I would be able to pay for the whole thing if we don't get help. We are not the kind of couple that will spend $60,000 on a wedding. I made my fiancée's ring out of purpleheart wood.
Mike: Hey, some people decide to just get married at City Hall and call it a day.
Grant: We are very much about making it our own.
Mike: What was it like for you growing up?
Grant: My mother and father got divorced when I was three. One of — or if not my earliest memory — is of the day my father left. I was sick and just extremely upset. For a long time, we did a shared every-other-weekends thing. I lived with my mother in a suburb of Chicago. She was a single mom. I always felt extremely loved. My dad always wanted to see me, but it was a pain to go back and forth. So for many years, I'd spend two weekends with him a month. When I was about 13 they both remarried. I love all four of my parents, though it makes holidays complicated to have four of them.
When I was growing up with my mom, we lived very modestly. She did a great job of taking care of me. When I was with my dad on the weekends, he would always spoil me — I remember many times going to the toy aisle for a Hot Wheel car, or some other toy. I would probably get some sort of new thing from dad almost every weekend I spent with him.
I think that was really generous of him and I'd probably want to do the same for my son, but I think it kind of ruined me. I still crave new things all the time — I'm a total consumer whore. When I started working and was living with my mother and stepdad, they really tried to teach me about finances. They gave me an allowance before I worked and taught me to save. I remember saving and paying for my first computer: It was $1,600 back then, and I was maybe 14 or 15. When I was in high school, I really wanted a cool car. They had given me the car my mother bought when it was just her and I living together, but I wanted something special. So, they urged me to save my money and helped me with matching my savings and eventually helped me get a small loan to get the car and establish my credit in the process.
When I saw that Dunkin' Donuts and an Italian beef place by my old job got about $400 every month of my money it was kind of a wake up call.
Mike: Do you think your parents taught you good financial habits that you use today as an adult?
Grant: My mother and stepfather were always very responsible and definitely lead by example. My father … not so much. I am like him more than I am my mom in a lot of ways. Good and bad. Despite having a good financial mind, they never butted in on my finances when it came to the money I earned or what I did with the money I saved. In some ways, I wish they had since I for whatever reason seem predisposed to be bad at spending my money.
Mike: Well, besides craft beers, what are you spending your money on?
Grant: A lot of times it's just using the money to live a lifestyle that isn't my own. We go out to eat at a nice restaurant, I spend too much at a bar, I buy whatever new thing I want — a new phone, or records or whatever. I also have an old Ford pickup in addition to my everyday car that I got on the cheap which I am slowly restoring. So I spend some of my extra money on that, but mostly, at the end of the month when I'm broke, I have nothing really to show for it, which is pretty irritating.
Mike: But you also mentioned that you're starting to use Mint and think more about your money, so you're taking active measures to change some of these habits?
Grant: Oh, absolutely. Mint is good. When I saw that Dunkin' Donuts and an Italian beef place by my old job got about $400 every month of my money it was kind of a wake up call. I still have a tendency to urge my fiancée to go out and get beers, or order takeout, and I often pay for those. I feel like it's coming around for me.
I think not having to deal with some of the spending habits because I always had my parents to take care of me or bail me out was in a way a bad thing. However, I'm 28. I'm having this revelation that I wish I would have had at 22, because I would be in a much better place right now.
Mike: But no need to dwell! The important thing is you're thinking about it now. And it sounds like having a fiancée who thinks intently about these things is helping you talk about this more and think about it seriously.
Grant: Yes it is. For such a long time I just ignored all these problems. She urged me to be more active about it because obviously we are going to be in this together, and it's really not cool to bring all this stuff to the table in that situation. I'm not in a much better position than I was a year ago, but my mindset is totally different now and I have a good outlook on this stuff to turn it around.
Mike: Ideally, what would your life look like 10 years from now in terms of your job, your marriage and living situation?
Grant: We both want to have kids. I think that's the whole point of this thing. You know, I may only have an iPhone 3GS, but it's not really about that. It's about your family and your people. In 10 years I'll be happily married and have some little ones to keep me occupied. I also want to drive and visit the rest of the country — much in the vein of Kerouac, I hope to have a couple random cross-country adventures spliced in those 10 years somewhere and I'll be photographing the whole thing, of course. I want a lot of things, but I realize I only need the basics to be happy.
Mike: And what are those basics?
Grant: My health, my family and my experiences.
Mike: Thanks for taking the time to talk to me. Is there anything else you wanted to mention?
Grant: I think a lot of people have these kinds of financial issues and let the issues get to them. I know I was scared to deal with these things, but it's like going to the dentist. The worst part is the day of: going to the dentist, thinking about the dentist. But when it's all done, it's not that big of a deal. Your site really was a piece of that realization for me. It's a venue to be able to talk about it in a way, so thanks for that.
Interested in talking with Mike about your job and your money? Send a note.
---
Support The Billfold
The Billfold continues to exist thanks to support from our readers. Help us continue to do our work by making a monthly pledge on Patreon or a one-time-only contribution through PayPal.