Things to Think About Before Pursuing Grad School
by Ciara O'Shea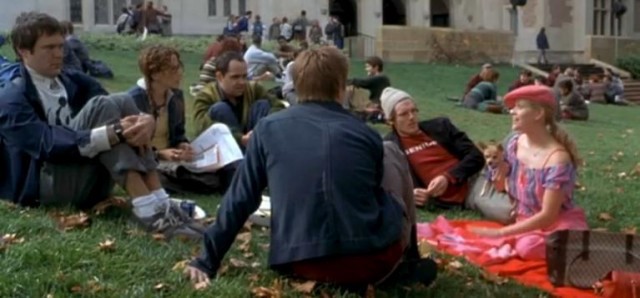 This summer, I lived with a revolving cast of roommates, one of whom was going to go to law school in September. One night, my roommate mentioned that he was going to go through law school so he could "meet the right people," and then he said he'd apply to med school because that was his real passion. I may have choked a bit when he said that. I was in college for seven years because I did a master's program in English literature, followed by a Master of Library and Information Studies.
I'm not going to say that I've made better choices about grad school than he has (because he's probably going to be a millionaire lawyer/doctor, and I may have to fight for funding forever), but I definitely worry about his reasoning and wished I had brought it up with him in the moment. A lot of people have talked to me while they're applying for grad school, or when they're considering dropping out. Here are my suggestions for people thinking about going back to school:
Have a goal before you consider more education.
It can be vague ("figure out what I want to do with my life"), or it can be specific ("get the required skills and degree to work as a lawyer"), but it has to exist. It may change with time, but you need to have a yardstick to compare reality with, and a carrot-and-stick to encourage you when you're in school — especially when it gets overwhelming (it will get overwhelming).
When I applied for my master's program in English lit, I was fairly sure I wanted to teach high school English and math, but I was also encouraged by a lot of people, including professors, to consider teaching in higher education. So I applied to both teachers college and a master's of English imagining that I wouldn't get into my master's program (and not be able go on to get a Ph.D) — thereby shutting down the dream of teaching in a university. I ended up being accepted into both programs, which made me recognize that I still was dreaming about being a professor, and that an M.A. would help me if I decided that I'd rather teach at the high school level. Pursuing a master's degree would allow me to keep my options open — especially since it was going to be completely free, which leads to the second point.
Decide what route will best help you with that goal.
Grad school is not always the answer. Sometimes, what you should do is get more experience (in life or work), or get a certificate that allows you to specialize in something. Do your research, and if you have a specific career goal in mind, talk to people who have the job that interests you and find out how they got there. Ask about their day-to-day, their least and most favorite parts of their jobs, and what they would recommend to people who are considering their career. They might suggest a completely different experience/education route than what you were imagining, or you might discover that you're not cut out for the job.
At least 15 people dropped out of the library program in the first month, and although some people probably left because of personal circumstances, others left when they discovered that being a librarian wasn't what they thought it would be. If they had done their research, they could have discovered all of this before and saved themselves a ton of time and money.
If you do decide you are going to go back to school, here are some things to think about:
Find a program that will work for you and your goals.
Try to contact students in the program (there is usually an official student contact, but I went with a friend of a friend) and become familiar with the program's expectations and culture. Being privy to the idea that a lot of assignments were done in groups, and that most people are on the executive of a student committee prepared me for the culture shock of going from a mostly solitary English program to Library Land where everyone has to talk about everything at least 20 times to get things done.
Be prepared for disappointments.
On my first day of my English program, I was informed (along with everyone else in the Welcome meeting) that I was on "a sinking ship." Three weeks later, we were told that "academia is a life of monastic devotion." Honestly, within two days of starting my program, I realized that I was never going to be a professor, and that I really didn't want to be one. I didn't have the right mind frame to be one, and I never would. It was troubling to have that bubble burst, and have a career possibility taken away from me, but it was also freeing.
Be open to possibilities (and maybe new goals).
The summer before my English M.A. program, I met a librarian who worked at the hospital in my home town who was really open to talking to me. After that meeting, I kept running into librarians all over the place, and since I now knew I was never going to be a professor, I was open to considering how being a librarian would fit with within my goals. Librarians teach people (how to use technology, how to do research), help people, and encourage learning, which really matched what appealed to me about teaching. Ultimately, I decided I would be a better librarian than teacher.
Remember your goals (even if they change along the way).
Grad school eats up your free time, and it can be very stressful. I have met a few people who didn't have a real reason to be in various post-grad programs, and whose goals did not fit with where they were. I definitely encouraged those people to consider leaving programs that weren't the right fit for them. Your time should be spent in ways that make you better, and it shouldn't be wasted just because you feel that you need to finish everything you start. Assess where you are and where you want to be. If there is a real disconnect then leave the program, try to figure out what will work for you and then make your next move.
And always remember: Experience is the most important thing you can get.
If your goal is to figure out what you should be doing with your life, chase down every chance available to you. Volunteer, get on committees, do internships or practicums, organize events, and look for opportunities to work. At the very least, experience lets you know where you don't want to be. Sometimes it even helps you figure out where you belong, and it helps you make the connections you need for the future.
Even if you are overwhelmed by academic life, try to do one non-school related thing. If nothing else, it will make you keep to a schedule, which will help in the non-academic world. I also met a lot of amazing people through my experiences which included a practicum, being the treasurer and external liaison for a student committee, a part-time job and a lot of volunteering. These experiences were a big factor in why I was considered for the position I currently have. One of my best decisions was to try to get a part-time job as a library assistant. Since I was able to keep the job after I graduated, I was then able to cover my living expenses for the four months it took to get a librarian position.
I don't regret the route I took at all, but I also understood and was prepared for the education commitment and career expectations. My M.A. will definitely help me if I decide to go into academic librarianship, and my MLIS is required for most positions I am interested in. I feel like I made the right choice, and I hope that other people feel the same way about their post-undergraduate choices, because they can be really costly in terms of time and money.
Ciara O'Shea lives in a big Canadian city but works in small towns.