Living Off the Land of Freebies from PR People
by Ryan O'Hanlon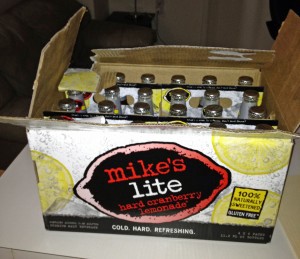 I used to work as an editor for a website. My name was on a masthead with the word "editor" next to it, which immediately made me a target for the exclamation-point-abusive, occasionally-grammatically-correct, word-sending vultures also known as PR people. Back when I was still this editor, one out of every 200 or so PR emails would be of use to me. Maybe I'd get to interview a B-minus-list celebrity or some basketball commentator. Or there'd be a little-known book that actually made sense for us to cover. And then there were products that we'd review in turn for, well, money and other things. The rest, since this was a "men's website," was generally a combination of specialized-condom offers, things about porn, things about sex, vaguely applicable things about sports, and the occasional fast food sample.
If you work on the Internet and consider "writing" as part of your "career," you know all this. I'm no longer an editor for this website, though, so that lowers the ratio of useful-to-me PR emails to something like 0 in Every One. Except, that's not totally true.
Since I'm no longer this editor I once was (I quit), I'm also unemployed. Well, I prefer self-employed, but semantics, etc. I'm freelancing, which is fun/great/scary/better-than-what-I-was-doing, but it's not the most initially-lucrative pursuit, which, duh. But I've saved up enough money — working from home and living with your parents for a year is not quite as soul-crushing as it sounds — to take a financial hit for a few months, while trying to write a lot and turn that writing-things thing into something sustainable or, you know, just get another one of those "job" things 8.2 percent of the country does not have. So, as a 24-year-old living in Brooklyn off of a savings account and unreliable freelance checks, anything free is pretty much the best thing. And — lucky me! — people send me emails offering me free things every day.
It's just … it's the PR ghouls who are offering me free things, and they're only offering me these free things because they don't think I actually need them. That is, they still think I'm "Ryan O'Hanlon, Editor" and not "Ryan O'Hanlon, guy who now occasionally eats oatmeal for dinner." I just haven't had the heart (read: motivation to do anything more than click "delete") to tell them. They offer up products for "possible review," meaning, sure, I can have all this free shit, so long as I review said shit for the website that I no longer work for. I guess it's some kind of twisted moral contract between these PR people and me because that's just how these things work? No, you can't just have the new Ruffles BRObecue gift pack if you're not planning on writing about it! It's like littering. If everyone did it, we'd be covered in garbage. If everyone accepted PR people's offers without giving anything in return, we'd also be covered in garbage — ZING — but then PR people would probably stop sending these emails, and no one would get any more free New England Patriots feet-only blankets. (Yes, that is real thing.)

Back in January, when I still had my job, a PR firm called Ro-Bro Marketing sent me an email about its new Mike's Hard Light Lemonade products. They offered me 12-packs of the lemonade or the cranberry lemonade or a full case of both. All, as PR things always are, for free. When a bro-branded marketing firm offers you a free case of Mike's Hard Light Lemonade, you are not in a position to decline. This is one of the few things I know — and one of the few PR emails I've ever said yes to … at this point.
Now, I was supposed to review this new, light malt-liquor beverage — because that's how these things work — but the review never had a chance to go past: "Sweet. Watery. Not something to be drank for the reasons you probably drink alcohol." And, well, it never made it that far because it took about a month for me to get the case. A few weeks after confirming, "Yes, I would like to try your beverage," I got a random phone call from someone who I think was named Tony, telling me he was in the area and that he'd be at my apartment in an hour with my Mike's Hard Light Lemonade. An hour later, possibly-Tony showed up at my door with a case of "Mike's Light" and a Mike's Hard Lemonade manila folder with "information about the product" in it. He handed it to me, and then maybe-Tony left.
I now own a Mike's Hard Lemonade manila folder, which is not something many people can/should be able to say. I also still have a nearly-full case of Mike's Light Hard Lemonade (my roommate drank one) sitting in a cabinet because it is Mike's Hard Light Lemonade and my apartment has a sink to drink water from instead. I never reviewed the product because I left my job a few weeks later. The PR guy was actually really nice, and I kind of felt bad because, as mentioned, me reviewing Mike's Light Hard Lemonade was doomed from the moment someone clicked send. While I most definitely won't drink it, I still do have a case of alcohol for which I paid no money. Go back and read that sentence again.

If PR people were real humans — at least, if their emails even attempted to make it seem that way — I really would feel bad about taking their free things. It's just that they're so unabashedly fucking unabashed in their communication, dousing emails in exclamation points and making weep-inducing puns that it's hard to realize that this is actually another Earth-born being you're dealing with.
Take, for example, this email I received a few months ago. The subject: "Interview Electropop's Hottest New Music Sensation." The first sentence: "Not since the invention of the original sin has Israel had such a hot export with recording and film star MEITAL, who is described as 'Extremely Gorgeous…' by the New York Times and 'breathtaking' by Variety Magazine."
If you're not offended by that in some capacity, you're probably the person who wrote that email. Now, I get that writing an email for Porn Hub ("Sometimes, that wild urge to get down and dirty no matter where you might be is simply too hard to ignore.") or Sir Richard's Condoms (following up the February birth-control recall with "Sir Richard's condom company is coming to the rescue with a backup plan for nervous guys everywhere… They will provide a free 12-pack of condoms to those in need.") is just a generally absurd task. Making the "The Five Commandments of Meat Smoking" (Be prepared, Be patient, No peeking, Practice makes perfect, Have fun!) sound un-dumb is pretty much impossible, too. (However, it does double as pretty great life advice.) It doesn't make the emails any less depressing, though. And offering me sustainably-produced condoms because green is the color of St. Patrick's Day isn't really helping that, ether.
Now, I wouldn't be able to live off of accepting these PR offers — and this actually being published will probably complicate things, too — but having hundreds of extra condoms, a bunch of books about war and Manly Things, some Wendy's gift cards, a handful of post-Coachella hangover-cure packages, professional-sports-team-themed beer-drinking devices, and grilling gear for the grill I don't have … none of that will hurt my bottom line. In a being-a-good-human sense, yeah, this is probably wrong. From the purely economic side, though, it's not the incorrect move. Dog eat dog, and so on and so forth.
So, you know what? Maybe I will take you up on that Ruffles BRObecue package. Or maybe I won't. But their new chips contain pieces of real meat! And I bet they go great with Mike's Hard Light Cranberry Lemonade.
Ryan O'Hanlon lives in Brooklyn, where he writes and tweets things. He used to play soccer and go to college, neither of which he will ever get over.
---
Support The Billfold on Patreon
The Billfold continues to exist thanks to support from our readers. Help us continue to do our work by supporting us on Patreon.