Not Buying It: An Update on My Clothing Purchases in 2018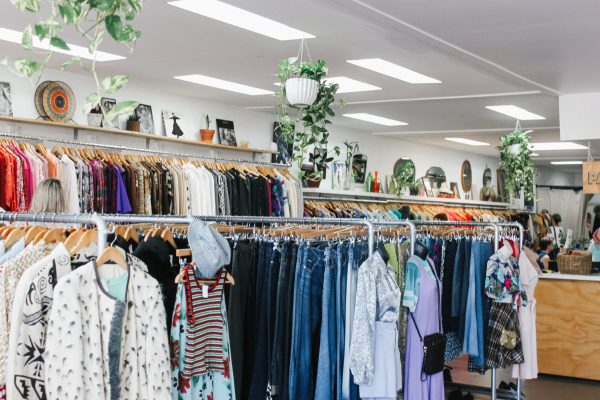 Last year I wrote about keeping myself accountable by tracking my clothing purchases. Now that a fresh new year has begun, I'm in a position to evaluate my clothes shopping across the whole of 2018 and see how I did overall in comparison to previous years.
In my previous article I was reluctant to share many specific numbers relating to how many items I bought or how much I spent. However, since 2018 was my most frugal year since records began in 2015, I am finally willing to disclose exactly what I bought last year and how much it cost.
2018 clothing purchases
Items purchased:
9 tops
1 jacket
2 pairs leggings
2 pairs jeans
3 dresses
1 skirt
Total: 18 clothing items
Total amount spent: £420.93 (approx $531 USD)
In the interests of full disclosure, I should mention that in addition to the list above, I purchased an additional five items that I immediately returned. Three were returned because they didn't fit, another because it was an impulse purchase I didn't actually like. In the final days of 2018 I caved in to the post-Christmas sales and bought the fifth item, a pretty cool fake fur coat, which turned out to have no fastenings because it was reversible. Since I feel strongly that coats should serve the minimum purpose of keeping me warm, I sent that back for a refund too.
Did I stick to the goals I set for 2018?
My goals for 2018 were: to buy no clothing for the first three months of the year; to buy fewer clothes and spend less money than in previous years; and to make more ethical purchases.
When I wrote my previous article, I had already failed at the three-month shopping ban at the start of the year: I bought one item in February. However, later in the year I had a completely unplanned no-shopping month in July without even thinking about it, which is quite rare for me. I think the shopping ban helped me get used to seeing clothing I liked and then just… not buying it. I survived all of the missed opportunities, the items that were sold out by the time I was allowed to shop again, and the occasions for which I was unable to buy myself a new outfit. It's also worth noting that the one top I bought during the shopping ban is something I now wear all the time, so at least it was a well-thought-out purchase. Later in the year when the shopping ban expired, I began spending less thoughtfully and having to return things, so I do think the shopping ban helped to curb my worst impulses.
The second goal, to spend less money and buy fewer items than in previous years, is one that I achieved surprisingly easily and without feeling at all deprived. Eighteen items of clothing will no doubt sound like a lot to many people, but for me, it's a record low number, as is my total spending amount. I don't want to reveal my numbers from previous years because I'm still ashamed of them, but let's just say that, by my own standards, 2018 was a really big improvement for me. I'm not sure why the fourth consecutive year of tracking my spending was the year something finally clicked, but I felt so much better about my clothes shopping last year, and I'm still thinking about the reasons for that (more on this below).
I did less well on my third goal of making more ethical purchases. Four out of my eighteen purchases, or 22 percent, were either from a sustainable retailer and/or purchased secondhand via eBay. 2018 was also the first year in a very long time that I bought absolutely nothing from a charity shop, but I'd noticed previously that secondhand shopping is a big cause of impulse buying for me, so it made sense to cut down. I actually did a fair amount of browsing in charity shops (aka thrift shops), but I exercised my willpower and didn't buy anything, which I think is a sign of progress. My desire to buy more ethically was partly in conflict with my desire to shop less, and I had to pick my battles. I'd like to do better on the ethical purchasing front in 2019, though.
How do I feel about what I bought?
Clothes shopping tends to be strongly influenced by my emotions, so I try to evaluate what I bought in qualitative as well as quantitative terms. In theory, if I bought a large number of clothes and spent a lot of money but felt great about every single purchase, I would consider it a relative success. However, this has absolutely never been the case for me. Since long before I started recording my purchases, I haven't gone a single year without donating or returning several items shortly after buying them, and the more I buy, the more I eventually get rid of. I can buy sensibly or I can buy abundantly, but I can't do both at once.
With that in mind, the good news is that I feel very positive about almost everything I bought and kept in 2018. For starters, I find it easy to remember what I bought during the year, because I made fewer, better thought-out choices. Several things I bought are already firm favorites that I look forward to wearing. In fact, there are only two items I feel "meh" about. One was a top I bought as part of a Halloween costume, so it's okay that I don't love it; but I missed the party it was bought for due to being ill, so I'm keeping it to wear next Halloween and after that I will likely donate it. The other mediocre purchase was a T-shirt I bought online that fits a bit strangely, but I'll probably wear it around the house.
I think I am gradually developing better shopping habits, but it also occurred to me that one of the reasons I have been able to cut back on buying clothes is because I've done so much shopping in my life already. For example: I stocked up on thermals in 2016 and knitwear in 2017, so come winter 2018 I really didn't need to buy any more warm clothing. At 34, I have appropriate outfits in my wardrobe for job interviews, funerals, camping trips or pretty much anything else life might throw at me. At this point, I'm really just replacing worn-out clothing, filling minor wardrobe gaps, updating my personal style and generally pleasing myself.
It wasn't always like this. In my early twenties, it seemed I was constantly encountering events for which I genuinely had nothing to wear. When I started an office job after years of casual retail work, I had to build my work wardrobe from scratch. During an unusually snowy  winter, I realized none of my shoes had enough grip to keep me upright on the icy pavements, so I had to buy winter boots. I am the rare unicorn who actually wore my bridesmaid dress again (as a guest at another wedding), because back then it was the only formal dress in my wardrobe. These days, having been to twelve weddings in the past decade, I have a whole selection of wedding-appropriate outfits; but only because I spent time and money previously acquiring them. And so it goes.
What are my goals for 2019?
In 2019, I aim to: buy no more than 18 items; work towards making more sustainable purchases; and make at least one piece of clothing with my sewing machine.
I will also be aiming for a rough limit of no more than two new items per month. This should help me to space out my purchases, and enforce a cooling-off period once I have hit my limit for the month. In 2018 a lot of things I wanted sold out while I was still debating whether to buy them, and it was okay, and I don't remember most of them now. If I really want something, I will probably buy it right away; for everything else, procrastination is my friend.
Did I buy the Point Horror T-shirt?
When I wrote my previous article in June 2018, I was debating whether to buy a Point Horror T-shirt. I eventually bought it in October. I have no regrets.
Rachel Davies is a librarian in the north of England.
Photo by Prudence Earl on Unsplash.
---
Support The Billfold
The Billfold continues to exist thanks to support from our readers. Help us continue to do our work by making a monthly pledge on Patreon or a one-time-only contribution through PayPal.