Talking to Dan Weissmann About His New Healthcare Podcast, An Arm and a Leg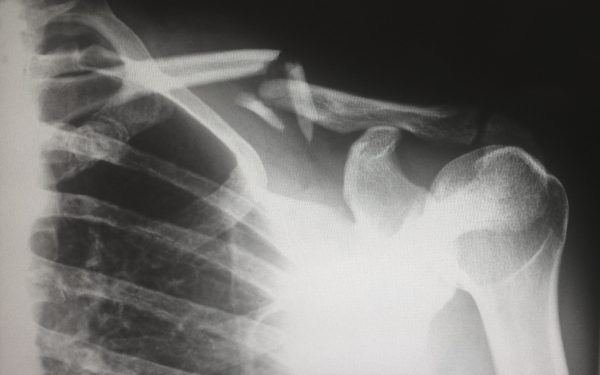 On one of The Billfold's recent news roundups, I mentioned that I had added Dan Weissmann's new healthcare podcast, An Arm and a Leg, to my pod queue. I ended up binging the whole thing, because it felt so relevant to so many of the things I think about on a near-daily basis, especially during Open Enrollment season: Am I saving enough money for healthcare? Did I choose the best insurance plan? What would I do if I had an emergency that took me to my out-of-pocket maximum and beyond?
I highly recommend An Arm and a Leg to anyone else who is interested in how healthcare works (or doesn't work) in America — and when Dan reached out to thank me for mentioning the podcast on The Billfold, I asked if he'd like to do an interview.
The following is an edited and condensed version of our conversation.

What prompted you to start An Arm and a Leg?
I'd been pitching this as a beat for years, to places like Marketplace and WBEZ. This is a huge story, and it's a weirdly under-covered story in the sense that we get a lot of political coverage and a steady drip of horror stories but not a steady conversation about how much this stuff costs all of us. That's probably because it's not news! We know healthcare is really expensive.
So I hadn't landed it anyplace, and then I left a job and was wondering what I might do next and whether I might need a new career. Going out on my own seemed unthinkable, because where would the health insurance for our family come from? My wife is already the solo entrepreneur in our family.
I decided to take a week and ask people to talk me out of this crazy idea [of starting a healthcare podcast] because not only do I still think this is a really important story, now I'm completely living it. If the story is how our lives are driven by the cost of healthcare, and what knots we'll tie ourselves into to have somebody else buy insurance that works for us, or whatever else we have to do, that's my story.
So I asked my friends to talk me out of it, and they didn't. They asked some really good questions, which helped shape what I ended up doing, but the bigger surprise was how many of them were like "oh, yeah!" and then they would jump right in with what were often fairly dramatic personal stories. This was not me calling my friends whose GoFundMes I'd participated in. This was not me asking people "tell me your horror stories." These were people with good incomes and steady jobs, some people with really good health insurance, and all of them had stories that made me go "holy crap!" That made me think I was really on to something.
That was how it started.
I do agree that, even if we don't have a health horror story, many people have some kind of "I didn't know it would cost that much" story.
There was the guy on the playground at my kids' school who was all "my wife's job doesn't pay as well as mine but she has really good health insurance, and that's important because when we moved I felt a little short of breath, and I went to the doctor and she said 'you had a heart attack.'" That guy spent a week in the hospital, had a lot of complicated surgery, walked out with what would have been a $300,000 bill, except for the health insurance. He said "if I hadn't had the health insurance, I wouldn't have called the doctor," and the nurse told him, like, "yeah, if you hadn't called us, the next time you felt that way you'd be dead."
It could so easily have been a financial horror story or a tragedy for his family. We're all living with the specter of these possibilities, even when we feel like we have a temporary safe harbor.
And even the stuff that's supposed to be free, like our annual checkups or Well Woman exams, you go in and they always run another test. They always have something that isn't covered, and you never know what it's going to be.
Right! There was the time I went to the doctor for a preventative care checkup, and he said "You know, you should get a Vitamin D test." So I got a Vitamin D test, and later the paperwork comes and it cost me several hundred dollars out of pocket because it was done by some out-of-network lab. That doctor was casually suggesting that I spend a few hundred dollars!
And they never tell you!
Well, doctors don't know. Friends of mine have said that they do the thing people recommend, "ask your doctor about price," and doctors are like "I don't know." I've heard doctors say "I'd like to help my patients with this, but I actually just don't know anything."
Which is something that I really appreciated in one of your recent episodes — you not only discuss how the cost of health insurance affects patients, but also how these costs affect doctors, and how doctors are making less money because of health insurance.
Thank you.
So I want to talk about Open Enrollment, because that's our most pressing deadline — you had the episode where you discuss why people often choose the wrong healthcare plan, and I was curious if you had any advice for people who were trying to choose between plans.
What I've done, and I've seen this advice from people who are more experienced in this area than I am, is basically look beyond the premium. Look big-picture and consider all of the costs. There's the deductible, which is how much you're going to spend before your insurance pays anything; there's an out-of-pocket limit; there's coinsurance, which is what your insurance pays vs. what you pay when they do start paying.
Zachary Tracer, who writes about healthcare for Business Insider, has a piece about how he chose his health insurance plan, and he suggested that people calculate how much it would cost if, god forbid, you got hit by a bus. What would you be on the hook for?
Just paying the premium is your best-case scenario. Figure out how much you might have to pay in your worst-case scenario as well — and use what you know about yourself to calculate a realistic in-between scenario. In my case, I have this heart defect that I was born with that does not cause me any trouble at all and I hope it never does, but it needs to be monitored every year. So I get a test and I see a doctor who interprets the test, and there's only one place in Chicago, maybe two, that does this. The test and the doctor visit cost $6,000 each, so if those doctors and hospitals aren't covered by a plan I'm looking at, I could end up with a $12,000 bill. So I have to think "Who am I going to see? What's my plan for dealing with these costs that I'm going to need to deal with?"
You could also add up all the premiums and the deductibles and the out-of-pocket maximum and say "this is the maximum I will have to pay on this health insurance plan," but that's a whole 'nother deal because you could have out-of-network doctors and not know it [and get charged beyond your out-of-pocket maximum]. You know how this goes. The surprise out-of-network anesthesiologist!
Did you have that experience?
No, but it's come up on The Billfold before.
Right. It's a thing, for sure. This week's Arm and a Leg episode is about emergency room bills, which can include all kinds of surprises.
What else does the podcast have coming up?
Our last episode of the season looks at what we're doing for 2019 and what my family is going to do in terms of health insurance. We'll also be hearing from folks who have sent in their stories — I've had a lot of response from people since starting the podcast. One of my goals is to make the best use I can of the stories and the trust that people are sharing, because I'm learning a ton from these stories and what people are sharing.
Then we'll be back in the spring.
Last question then, since it's The Billfold and we are always curious about this kind of thing — I saw that you had a Patreon, so I wanted to ask how you were supporting An Arm and a Leg and how people could support you.
I'm lucky in that our family was able to support my participation in this, and a few of the expenses, from our household budget. We've also asked family and friends for contributions. The out-of-pocket costs for making this are real, but they're low compared to what it might cost a larger institution, since I'm providing so much of the labor. We do hope folks will sign up with our Patreon because, going forward, we want our funding to be split between direct support from folks who find it valuable and advertising. There will be a rule, though: nobody related to healthcare can advertise on our show! We'll have to get our advertisers from the other 5/6th of the economy.

If you're interested in listening to An Arm and a Leg, you can start with the trailer:
Let me know if you end up binging the whole thing, like I did.
Photo by Harlie Raethel on Unsplash.
---
Support The Billfold
The Billfold continues to exist thanks to support from our readers. Help us continue to do our work by making a monthly pledge on Patreon or a one-time-only contribution through PayPal.