How a Family of Four Lived Without a Refrigerator for a Month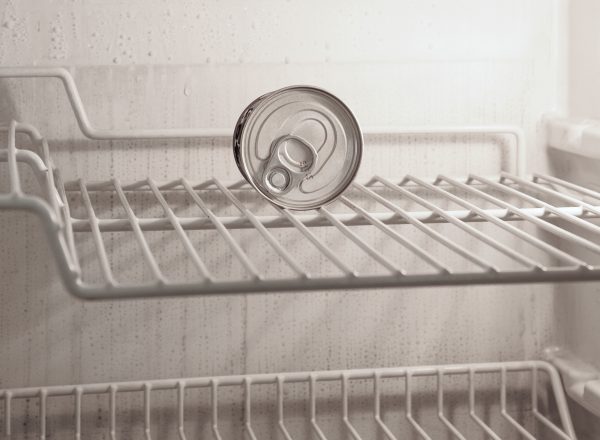 My husband and I spent weeks researching the refrigerator we wanted for our new home. We wanted one that fit our basic needs but was modern. At the very least, it had to be better than our old hand-me-down that leaked inside the unit when the freezer contained more than two frozen entrées.
Our finances were stretched thin after selling our first house (with the leaky refrigerator), buying another home, and then moving our belongings, cars, and family from Texas to Nevada. We set a budget of $500 to $1,000 for the new refrigerator and hoped we could afford more than a glorified college dorm mini-fridge. We settled on a Samsung top freezer refrigerator ($849) that came with a warranty.
I have a love-hate relationship with warranties. Besides major appliances, it's difficult to determine when that extra $2 to $20 is going to make a difference for something that costs just as much as its warranty. Plus, I can never remember which household items have one. Is it the baby monitor or the saucepan? Was the warranty for one year or two? And when did I buy it?
One of the reasons I agreed to purchase our refrigerator was because its warranty was for 10 years and was specifically for the digital inverter compressor. If we moved, or if for whatever reason our homeowner's insurance could not cover the repairs, we had a backup. "It's a bit much," my husband said. "But we'll likely never need it."
Two months after Home Depot delivered the newest addition to our family and I loaded it with food, the compressor spurted, rattled, and then died. Samsung sent out a round of repairmen who were unable to work with our modernized, new-fangled refrigerant. After numerous loud phone calls with the company, they finally conceded to ordering and shipping us a new refrigerator. The entire process took over a month.

The refrigerator died two days after I bought groceries. I salvaged the fruit, vegetables, and some of the condiments, but tossed the leftovers, deli meats, and soft cheeses. There was nothing in the freezer except ice cubes. However, Blue Apron had also just delivered our three meals for the week. Thankfully, many of the ingredients didn't require refrigeration. I did my best Martha Stewart impression and immediately cooked the meat-based recipes.
I cooked one recipe for lunch and one for dinner the day the fridge died. Then I cooked the pasta recipe the following day. The meals are usually large enough for my husband, 3-year-old, and me with at least one serving left over per meal. (My youngest child is still breastfed, which means the rest of us fight Thunderdome-style over what would have been her meal.) However, I had to throw away the leftovers, which meant we supplemented the rest of our meals for the week with fast food.
It was too late for me to cancel our Blue Apron delivery for the upcoming week. Worried about food waste, and without an immediate resolution from Samsung in sight, we purchased a mini deep freezer from Home Depot ($167.77). We had planned to purchase one in the future any way in preparation for the power outages that come with severe dust storms, but this bumped up our timeline.
When our next Blue Apron box arrived, I cooked all of the meals, portioned them into freezer bags for individual and two-person meals, then froze them. This was incredibly time-consuming. While cooking breakfast or lunch during the week, I also had to remember to take out and begin defrosting food for the subsequent meal.
The mental load and financial costs of keeping our meal service were too high for the meager benefits we reaped. I paused the service for several weeks and researched alternative means for living without a refrigerator. Most people living without one suggested I dig a hole in the ground to store meat or learn how to make jerky. As a work-from-home mother living on hard desert earth with one spirited toddler and an infant, I do not have time to cosplay Little House on the Prairie.
Since my husband travels for work weekly, I also do not have the time or means to go to the store to "buy fresh" every day. Our monthly grocery budget, including Blue Apron, is $650. Without a fridge, I purchased more pantry items. I bought bagels, granola bars, soups, and packaged snacks.
We ate more trail mix, peanut butter sandwiches, and frozen foods than we cared to. We ate more fresh fruit and grains than we usually do. I became besties with Lean Cuisine. I must have also overworked my 11-year-old toaster with the abundance of frozen waffles because it died too. Without a refrigerator, our grocery budget leapt to $787.
I sometimes forgot to thaw meals and we got tired of eating the same frozen entrées, which meant we ate more fast food and ordered delivery more often than usual. Our monthly fast food budget is roughly $100, but that month we spent $274 (including delivery fees and tips).
The loss of our refrigerator also coincided with Thanksgiving. Without a convenient way to store food for the holiday dinner, our first choice was to reserve a table at a local restaurant. Our cheapest option was Citizens Kitchen & Bar at Mandalay Bay. It charged $40 per adult and $17 for children 3- to 12-years old. For us, that would have been $97, which is more than it would cost for the small hen and four side dishes we likely would have cooked at home. We instead bought a family meal from Popeye's Chicken ($31.58). We paired it with a bottle of Martinelli's Sparkling Apple-Cranberry and Nestle holiday break-and-bake cookies that I bought with the week's groceries.
With the increases in our grocery and fast food budgets, the purchase of the deep freezer, and a delicious chicken meal, one month without a refrigerator cost us $510.35. That is equivalent to three quality mini fridges.
DW McKinney lives in Sin City with her husband, two daughters, and collection of orchids. Tweet her @thedwmckinney with a toaster recommendation.
Photo by Enrico Mantegazza (cropped) on Unsplash.
---
Support The Billfold
The Billfold continues to exist thanks to support from our readers. Help us continue to do our work by making a monthly pledge on Patreon or a one-time-only contribution through PayPal.