The Cost of Running for Local Office as a Last-Minute, Write-in Candidate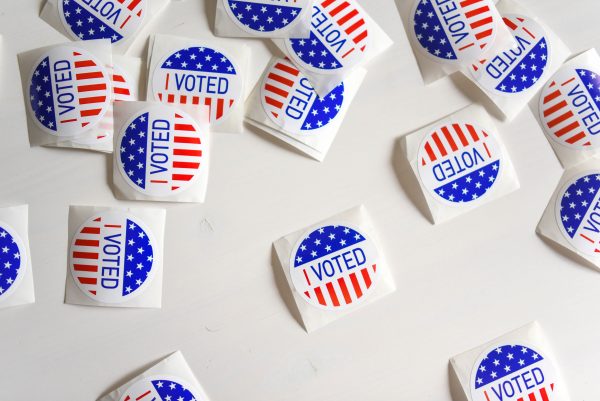 I hadn't planned on running for Advisory Neighborhood Commissioner (ANC), an unpaid local government position in DC tasked with presenting recommendations about local neighborhood issues to the District government. When my husband and I bought our condo in May, I knew I wanted to be more involved in the community, but I assumed the extent of my involvement would be attending local community meetings and occasionally volunteering.
When we moved into our new neighborhood, there was already debate around the development of an emergency family shelter two blocks from our house. At a local neighborhood meeting, I voiced my strong support for the homeless shelter and my frustration with some of the Commissioners' pushback against its construction. As my husband A. and I exited the library after the meeting, we were overwhelmed with support from neighbors who agreed with us and thanked me for speaking up. I can't say that night alone drove my decision to run for ANC, but it definitely sparked the idea.
At this point, the election was only a few weeks away. If I wanted to be on the ballot, I would have had to register back in early August. I also knew I didn't have much time to campaign with a trip planned to Michigan the weekend before the election. I decided that it would be nearly impossible to win with only one name on the ballot (the incumbent's), but getting some portion of the votes as a write-in candidate would still be valuable. Even with 5 percent of the votes, I could show that we're not the only ones who want to make our community inclusive and welcoming to families struggling with homelessness. I don't mean to suggest that this is the only issue that mattered to me, but it was definitely at the forefront of my mind when I decided to go for it.
My first real expense was purchasing fliers that clearly identified my name and viewpoints ($53.98). If I had more time, I would have gotten feedback about the design and language, but as it stood, I quickly drafted a template and ordered a couple hundred copies. I wasn't exactly sure how many to order, given the fact that each district represents about 2,000 people. A quick search showed me that in the last midterms, only about 470 people voted. I figured that given my time crunch, a couple hundred seemed like a reasonable number of fliers to be able to hand out.
A couple of days later, I used my lunch break to travel to the DC Board of Elections, where I formally registered as a write-in candidate (cost of metro there and back: $4). At the Board of Elections, I debated spending around $10 for a printed map of voters in my district but decided against the cost. In order to directly reach out to residents most likely to vote, I decided to also send out handwritten postcards ($24.58 for postcards and $52.50 for stamps).
The bulk of my "campaign" was on Election Day itself. From 7 in the morning until basically the polls closed, A. and I stood outside the polling station in the rain and tried to convince every passerby to write my name into the ballot. At some point, after bonding with two other women campaigning outside for hours, I offered to go to Starbucks and buy us all hot caffeinated drinks ($8).
If you're keeping track, so far my total is only $143.06. That said, there were other indirect costs that this total doesn't include. First of all, A. and I both took full vacation days on Election Day to stand outside the polls. We fortunately both work for employers who encourage employees to take time off to vote, so it may be more accurate to say we both only took off seven hours rather than a full eight-hour workday, but this is a pretty minimal difference.
Even though this barely counts as a campaign, the ANC run also helped us foment relationships with new friends in local DC government who won their respective races. On Election Night, we happily joined a group of friends for celebratory beers and burgers ($8 for Lyft plus $48 for two beers and a shared burger). We then cabbed it downtown ($11) for one more victory party before finally calling it a night and Lyfting home ($14). You could argue that these last costs aren't related to my own run, but I know for a fact that I wouldn't have attended these victory parties had I not decided to run myself.
As was expected, I didn't win. For me to win, I would have had to literally stop more than half of the voters walking into the polling station and convince each of them to take the time to write my name into the ballot. This doesn't even take into account the number of early and absentee voters I had already "lost." But long story short, I won nearly 18 percent of the vote, which is over double what I had been hoping for — a huge success in my book. It's hard for me to even describe how much I learned from getting to know my neighbors and hearing about their concerns and hopes for our neighborhood. I spoke with voters about bike lanes, two-stroke gas engine leaf blowers, redevelopment and potential parking shortages, concerns about a new public pool, and so on. I consider myself a fairly introverted person, but connecting with so many people felt more energizing than I could have imagined.
My family and friends have asked whether I'll run again in two years. I know that if I were to run an actual campaign, the costs would be substantially higher — both in terms of finances and time. I would likely send out at least 500 mailers, increasing the costs of the printed materials and stamps. ANC candidates are legally allowed to accept campaign donations up to $25 per person so I may be able to offset some of these costs. I realize that these costs don't begin to compare with the tens of thousands required to run for contested state House seats, but the costs still felt tough to swallow.
I imagine it would be different if I mentally prepared for these costs instead of deciding to do this fairly last-minute, but there's still a barrier to entry that we can't ignore. As a policy professional who works on wealth inequality issues every day, I'm keenly aware of the oft-cited Federal Reserve statistic that 40 percent of Americans can't cover a $400 emergency expense. And while I recognize that the barrier to entry for ANC is low (fully two-thirds of ANC seats have either no candidate running or are uncontested), having the flexibility to take time off work on Election Day and being able to throw down a few hundred dollars for a campaign I knew I wouldn't win isn't a privilege I take lightly. It's also no secret that in larger elections, prohibitive costs and access to donors is a key barrier to entry for working-class households and people of color. I don't know if I'll run for office again, but I hope that more people get the opportunity to at least consider it before the next election.
Anonymous would like to thank everyone who voted.
Photo by Element5 Digital on Unsplash.
---
Support The Billfold
The Billfold continues to exist thanks to support from our readers. Help us continue to do our work by making a monthly pledge on Patreon or a one-time-only contribution through PayPal.