Investing Update: I'm a Voyager Client!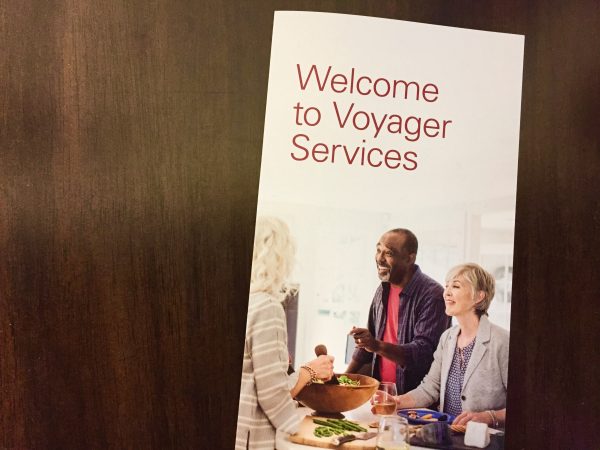 A few days ago, I got a brochure in the mail welcoming me to Vanguard's Voyager Services. Apparently my investment portfolio entitles me to a modest suite of perks. To quote the brochure:
As a Voyager client, you've joined something special. Investors like you with $50,000 to $500,000 in assets at Vanguard are entitled to complimentary benefits and personal services. You won't pay account service fees, and you'll receive discounts on brokerage services. And you'll continue to benefit from Vanguard's unique investor-owner structure, which keeps costs low.
Another part of the brochure suggested that I take advantage of Vanguard Personal Advisor Services, which is exactly what it sounds like: personalized investment advice. It'll come at a cost — "only 0.30% of your assets under management annually" — but the associated investing strategy questionnaire was free, so I took it.
Like nearly all of the investing strategy forms I've filled out in the past, Vanguard's was not designed for freelancers and it certainly wasn't designed for small business owners. (The income section presumed you could predict your income over the next several years, which might mean that it wasn't designed for any of us.) However, I got two interesting data points out of the questionnaire.
First, the SSA.gov Quick Calculator estimates that if I retire at 65 I'll earn $5,169 per month in Social Security benefits, assuming my income continues to grow in proportion to the national average wage index. (Considering that wage growth is pretty dismal right now, I'm fairly confident that I can keep up.) Since I currently live on around $3,000 a month, that number feels totally doable. Yes, $5K will buy a lot less in 2047 than it will today, and yes, Social Security might not pay out all of the benefits to which we're entitled, but I'm optimistic.
The other interesting data point is that I am theoretically on target for retirement with the money I've already saved plus my current savings rate. After I finished the questionnaire, Vanguard told me that I needed to save an additional $1 between now and age 65, and that was probably because the form wouldn't allow $0. This assumption is based in part on the idea that my living expenses won't increase beyond, like, inflation, which feels doubtful.
I mean, sure. If I keep living my reasonably frugal life for the next 29 years, maybe I can live modestly during retirement as well. But I've also read those articles that suggest we need $280,000 saved just for healthcare after retirement, and I know there'll be a few variables involved that neither Vanguard nor I can predict.
So, when the questionnaire asked if I'd like to set up a call with a Vanguard personal advisor, I clicked "yes." I'm very curious whether my retirement savings recommendations will change after I explain my actual financial situation, and although I'm not planning to take advantage of Vanguard's Personal Advisor Services, I'll definitely take advantage of as many of those services as I can get for free.
After all, I'm a Voyager client now.
---
Support The Billfold
The Billfold continues to exist thanks to support from our readers. Help us continue to do our work by making a monthly pledge on Patreon or a one-time-only contribution through PayPal.