The Cost of Getting Into Lifting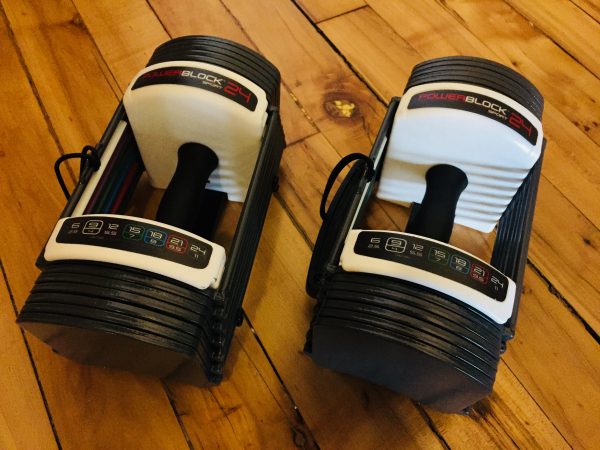 So earlier this month I hinted that I was planning to spend a lot of money in April, and so far the list of expenses include:
$160.50 on 12 Ann Taylor Loft floral-pattern T-shirts, to continue the basic uniform idea while updating it for the warmer weather that WILL ARRIVE AT SOME POINT
$939.33 on book tour travel expenses (currently booked)
$1,000ish on additional book tour travel expenses (still to be booked — yes, I will spend more on this tour than I'll earn in sales while on tour, but I'll also be connecting with readers and booksellers, visiting friends, teaching a class, etc.)
$218 on my annual eye exam
$160ish on a new pair of glasses
$200ish on my first dental exam in six years
$70 on last night's massage
$70ish on next week's float
$149.99 on a set of Power Block adjustable dumbbells
$49.99 on an AmazonBasics Flat Weight Bench
Yes, I have finally gotten into lifting — and I do mean finally, because I can't tell you how many times I've read Casey Johnston's "Ask a Swole Woman" columns, first on The Hairpin and now at Self, and thought "I wonder if I want to do that."
The answer is YES, I VERY MUCH WANT TO DO THIS.
(We can go into the psychological dynamics of starting a new, physically intense hobby at exactly the same time I transitioned into a more complex role at The Billfold later. The parallels of growing a business and growing my muscles — and the way the two activities counterbalance each other, in that lifting requires taking time for self-care — should be obvious.)
I started with the dumbbells and the bench because I didn't want to commit to a gym membership until I was certain I was going to enjoy lifting. Not to mention that the weather has been ridiculously terrible for, like, two months, and I didn't want to be demotivated from hitting the gym just because the ground was covered in ice.
The problem is that I really really do enjoy lifting, and I have started doing the thing where you watch female powerlifters on YouTube and study their form because you know that as soon as you finish your intro-to-dumbbells program that was recommended on r/xxfitness, you are going to download the StrongLifts app and go find somewhere where you can lift a barbell… and of course whenever I think about that, I start thinking about how much it's going to cost me:
Gym fees will be around $65 a month, whether I choose the franchise that's across the street from my apartment or the enormous YMCA that's a few blocks away.
I'll also need gym clothes, and fresh ones for each workout (including sports bras). So… probably another $150 for that, because leggings are cheap but bras aren't.
My grocery bill is going up. Remember how I bought yogurt last weekend? I ALREADY NEED MORE YOGURT.
You're supposed to lift in flat-soled shoes (not running shoes), and although I think my Crocs sneakers will be perfect for that, I might discover that I am wrong.
To ensure that I am not wrong about shoes and form and technique, I might want to book a session or two with a personal trainer.
I'll probably want to book more frequent massages as well.
I'm kind of nervous about the investment required, both in terms of money and of time, and the risk of injury and all of that. But I'm really enjoying my dumbbell workouts. Like yoga — and I've had a daily Ashtanga practice for over ten years now — lifting is about form and focus, and I've always loved activities that require sustained, block-out-the-rest-of-the-world focus.
So yeah, I'm lifting weights now, and I'm probably going to drop a chunk of cash on this project over the next few months — and if any of you have advice on either the form part or the spending part, I'd love to hear it.
---
Support The Billfold
The Billfold continues to exist thanks to support from our readers. Help us continue to do our work by making a monthly pledge on Patreon or a one-time-only contribution through PayPal.