An Update on Wearing the Same Thing Every Day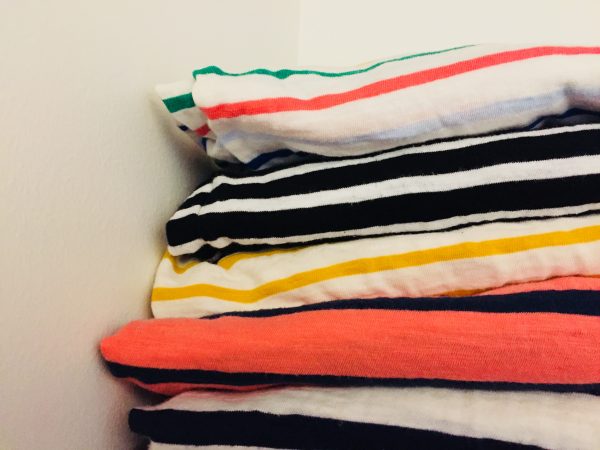 No Friday Chat this week because a lot of y'all are observing various holidays and/or on vacation — but I did want to give you an update on what it's been like to wear the same thing every day for nearly two months.
The pros: I love it. I no longer have to figure out what to wear every day; I just grab the shirt that's on the top of the stack and go. (Yes, of course I put freshly-laundered shirts on the bottom of the stack. THAT IS HOW THIS WORKS.)
The cons: Everyone who said "those shirts are going to fall apart" was right, or at least partially correct. Even though I washed all 10 of my Old Navy striped boat-neck shirts the exact same way (on cold, then air-dried over a drying rack), four of the shirts shrank. It's worth noting that these four shirts were made out of slightly different fabric than the other six — like Peanut Butter Patties and Tagalongs, but for clothes — even though I thought I was buying the same shirt in every available color.
I'm going to keep the uniform going, though, which means I need to replace the uniform components as they wear out. I've put in an order for four striped boat-neck shirts from Amazon's Daily Ritual brand (total cost: $47.08) to solve the immediate problem, but I'm starting to think about how I might want to change up my uniform as the weather gets warmer, and whether it'll be better, as you all suggested, to invest in higher-quality stuff.
Part of me just wants to go ahead and buy the JUMPSUIT — and if you haven't yet read the Paris Review article about the JUMPSUIT, please do and then tell me if you also want one!
---
Support The Billfold
The Billfold continues to exist thanks to support from our readers. Help us continue to do our work by making a monthly pledge on Patreon or a one-time-only contribution through PayPal.