The Cost of Moving: Getting From Seattle to Cedar Rapids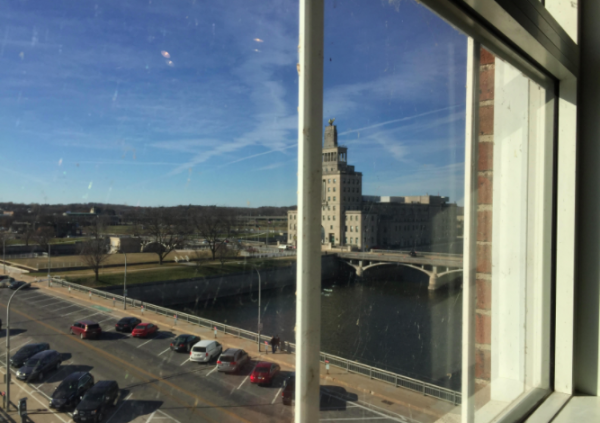 Right now I am sitting in my new apartment next to 14 of my 27 boxes (thanks, Sip and Ship!).
I do not yet have internet—it's installed, but the tech said that the Wi-Fi routers his company provides don't work in this building, so I'll have to buy my own router tomorrow (yes, my internet bill will go down because I'm providing my own router).
I do have my groceries, though. Hy-Vee was great; right on time, all of the produce looks lovely, very happy I put in the grocery delivery order for the first day.
Since I don't have internet and am limited to what I can tether from my phone, here's a quick roundup of what I spent flying SEA-DFW-CID yesterday:
$52 to take a Lyft to the airport.
$5 for a Smarte Carte to haul around my three suitcases, my backpack, and my guitar (plus my laptop bag and purse) until it was time to check in for my flight; I left my apartment at 7:30 a.m. so it could be cleaned and prepped for the next tenant, but my flight didn't leave until 1:50 p.m. so I spent most of the day at the airport.
$18.14 for breakfast at Seattle's Best Coffee breakfast (pre-security).
$485 to check the three suitcases and the backpack; this was after getting my first bag for free. The backpack and two of the suitcases weighed under 5o lbs; the third suitcase weighed 76 lbs, so the airline rep told me that I would save $100 if I moved 6 of those lbs into the other suitcases. Which means I could have paid $585—and that makes $485 sound like a real deal!
$10.85 for lunch at Sbarros.
$1.89 for breath mints after lunch at Sbarros.
$3.39 for dinner at Einstein Bros. Bagels, after arriving at DFW. It was 7:45 p.m. and all of the restaurants were shutting down for the night; I grabbed a banana out of the basket and asked for a blueberry bagel with peanut butter, and then watched as the person making my bagel pulled the knife out of the cream cheese, examined it, decided it was clean enough, and stuck it into the peanut butter.
$2.65 for another bagel and cream cheese at Starbucks. (Thank goodness for individually wrapped packages.)
TOTAL COST: $578.92.
I'll have more news (and more photos) on Monday.
---
Support The Billfold
The Billfold continues to exist thanks to support from our readers. Help us continue to do our work by making a monthly pledge on Patreon or a one-time-only contribution through PayPal.