Every Job I Never Had: Voice Actor, Protocol Officer, and More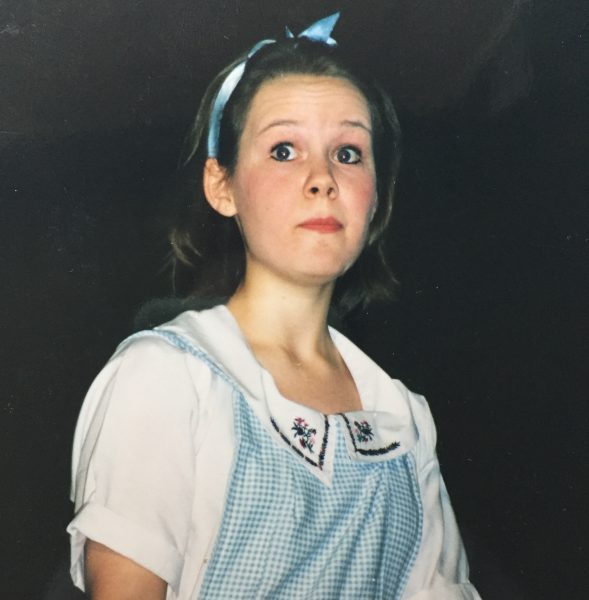 I've already done a post about every job I've ever had—piano teacher, dog walker, dishwasher, booth babe, telemarketer, executive assistant AND MORE—so here's a list of all the jobs I didn't get.
Actor
My mom wrote in my baby book that I wanted to be "Dorothy in The Wizard of Oz" when I grew up, and although I did get to play Dorothy in high school, I did not become the actor I dreamed of being when I was two years old. I did spend one summer getting paid to sing and dance at a dinner theater. Does that count?
Ballerina
In kindergarten we were asked to lie down on butcher paper and have our bodies traced, and then color our life-sized outlines as "the people we wanted to be when we grew up." I remember trying to do a ballet pose on the butcher paper and the teacher being confused about what I was doing, which probably explains why I did not grow up to be a ballerina.
President of the United States of America
I don't think I actually wanted this job, but we all had to draw ourselves as future presidents in second grade.
Actor/writer/composer/lyricist
By high school, my dream of working in the theater had expanded to include… well, basically I wanted to become Lin-Manuel Miranda, even though he was also still in high school at the time.
I wrote a paper about this future career. I also wrote a novel. And a musical. And an album of songs. And did a bunch of community theater. My high-school aspirations might seem, well, aspirational, but I was doing the work as best as I could from my 2,500-person hometown in rural Missouri.
Musical theater composer/lyricist/director
College taught me that I wasn't as good an actor as my peers, but I was a pretty darn good composer, so I decided to focus on musical theater. After watching student directors try to stage my musicals and just not understand the nuance I was trying to communicate here, I decided to add directing to my skill set.
Telemarketing trainer
After I graduated from college, moved to Minneapolis to do a theater internship that got canceled, and became a telemarketer, I had the bright idea to pitch myself as a "telemarketing trainer." I was consistently one of the top sellers, so why shouldn't I be allowed to take some time away from the phones and coach other people on their sales technique? (For a higher wage, of course.) There are probably at least ten reasons why my manager turned me down, but one of them is because you don't take your top seller off the phones.
Theater director/professor
I went to grad school to stop being a telemarketer and start becoming a theater director and academic. I also went to grad school because I wanted to get a terminal degree and "beat the final boss." I came out with an MFA and, like, half a Hit Point. I also knew I was not going to be a professional theater director and, because of that, would probably never be a theater professor.
High school theater teacher
When I applied for my grad school program, I did it in part because the website claimed the program trained people to teach—which meant that I could take my skills to either the college or the high school level. At the end of grad school, I met with one of the faculty to discuss that whole "teaching high school" thing.
"Oh no," she told me. "High schools have much stricter requirements now. You'd probably need an MA to be competitive, and you'd have to get certified."
(To my grad school's credit, the program did teach me how to teach, and I use those skills both as a volunteer tutor and as a writing instructor at Seattle's Hugo House.)
Protocol officer
I went from grad school to working as an executive assistant at a think tank, and during that time one of the senior staff members told me that I would be perfect for a protocol job at the Department of State. She said I was just like some West Wing character whose name I can't remember but I'm sure you all can tell me who it was. She kept suggesting I set up an informational interview with someone she knew to discuss My Future in Protocol, and I never did it. Instead, I met a guy, moved to Los Angeles, and tried to make it in the entertainment industry.
Voice artist
Shortly after moving to Los Angeles I almost booked this voice artist gig for an animated version of a webcomic. Technically, the director told me I had the gig, had me send him some audio, and then the project got canceled. (This is typical Los Angeles.)
YouTuber
Please don't look up my old YouTube videos.
Indie musician
This marks the third career I tried where I was not terrible—I mean, I was able to book gigs and get paid—but also not as good as my peers. Since I was supporting myself during this go-round, it only took me a year to decide to try something else and move to a less-expensive city.
The fact that I picked freelancing and Seattle—and have somehow made a success at both—feels like a miracle.
This story is part of The Billfold's Career History series.
---
Support The Billfold
The Billfold continues to exist thanks to support from our readers. Help us continue to do our work by making a monthly pledge on Patreon or a one-time-only contribution through PayPal.