Canadian City Makes it Illegal for Teenagers to Trick-or-Treat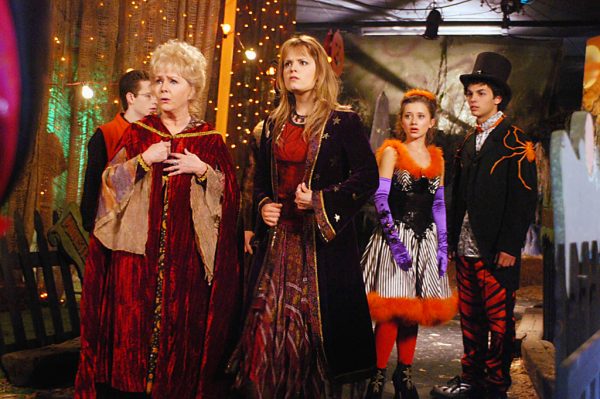 Today in "this should be the plot to a Disney Channel movie that's really just a remake of Footloose but at Halloween," we go to Bathurst, New Brunswick. This Canadian city is in the process of passing a bylaw that bans anyone over 16 from trick-or-treating and forbids anyone from wearing a "facial disguise" after 8 p.m.
As The Guardian reports, the bylaw is actually a revision of an even stricter bylaw:
Changes to a controversial Halloween bylaw that banned trick-or-treating for older teenagers and set an early curfew on the pursuit of sugary loot don't go far enough, the deputy mayor of a northern New Brunswick community says.

"I wanted to demolish it altogether but I got outvoted," Kim Chamberlain said in an interview Tuesday of the Bathurst city bylaw that made it illegal for teens over the age of 14 to parade door-to-door dressed as ghosts and goblins, and set a 7 p.m. cut off. "At least we were able to make some modifications."
Yes, you read that correctly: last year, Halloween in Bathurst ended at 7 p.m., and no teenager over 14 was allowed to participate.
Also, if you break the bylaw, you get a $200 fine.
My first question is "but what about the teens who take their younger siblings trick-or-treating?" Is that no longer a thing? Are we so worried about teens participating in Halloween that we… well, I was going to say leave them home alone while parents take younger kids trick-or-treating, but that won't work because then teens will be home alone and that is how horror movies start.
So I guess we have to assume that every family in Bathurst with both a teen and a younger child has two parents or guardians who are both available between the hours of 6 and 8 p.m.; one to take the younger child trick-or-treating, and one to remain in the house and make sure the teen stays safe.
---
Support The Billfold
The Billfold continues to exist thanks to support from our readers. Help us continue to do our work by making a monthly pledge on Patreon or a one-time-only contribution through PayPal.