The Cost of Setting Up a New Website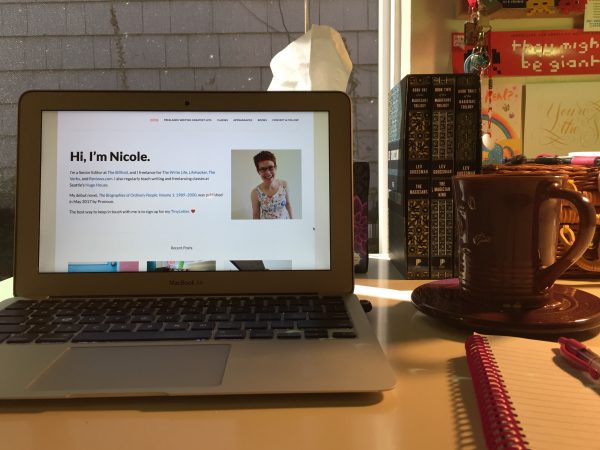 Two weeks ago I wrote about wanting to go from "social media renter" to "website homeowner," and I am proud to announce that as of this weekend, NicoleDieker.com no longer redirects to my Tumblr.
Instead, it goes here: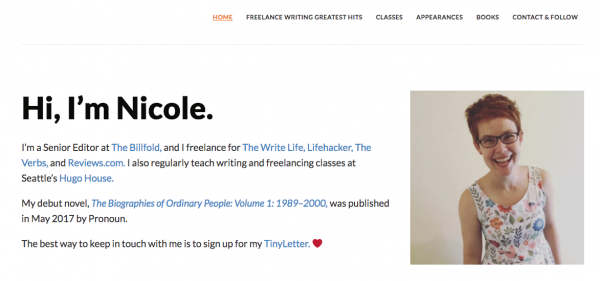 I am so delighted to have my own little space on the internet. With my own brand-new headshot that I took in my bedroom with my iPhone stacked on three books, two boxes, and one Kindle. And—my favorite part—my own declaration of social media boundaries:
I use Twitter and Tumblr to share links to my daily Billfold posts along with the other freelance writing work I do every week, so they're great places to follow my vast & fast writing output.

I use Instagram to share what I'm reading and where I'm going. If you want to know even more about what I'm reading, follow me on Goodreads.
It's such a relief to have defined the way in which I want to interact with all of these services. I am very ready to discuss social media boundaries in the comments, but since this is The Billfold I want to skip to the most important part: how much all of this cost me.
First I had to decide whether I wanted to use SquareSpace, sponsor of every podcast I've ever loved—or stick with WordPress, which I've previously used on old blogs you should never, ever look up and am currently using on The Billfold right now.
I chose WordPress (dot org, natch), mostly because of Billfold-related loyalty.
That meant I needed to transfer my domain from G Suite—and the only reason Nicole Dieker Dot Com ever ended up on G Suite was because this guy I was dating at the time told me it was a good idea—to DreamHost. This cost me $9.95. I probably didn't have to transfer it to DreamHost, but I was already familiar with DreamHost from making those old blogs that include old YouTube videos that you should never, ever try to view.
WordPress and DreamHost are set up to play very nicely with each other, thanks to DreamHost's famous One-Click Install, but this time there was a second step: figuring out whether I wanted to pay for the fancy hosting: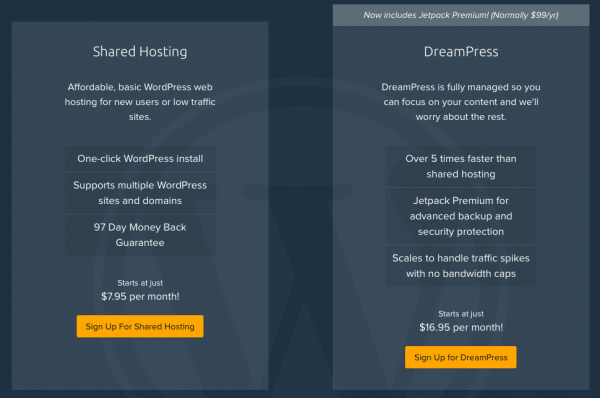 I currently pay $1.95 per month to continue to host those old blogs that display images of myself as a 16-bit pixel character and as a Scott Pilgrim character and that I should probably take down before y'all go hunting for them. Looks like the costs have gone up a bit since then—and I'm pretty sure DreamPress didn't exist back in nearly ten years ago.
But of course I chose DreamPress. It's a business expense! It costs $203.40 per year, and I was charged for the full year right away. (I should also make a note that this payment will come due again next August, along with my Amazon Prime renewal and my TuneCore renewal. I wonder why I start up so many subscriptions in August. Maybe because of the August Blues?)
Getting access to Jetpack Premium has already proven to be well worth the cost—I can see how people are finding my site, what pages they're reading, and what links they're clicking.
My theme was free, and filling out the theme with "freelance writing greatest hits" and "this week in self-publishing" posts only cost me my time, so the total cost of setting up my new website comes to: $213.35.
I'm so happy this exists.
Also, it took me roughly 30 minutes to get my first spam comment.
---
Support The Billfold
The Billfold continues to exist thanks to support from our readers. Help us continue to do our work by making a monthly pledge on Patreon or a one-time-only contribution through PayPal.