Festival Time
Garlic. How can anyone resist garlic? Ever since I moved to Northern California in 1988, I have wanted to go to the Gilroy Garlic Festival. Every year, I had an excuse. It was too far. It was too expensive. It might be too hot. I didn't want to go alone. This year was the 39th year of the tribute to the smelly bulb. It wasn't going to get closer, cheaper or cooler, so I decided that this was the year I would go, all by myself.
Even though my favorite celebrity chef Giada De Laurentiis was making an appearance on Sunday, I decided to go on Saturday, July 19. I would need Sunday to recuperate from my 292-mile trek. How would I get there? Driving might have been quicker and cheaper, but I wasn't excited about driving 146 miles each way to sample some garlic ice cream. It would probably cost $40-90 to rent a car from a car rental agency or ZipCar for the day, money that would be better well spent on garlic souvenirs.
On the Festival website, I discovered that there was a special CalTrain running from the San Jose station to the Gilroy station, where buses would take passengers to the Festival entrance. Since I was over 60, I could take advantage of the senior discount. (Yay! I think…) If I ordered tickets online, I could get Festival admission, transportation on the Festival train and bus, and a Gourmet Alley Combo Plate for $51. Round trip transportation from Sacramento to San Jose on Amtrak was $80, probably more expensive than driving, but I could sleep on the train.
I definitely needed that sleep. The train left Sacramento at 6:10 am, which meant that I got out of bed at 4:15 am on a Saturday. I would get to San Jose around 9:18 am, plenty of time to catch the 10 am Special Garlic Train. Public transportation wasn't running that early, so I reserved a Lyft ride to the station. $8 seemed a lot for a ten-minute ride, but it was better than walking.
I slept most of the way. When we got to San Jose Didiron Station, there were greeters who directed passengers to the Garlic Train. The train was packed. I wasn't the only one who decided not to drive to Gilroy. On the train, we found out that all of the greeters had worked at the Garlic Festival for decades. One was even a former Garlic Queen. At the Gilroy station, there were several buses waiting to take us the short distance to Christmas Hill Park. As soon as we neared the park, the odor of garlic filled the air. Finally, I was at the Gilroy Garlic Festival!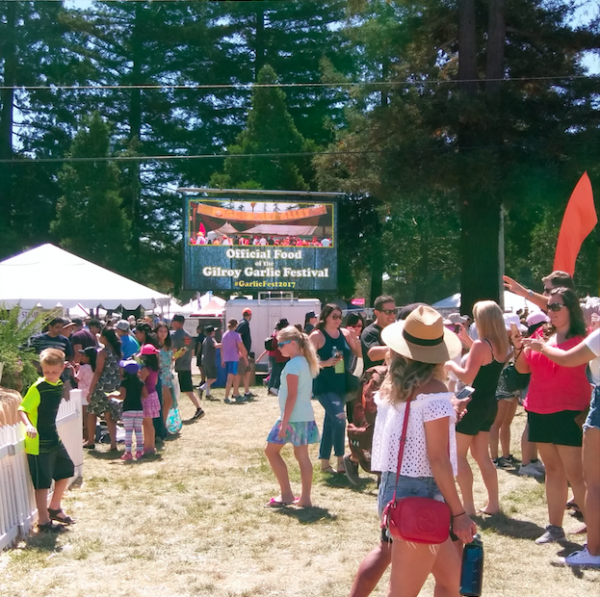 I promised myself that I would be frugal, but there were so many tempting treats and treasures. The one thing that I wanted to get was a souvenir to commemorate my adventure. In the souvenir tent, the only item that had the Festival dates on it was a tote bag. I paid $20 for a tote bag? Yes I did, even though the free one I got at the Ford display a few hours later was nicer. But I didn't stop there. I got a Garlic Festival tee shirt, a magnet, and a present for a co-worker.
Shopping made me hungry. I stood in line for 20 minutes to get my Gourmet Alley Combo Plate Number Two. The $13 plate was worth the wait. It included shrimp scampi, garlic mushrooms, an Italian sausage sandwich and garlic bread. The Festival was packed, and it took me a while to find a seat to enjoy my Combo Plate. Do Festivals turn a profit? What about individual vendors? I did my part by buying a foot high plastic container filled with a peach, banana, and strawberry smoothie for $9. I stood in line for 30 minutes to get a free tiny cone of garlic ice cream, but I wasn't impressed. I was impressed with the jewelry on display from a vendor from Sacramento. I bought a pewter necklace and two pairs of earrings for $50.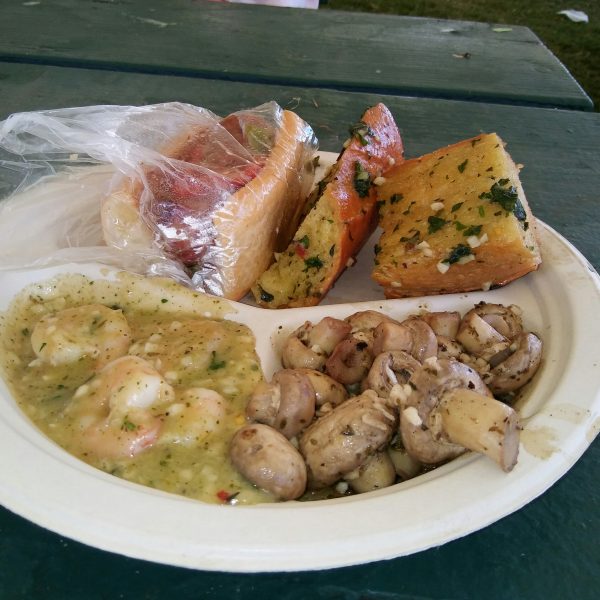 I needed to win some money. The California Lottery had a booth at the Festival, offering free scratcher tickets with each $20 sale. I only spent $6, but I noticed that gamblers were discarding the losing tickets. Didn't these people know about the Second Chance drawings? The serial numbers on losing scratcher tickets could be entered on the California Lottery website for a chance of winning money in weekly drawings. I started collecting the losing tickets that were left on tables and on the ground. After a few minutes of effort, I had collected 66 tickets. Maybe I could recoup the money that I spent at the Festival.
By the time the bus left the Park at 4 pm, I was ready to go. I had walked around the Festival grounds several times, listened to some bands, given my contact information to the Ford Motor Company for a free tote bag and gardening gloves, and drank three bottles of water (it was hotter than I thought it would be). It was fun, but I wasn't in any hurry to return. I had spent around $250, travelled 292 miles in six hours, tasted garlic ice cream, and walked around for six hours. I was all garlicked out.
For a family, it would be an expensive outing, but it was one of those Northern California traditions that should be experienced at least once. I was glad that I could finally cross it off of my bucket list.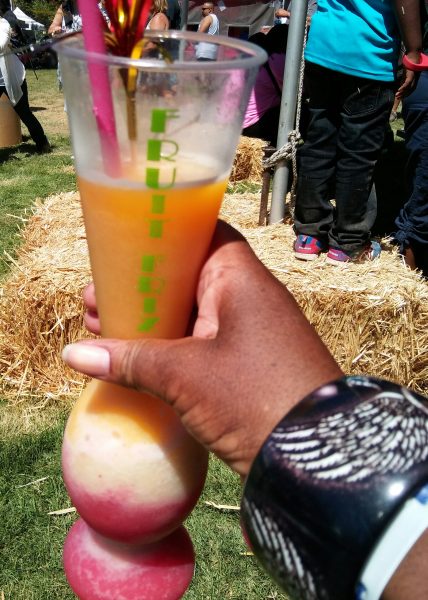 Beatrice M. Hogg is a coal-miner's daughter and freelance writer who was raised in Western Pennsylvania and has lived in Northern California for twenty-five years, where she wrote her novel, Three Chords One Song, and continues to write about music and life in general.
---
Support The Billfold
The Billfold continues to exist thanks to support from our readers. Help us continue to do our work by making a monthly pledge on Patreon or a one-time-only contribution through PayPal.