A Commemorative Vacation to the Galápagos, Deferred
A story of love, hurricanes, and travel insurance.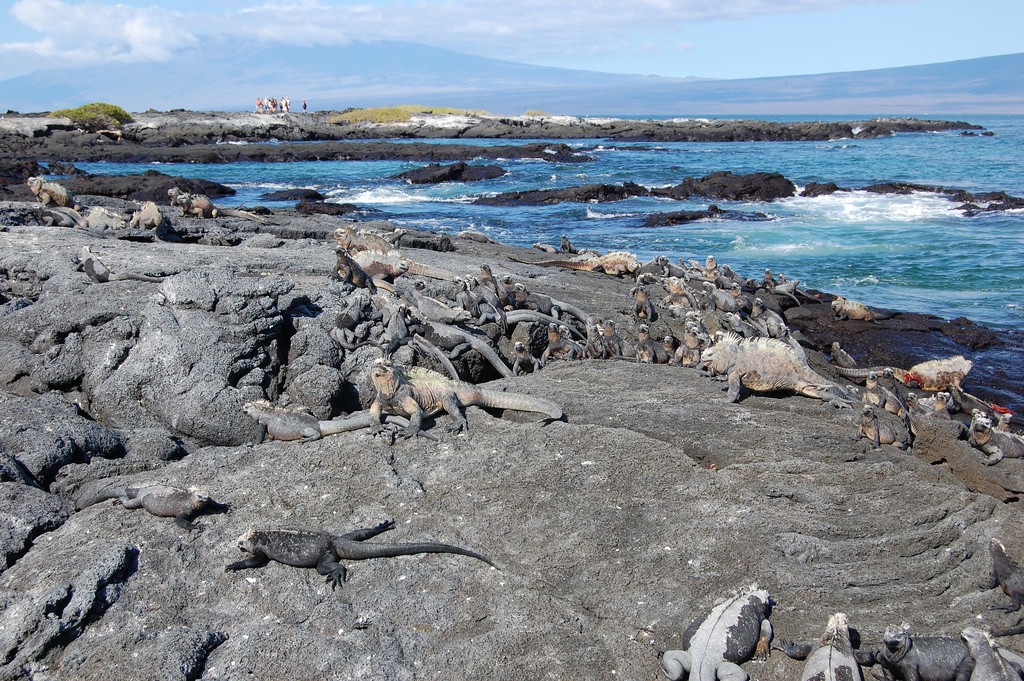 My grandparents were travelers. A desire to see the world drove them to travel through many parts of Europe, Africa, Asia, and Australia. When my grandfather became the president of a textile business, he, my grandmother, and my mom would travel to the countries where they sourced goods—the Philippines and China, primarily—and to South Korea and India for designs.
Still traveling into their seventies, they usually went to Europe. My grandmother was an Anglophile, an obsession I also inherited, though unfortunately this trait remained latent until several years after her death. They also spent every summer on different Caribbean islands, and since my parents and grandfather all loved scuba diving, they invited us along too. I spent my days snorkeling, hanging out in the pool, reading, and playing games with my grandmother.
Last August was the anniversary of my grandfather's death. My grandmother had died seven years previously. Their declines, while only several months long, were brutal, both for them and my family. A year after my grandfather passed away, my parents and I decided to take a vacation to Ecuador and the Galápagos Islands, to honor both their memories. An amateur photographer, my grandfather loved land animals and sea creatures, and my grandparents had explored the Galápagos in the early 2000s.
We booked a flight from New York to Guayaquil for the beginning of October, with a flight returning from Quito to New York eleven days later. My parents also booked a tour: we would see Guayaquil, the modern metropolis of Ecuador, and Quito, the historic capitol, and in the middle we would visit several of the Galápagos Islands.
We'd never done a tour on vacation before, preferring instead to forge our own path, but for the Galápagos we wanted to make sure we saw everything we could. Flights from Guayaquil and to Quito, hotels, transportation on the boat, and snorkeling and hiking trips were included in the tour. I couldn't wait to take the boat between the islands and be in nature for five days.
I love planning for trips, in theory. In practice, I usually wait until two weeks before the vacation to start binge-reading Lonely Planet and scouring blogs for tips and advice. For this trip I only started figuring things out the week we were supposed to leave. I found hiking tours from Quito and asked an acquaintance from Ecuador about the best places to see concerts in Guayaquil. I still have all that information—which I hope to use someday, since we never made it to Ecuador. We ended up in Spain instead.
Our flights were booked for Friday, October 7. On Tuesday, my mom heard that Hurricane Matthew was heading to Florida. On Wednesday, she realized that we were flying through Miami and our flights could be disrupted. If we couldn't make it out on Friday, it could potentially derail the whole trip.
My mom started researching what would happen if we had to cancel, spending hours on hold talking to insurance companies about coverage. I had always vaguely heard about travel insurance, but had never actually thought to buy any. I was convinced it was useless to try to purchase insurance; it was less than 48 hours from our departure, and I had heard somewhere that you couldn't get insurance once a natural disaster had a name.
Twenty-eight hours before we were supposed to get on our flights, my mom paid $300 for a policy that covered our losses for up to $10,000, including any flights, tours, and hotel reservations we couldn't get refunded. I still didn't think we could actually get refunded any of the money — it seemed ridiculous we could pay only $300 for such a robust policy. And to be honest, I was sure we wouldn't need to use it anyway. I'd never had a flight cancelled before, and I didn't think it would happen now.
On Thursday it became clear the hurricane was going to be worse than we had anticipated, and airlines were issuing cancellations for flights going through Miami. My parents were flying from Newark, closer to their home, and I was flying from JFK, more accessible from Brooklyn. We would meet in Miami, and take the same flight from Miami to Guayaquil. About 24 hours from take-off, my parents' American Airlines flight was cancelled. There weren't any flights from Newark to Guayaquil until Monday, and if we left then we'd miss all our time in Guayaquil and some of the time in the Galápagos.
But my flight was still scheduled to leave—which meant we couldn't decide whether to cancel the trip completely. When I called American Airlines they could only tell me my flight was departing as planned. They couldn't say whether it would be canceled. It was getting to worst-case scenario territory: I would have to fly to Guayaquil, stay there a couple days and wait until my parents came. I've traveled a lot internationally myself, but I didn't want my family vacation to turn into a solo adventure and have my parents miss some of the best parts of the trip.
We started looking at other vacation options. We didn't want to start the trip several days late, and we decided we would rather take the vacation another year than not take it the way we had planned. The insurance would cover the amount we paid for the Galápagos tours and the flights within Ecuador. Our hotels in Quito and Guayaquil were refundable, which confirmed my opinion that refundable reservations are always best. We decided that if my flight wasn't cancelled I wouldn't go, and we would consider my ticket lost money, since the insurance wouldn't pay for it.
Several hours after my parents' flight was cancelled, and just 18 hours before my flight was scheduled to leave, my flight was cancelled as well. The travel insurance company assured us we'd receive the bulk of the money back, so we started thinking about taking a different trip. We had already planned to take the days off, and I really needed a vacation. We threw around countries — nothing was off the table. My vote was for Morocco. My mom wanted to visit Kenya. Unfortunately, we had a constrained timeline — I needed to be in DC for a trip with friends starting the afternoon I was supposed to fly in from Quito. (Definitely not my smartest plan.) This meant that we couldn't extend our vacation to include enough days to thoroughly explore Kenya or Morocco.
We had always talked about going to Spain, as my mom had studied Spanish in the north of Spain for a month before she started her Master's program. We settled on starting the trip in Barcelona, because we could get a direct flight. With no hotel reservations or plans, my mom booked the flights. We'd leave Saturday afternoon, 24 hours after our flights to Ecuador were supposed to take off, and spend ten days in Spain.
On Thursday night my parents and I frantically scoured last-minute hotel sites, trying to find a decent hotel for Saturday. We knew we'd start in Barcelona, and planned to figure the rest out when we got there. Maybe we'd do Madrid or fly to Portugal. Luckily we found Casa Bonay, a hipster enclave of hotel, restaurant, coffee bar, and bookshop. Rooms that normally were around $300 were discounted because we were booking last-minute. We booked the first three nights at Casa Bonay in Barcelona, but all the following nights were at their regular prices so we decided to wait and figure it out when we got there.
At this point I wish I could tell you that I relaxed and decided to let the trip take me where it wanted. Reader, I did not do this. We bought the requisite Lonely Planet and I devoured it on the flight to Barcelona. I stressed out; would I be able to find the indie concerts that are always my favorite parts of vacation? Should we take the six hour drive to Madrid, or spend a few days in the countryside surrounding Barcelona? Where exactly were the best churros?
There's a Deepak Chopra quote I keep on my laptop. I go back to it occasionally, when life feels out of control.
If you obsess over whether you are making the right decision, you are basically assuming that the universe will reward you for one thing and punish you for another. The universe has no fixed agenda. Once you make any decision, it works around that decision. There is no right or wrong, only a series of possibilities that shift with each thought, feeling, and action that you experience.
I don't know if I totally believe this, but reciting it brings me comfort. We ended up negotiating with Casa Bonay to stay several extra nights and pay the discounted price (lesson learned: always negotiate). We travelled to Madrid to drink fresh fruit juice in hipster cafés and go to street fairs. We saw one of the most famous Catalonian speaking bands, Manel, and an indie band at a fundraiser for a society to protect cats and dogs. We did not find the best churros. What I remember most is the feeling that it's possible to get up and go and have it work out, and that it always helps to have a mom who's an ace at organizing vacations.
While the insurance company eventually reimbursed us for all of the Galápagos tour-related expenses, we still spent hundreds of dollars on the wetsuits, snorkeling gear, and typhoid pills. Those pills were more expensive for me than they were for my parents because I had to go to an urgent care clinic to receive the prescription, which I wouldn't have needed to do if I'd had a primary care doctor (yes, I have a primary care doctor now).
We're still hoping to take that trip to Ecuador and the Galápagos, though, so I'm keeping that Lonely Planet close by. And, while it wasn't the vacation we had planned, I think my grandparents would have appreciated our sense of adventure. My parents and I are going on a vacation to England and Scotland in a few weeks, and I'm hoping this time there won't be any last minute disasters. But no matter what happens, I know we'll have a great time—whether we've planned for it or not.
Jaclyn Green-Stock is always looking for her next diversion. She lives in Brooklyn. Follow her on twitter @jaclynrachelpr.
This story is part of The Billfold's Vacation Series.
---
Support The Billfold
The Billfold continues to exist thanks to support from our readers. Help us continue to do our work by making a monthly pledge on Patreon or a one-time-only contribution through PayPal.