What If I Moved Into This Public Restroom in Bryant Park?
It's way nicer than my apartment.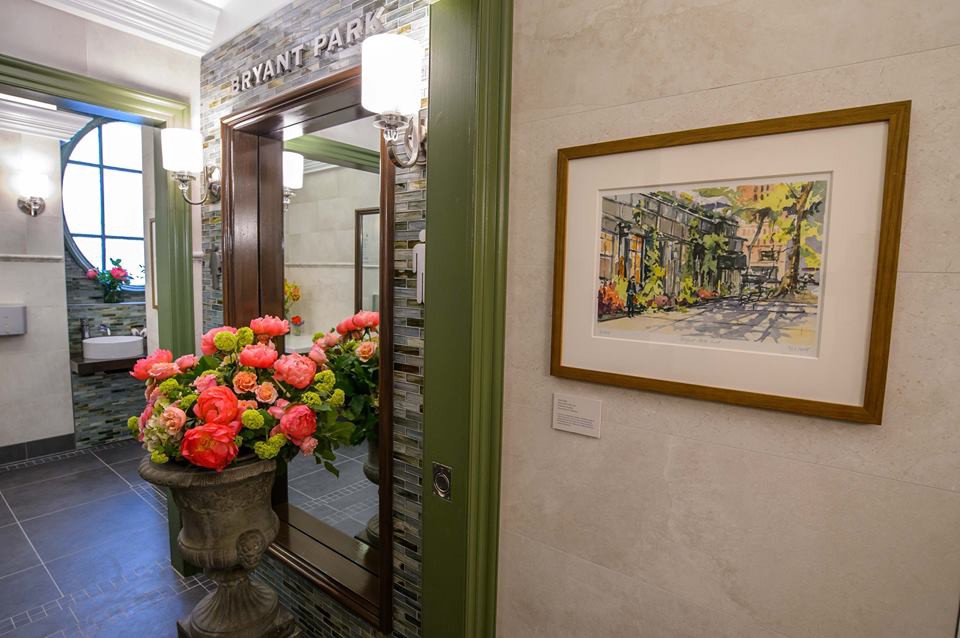 Sometimes, the bathroom is the nicest room of a house — cool, private, a place where you can truly be alone. No one joins you in the bathroom unless very specifically requested, allowing the space for you to sit in the bathtub and think for a while or pluck chin hairs and talk to your mom on speaker phone.
That time North gets a time out &is a little too quiet…I go in her room 2check on her &she made her own spa &tells me she's chilling out 😂
Here is a very nice public restroom in Bryant Park, recently reopened after undergoing a $300,000 renovation inspired in part by Brooke Astor. It opened at the end of April and is probably the nicest public restroom you will ever use — nicer than say, the very quiet and relatively clean bathrooms in Soho at Crate and Barrel, hidden upstairs by the water fountain. According to the New York Times, the upkeep on this thing is also fairly expensive, costing about $271,000 annually. Included in the cost is $27,000 for a lot of single-ply toilet paper, $14,160 for flower deliveries (!) and $25,000 to $30,00 annual salaries for the bathroom attendants. The whole park, including the bathroom, is supported by private funding and corproate sponsorships and that, my friends, is why it's so goddamn nice.
A Public Restroom Fit for Brooke Astor Gets an Upgrade
Are there better places that money could've gone to? In short, yes. But when you consider the origin story of the bathroom and why it's so nice, it all starts to make sense.
In rebuilding the bathroom, Mr. Biederman said, his inspiration was Brooke Astor, the grande dame of New York society. After all, she was indirectly responsible for saving it: Mr. Biederman said he had been told that in 1979, Mrs. Astor, then 77 and a member of the library's board of trustees, was on her way into the library for a meeting when she said a "hooligan" approached her on the front terrace and tried to sell her drugs. She complained to her friend David Rockefeller that the area needed to be cleaned up. Mr. Rockefeller helped secure the financial support to make it happen.
Brooke Astor was approached by a "hooligan" and she threw a hissy fit, complained to her good pal, a Rockefeller, and now we have a very nice bathroom for the public to use. Just sit with that for a second.
Anyway, a lot of thought went into curating the ultimate public restroom experience:
Any change — even to the playlist of classical music — is discussed at length at staff meetings. Park managers have convened focus groups on the bathroom. After women said they preferred not to have to touch anything, hands-free faucets and driers and self-flushing toilets were introduced. Park managers have also dispatched scouts to luxury hotels and restaurants, including the St. Regis, the Waldorf Astoria, the Plaza and Morimoto restaurant, to check out the competition.
Fresh flowers! Self-flushing toilets! Classical music at tasteful levels piped in as you flush. Would it be fine to live in this public bathroom? Maybe. The bathroom is my favorite room in a house, but maybe my dreams can be tailored a bit. I'd do work in this bathroom. I would do everything I could to spend as much time as possible in this bathroom. It is much nicer than my whole apartment, including my perfectly serviceable but dim bathroom. I won't live there. But I am glad to know that I am not alone in my thoughts.
"I'm going to come here more," said Will Chen, 30, a messenger who uses the bathroom once a week. "I thought it was already good enough and now they're going to make it even better? I may live here."
---
Support The Billfold
The Billfold continues to exist thanks to support from our readers. Help us continue to do our work by making a monthly pledge on Patreon or a one-time-only contribution through PayPal.