Adventures in Poshmarking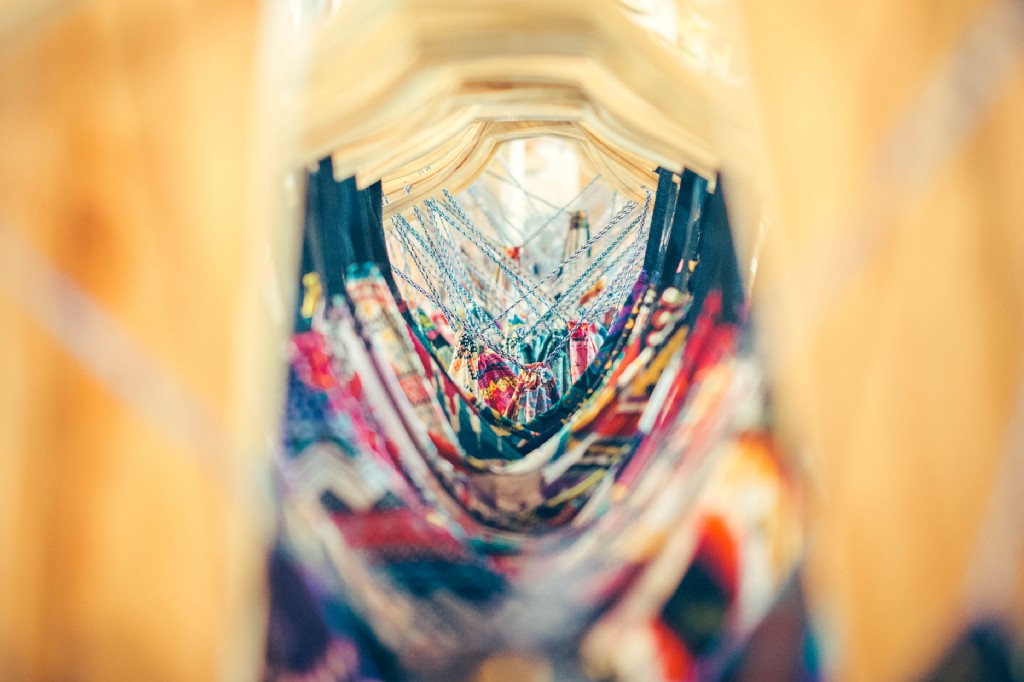 How an app designed to help you sell clothes slowly convinces you to buy them.
When my boyfriend's friend's fiancée extended to us our first invite on a couple's vacation, I had to respectfully decline. It wasn't even anything terribly exciting — just a few days at Asbury Park, a whole hour-and-a-half drive from our Brooklyn apartment.
"I'd say we'd be interested but we're a little broke right now so we'll have to think about it," I texted her, trying to think of some way it would be feasible.
"I feel that! I'm pretty sure me and Will are going to have to use Poshmark money," she responded.
I remember seeing this and immediately folding my hands Mr. Burns-style. Poshmark money, you say, I thought. Well, I would definitely like some of that.
Ariana had mentioned her Poshmark dealings the first time we had gone on a double date, the week before. I had heard of the app, of course, but knew very little about it—other than the fact that it was a place for people, mostly women, to sell used clothes. Ariana, however, was apparently making a killing on Poshmark. Her fiancé complained about how often he had to haul packages of her used clothes, jewelry, and even used make-up to the post office. (Yes, there's a market for everything.)
I had actually just ordered a bag from thredUP the day before, which is another way to sell your used clothes online. With thredUP, they sent you a large bag with postage attached and you load it up with the clothes you want to be rid of. Then you send it off! Once they process your bag, they make you an offer on your clothes and you can either accept payment, give the clothes away as donation, or have the clothes returned to you for a fee. My experiences with thredUP haven't been terribly lucrative. Big bags full of clothes often yield no more than $30. One time they only took a single pair of pants out of the whole bag for, like, $2.50. This paltry offering was obviously not Poshmark money.
I went home that night, downloaded Poshmark to my phone, and was immediately overwhelmed. The screen filled up with an endless feed of clothing, bordered by three buttons: "Shop," "Sell," "News." The News button was already lighting up with lots of new alerts — in my first hour or so of joining, I had amassed over 50 followers. All my clothes are just going to fly off the shelf, I thought to myself gleefully.
I tried selling my first item: a beautiful black sparkly lace J.Crew strapless cocktail dress. It was a stunning piece that I genuinely loved, but after a couple of years of owning it—and only breaking it out once, for one low-key New Year's—I decided it was time to set it free. I listed the dress for what I thought was a reasonable price: $35, a fraction of the retail cost.
Poshmark's sales model takes a flat rate of $2.95 from any sale under $15 and 20 percent off any sale higher than that. In exchange, all listings on the app are free, and Poshmark provides you with a pre-paid express shipping label for every sale. Having done my share of experimentation with online marketplaces like Etsy, eBay, and Amazon, I found Poshmark's fees to be pretty fair—and I especially liked that they provided shipping, which can sometimes be the most expensive part of selling clothes piecemeal.
Uploading the listing was very easy. I took an in-app photo of the dress, filled out a form, and provided a description. My item immediately began getting "shared," though I'll be damned if I knew what that meant. I also got a "like," which was reassuring. At least one person was willing to publicly attest to the fact that what I was selling was, in fact, likable!
Over the next few days, I added more items. There was the beautiful white lace Banana Republic dress that I convinced myself was worth $100 but have hardly worn since. There were some schoolgirl skirts I had barely taken out of the drawer for the past few winters. There were a couple other dresses and hoodies I threw into the mix — all of them in good condition, just regretfully under-used.
Within two days, I had over 200 followers but still no bites on my clothing items. One girl inquired how long the white lace dress was. Did it go below the knee? she asked. I assured her it did not, though it was on the longer side. I wanted to prove that I was an honest seller, providing accurate details. I was met with radio silence.
I didn't understand why all of the all the likes, shares, and follows that were coming through to my profile weren't translating into sales. Sure, it was great to be getting recognition, but no one was buying. What did these people want from me?
"This app makes me feel old," I texted Ariana, staring at the many outfits passing through my feeds, seeing new follows and shares, and wondering if these followers and sharers were expecting something from me in return. The anxiety reminded me of when I first signed up for Twitter; the constantly updating feed caused me to wake up in the middle of the night every couple of hours, wondering what people were saying in my absence. With Poshmark, I felt like at any moment I wasn't engaging with the app might be a missed opportunity for a sale.
So I started exploring the app, trying to understand the Poshmark culture. Some people sold designer clothes that were new, with tags. I was thrilled to find a Diane von Furstenberg wrap romper I had once seen on Nikki Bella on Total Divas, but dismayed that, even heavily discounted, it was still $150. (If I remember correctly, the seller later raised the price to $195.)
On the other end of the spectrum, people were selling clothes that looked like they had a lot more wear on them. People also sold used beauty products or tried to upsell things like Ipsy bags or other samples from beauty subscription services. I remember feeling weirdly offended when I saw that some listings said an item was a designer brand but then admitted in the description box that it was listed "for exposure." Some of us were trying to make an honest buck here.
As my number of new followers began to slow, I started to realize that I couldn't just wait for sales. I would have to participate in the community to get something out of it.
That meant I would need to use Poshmark not only as a seller, but also as a shopper. Even if I never planned to buy anything.
I searched for some of my favorite brands, which Poshmark helpfully saved as preferences in my feed. Every time I opened the app, I could see the latest listings in those brand categories, and let me tell you, there were a lot of cute clothes in there. Barely used dresses that I could see myself wearing to Ariana and Will's upcoming engagement party. Flowy tops that would be perfect for summer.
So I started curating. I shared items I considered true finds, the cute-and-quality items that I would purchase myself. I also liked items and started following sellers wearing similar sizes who seemed to have similar tastes.
One day, I saw that I had gotten an "offer" on the white lace dress—but it was for $20, $15 less than the original $35 listing.
"So when I first started I took everyone's offer, now I haggle but I make it clear I don't take low ball offers," Ariana—my unofficial Poshmark tour guide—texted. "I say this while I'm currently Poshmarking."
The app made it easy to counter the offer; I just had to type in a number. I offered $30 and never heard back.
Poshmark lacked the ticking clock of eBay and the more regimented gratification of sending my stuff to thredUP. I needed to be even more aggressive. That was when I learned about the importance of shares.
After consulting with Ariana, I came to find that I had been way too conservative and stingy with my shares. Poshmark seemed to work best when you shared a lot. This meant sharing other people's clothes and repeatedly sharing my own listings to my feed. In a community where every buyer was also a seller, making your shit as visible as possible and putting at the top of the pile was essential for discovery.
Another way to get seen was to participate in "parties," which were basically special themed feeds that were up for a couple of hours at a time. If I had products that fit the theme, I would share my items to those parties—and I would also share items from the parties to my personal feed. There was definitely a feeling of reciprocity there: you share my item, I'll share yours. We were all in this big Poshmark system together.
We were also always checking the system. "What are you doing?" My boyfriend asked when I pulled out my phone in between opening bands at a concert.
"Minding the store," I responded, as though I was stacking soup cans or mopping floors at a mini-mart.
I found myself sizing up other women on the street. I like her dress, I would think to myself when a girl in a ruffled salmon frock passed by. Would I say that's in excellent used condition? What material is that made of? No outfit or person was beyond my objectification.
I went into Poshmark planning to only be a seller, but the app encouraged me to think like a buyer—which meant I eventually fell in love with another seller's listing. It was a sheer top with an adorable pear print on it. I had never seen anything like it before.
"Put in an offer," my boyfriend suggested, ever the enabler.
And, in no time, I was $26.95 in the hole.
Still, the Poshmark gods must have noticed my participation in the community, because the next morning, I had an offer on a pink polka dot dress I had listed. I had it up for $12, and she offered $10. I immediately accepted.
The app makes the payment and shipment process very intuitive. I received the shipping label via email, so I just had to print it out, fasten it to the package, and drop it in the mail. They also encourage you to wrap your item nicely, almost like a gift. I thought it was a little cheesy to write a thank-you card to someone I'd interacted with only at the "pressing buttons" level, but I will admit that when my pear shirt arrived nicely wrapped, with a thank-you card and a little bonus notepad, I did feel a glow of sisterhood.
I have already concluded that Poshmark money is never going to be a thing. I failed to make my mark in the Poshmark market, and I'm running a Poshmark financial deficit. That being said, Poshmark has a really active community that has a lot to offer if you are willing to roll up your sleeves and dive in—and if those sleeves aren't doing it for you, there's a whole slew of people willing to give you new ones for the right price.
Kimberly Lew recently wore her new pear shirt and it was every bit as cute in person as it was on the app. www.kimberlylew.com
---
Support The Billfold
The Billfold continues to exist thanks to support from our readers. Help us continue to do our work by making a monthly pledge on Patreon or a one-time-only contribution through PayPal.