Every Book I've Read Since the Election
And how much they cost me.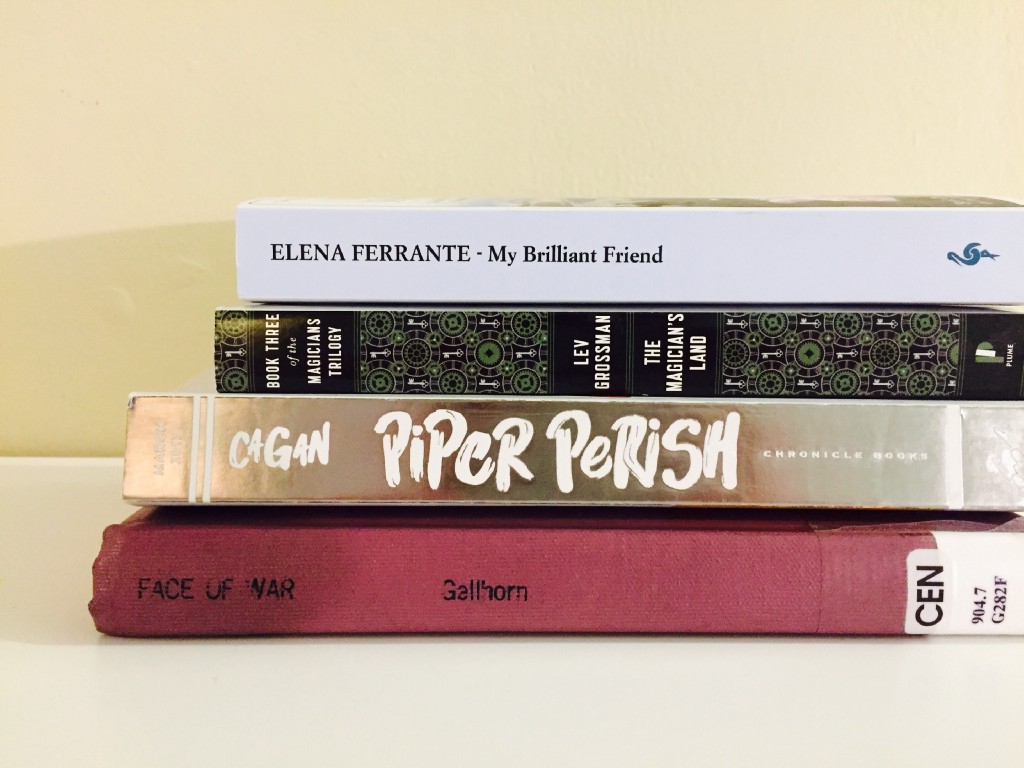 Last week, I made the decision to avoid looking at Twitter and at the news as much as possible. I'm not trying to avoid news—in fact, I'm very interested in news—but I am trying to avoid the constant anxiety and speculation that surrounds the news.
It's a strategy that's worked, so far; over the past weekend, even with severely rationed Twitter and news check-ins, I've still managed to learn about:
And probably more. I'm just listing stuff off the top of my head—and all of this news is from, like, the past two days and this morning. Edit: I totally forgot about the protest at Standing Rock and protestors being soaked with water, for example.
So books, then. I've been filling those moments that I would otherwise fill with social media and internet with books, and I've gone back to my childhood habits of carrying a book with me at all times, reading with one hand while I stir soup with the other, that kind of thing.
Here's what I've read since the election, in order:
Greg Cox: The Bestseller Job (A Leverage Novel). This was the first book I read after the election. It was all I could handle reading right then. I had bought it for myself a few days ago as a birthday present, and I curled up on the couch in sweatpants and read it because I didn't know what else to do. Cost: $8.76 for the Kindle edition.
L.M. Montgomery: Rilla of Ingleside. I read this for The Billfold's "what children's literature teaches us about money" column, and it was not my most thorough read. I would tap through a few pages on my phone, then check Twitter. I hadn't yet realized that I could not check Twitter. Cost: $0.00 for the public domain Kindle edition.
What Children's Literature Teaches Us About Money: L.M. Montgomery's 'Rilla of Ingleside'
J.K. Rowling: Harry Potter and the Sorcerer's Stone. I figured I should just plow through the next book on my Billfold "what children's lit teaches" list, so I did. This was where I started to make the connection between "not reading news and Twitter" and "not feeling agitated all the time." Thanks, Harry Potter. Cost: $0.00 for the Amazon Prime Kindle edition.
Meredith Maran: Why We Write: 20 Acclaimed Authors on How and Why They Do What They Do. By this point I had written my Billfold post about wanting to buy more books. I had made the decision to turn off all social media and news after the workday ended, under the assumption that if anything really important happened, I would find out about it somehow—and probably right away. (This theory has, so far, turned out to be true. I heard about the Hamilton thing immediately because my friends wanted to talk about it.)
So I was ready to buy more books, and paper books that weren't connected to phones and news, but it was pouring rain and I couldn't go out, so I read this book I had put a library hold on a while ago. It turned out to be mostly about how wonderful it was to be a midlist author in the '80s and '90s, so… not at all relevant. Cost: $0.00 for the library Kindle edition.
I've Changed My Mind; I Want to Buy Books
Kayla Cagan: Piper Perish. My friend Kayla Cagan has a debut YA novel forthcoming this spring, and I got an ARC. I read the entire thing in one night. It's so good. The story is about the process of becoming an artist; it's also about how to survive living with a narcissistic family member who twists the truth and actively works to destroy all expressions of agency that she cannot control. (In other words: absolutely relevant.) Cost: $0.00 for the paperback ARC.
Lev Grossman: The Magician's Land. I re-read Lev Grossman's Magicians trilogy at least once a year. Maybe more often than that. I know these books so well that they're like a door I can slip through (or a button I can touch or a fountain I can dive into, I have so many appropriate metaphors here), and this time I chose to slip into the book that helped me feel what it was like to live in a dying world and not know how to stop it. Cost: around $17. I own both paperback and Kindle copies and I read the paperback out of the $50 boxed set.
Martha Gellhorn: The Face of War. This book was recommended on Tumblr as a way to deal with whatever's coming next, and the overall message from Gellhorn's wartime essays seems to be "A lot of us will do good and noble things during war, especially on the home front; this is how humanity and goodness and love will survive. However, we will suffer and individuals will die and we have very little influence on what the people in power choose to do to us." A dense and unflinching read. Cost: $0.00 for the library hardback.
Elena Ferrante: My Brilliant Friend. I finally made it to my local bookstore. Not to be years late to the Ferrante game, but did you know these books are really great? Incredibly compelling and beautifully written? I am pretty sure I will read all four volumes in under two weeks. Cost: $77.82 for the four-book series, so around $20 for Book One in paperback.
I want to read more, and I definitely want physical books, and I know that means I'm going to need to spend even more time going to the library because there's no way I can drop $77.82 on four books every two weeks.
I also know that the list of books I've read so far is "all white people," with the exception of some of the authors interviewed in Why We Write, and I need to fix that. Brit Bennett's The Mothers is still on my to-read list, and I need to read N.K. Jemisin, and suggestions are always welcomed.
But that's what I've been reading, in the past thirteen days.
---
Support The Billfold
The Billfold continues to exist thanks to support from our readers. Help us continue to do our work by making a monthly pledge on Patreon or a one-time-only contribution through PayPal.