Turning Seventeen at Ruby Tuesday's
What chain restaurants used to mean, and what they mean now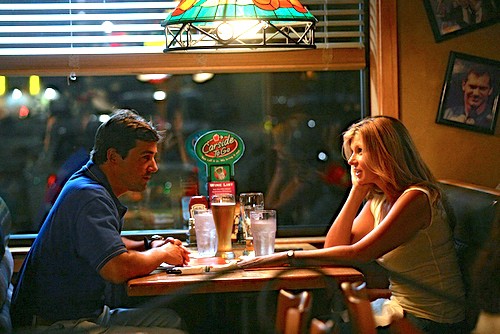 For my husband Eric's birthday last September, we went out to a restaurant that served strong martinis and looked much like I imagine the Foreign Correspondents Club in 1940s Hong Kong. One month later, we celebrated my birthday with pizza at 1:00 AM in a hotel room the night before an out of state job interview. Both events felt like a wish for the year to come and a reflection of the present moment. Neither were anything like how I'd celebrated as a kid.
Growing up, I celebrated birthdays with my family at major chain restaurants or with take-out at home. I started brainstorming where to go months in advance, a habit that has continued today. Now, though, the idea of planning a special birthday dinner at Chili's feels bizarre. When did I turn into a food snob? When did lunch out at Applebee's stop feeling special?
Birthdays in my family were some of the rare events when my family didn't cook at home. Because of this, some of my most vivid childhood memories revolve around our birthdays. There was the March when we tried to go to the Ground Round for my brother's birthday, but the driveway was too icy and steep for our car to make it to the street. There was the infamous Chinese take-out meal where I allegedly ate so slowly that I delayed my sister's cake. (Yes, I still get mocked for this.) For my 18th birthday, we went to Maggiano's in downtown Boston and I felt incredibly sophisticated. Until my late teens, birthdays meant the power to choose whether to order sweet-and-sour pork or to go out for quesadillas.
Looking back, I am most struck by the restaurants where we celebrated: the Ground Round, Chili's, and, if we were willing to make the half hour drive to Watertown, which felt like forever when I was ten, Bugaboo Creek Steakhouse. When I turned seventeen, my dad drove two of my friends and me all the way to Ruby Tuesday's at the Arsenal Mall so we could get cheeseburgers. In retrospect, this seems ridiculous. First, there had to be restaurants closer to home that served burgers. Secondly, why the hell had I picked Ruby Tuesday's?
Family birthday celebrations at chains did make sense from a financial perspective. With five of us, going to Bugaboo Creek for burgers was affordable. When my sister discovered the Bloomin' Onion appetizer at Chili's, it felt like a special splurge to order it. Also, the early 1990s local restaurant scene in our suburb mainly consisted of an inexpensive Italian place, a Bertucci's, a higher-end Italian place, and a handful of Americanized Chinese restaurants. Chains provided something new. The Chili's on the Burlington Turnpike may have been my first introduction to salsa.
When I asked my mom about our birthday dinner traditions, she mentioned that she and my dad had bad luck taking my older sister out to eat when she was a toddler. Once they had two more young kids to worry about, restaurant dinners became even less appealing. (I'm taking this to mean my sister ruined it for the rest of us.) Chain restaurants are usually designed to be kid-friendly, so it makes sense that we gravitated towards them until we were all old enough to behave well.
My reliance on chains started to change when I went to college in Ann Arbor, Michigan, which has dozens of local restaurants within walking distance of campus. My freshman year hallmates took me out for my 19th birthday to an Italian restaurant where we split the bill ten ways. Local places introduced me to Cuban batidos and polenta fries, and there always seemed to be a new place to try. When a Panera opened near campus my senior year, I felt strange ordering familiar sandwich/salad combos out of the context of my hometown. Before, Panera had been for when my mom and I decided to go out to lunch after shopping at Michael's off of I-95, not for grabbing a bagel before my history lecture.
Later I lived in Philadelphia and Chicago, which had more variety than suburban Massachusetts. Olive Garden couldn't stack up against little Thai places or fancy brewpubs. After college, I also started eating out with greater frequency. Getting dinner with friends every couple of weeks made the act of eating at a restaurant more common. The event of going out had been part of what made our birthday dinners celebratory. Now it could be a normal Tuesday night.
In order to feel special these days, birthday dinners have to be amplified somehow. For me, that usually means trying a new, slightly fancy restaurant where I can dress up. For Eric, that often means going back to a favorite spot but splurging to try extra dishes. I am grateful that we've lived in cities with variety, but each year it feels a bit more like I'm ignoring how I grew up.
My parents have always been cost-conscious. Because of this, I have a hard time not thinking of any restaurant meal as an unnecessary luxury, no matter how well it fits into my budget. However, my parents have started to branch out in their restaurant choices in the past several years. Instead of cooking on some Sunday nights, they decide to walk uptown to split a risotto and crème brûlée. They have favorite local restaurants in each city where my siblings and I have lived. My dad has even started ordering things other than lasagna at Italian places. Maybe my siblings and I have had an influence on their choices, but in any case, they are setting a new example.
At Christmas a family member typically gives Eric gift cards to major restaurant chains. It gives us an opportunity to break our usual patterns. One year, we took the el into the Loop to the Cheesecake Factory for dinner and dessert amid a snowstorm. The next year, we did the same to go to P.F. Chang's. In both cases, the extra effort of traveling did make the evening feel special. We went out of our way and made an event of it. It felt like a small celebration, even on a Tuesday.
---
Support The Billfold
The Billfold continues to exist thanks to support from our readers. Help us continue to do our work by making a monthly pledge on Patreon or a one-time-only contribution through PayPal.