Chasing Free Yoga
By attending city-organized classes, I saved $75–$125 on yoga.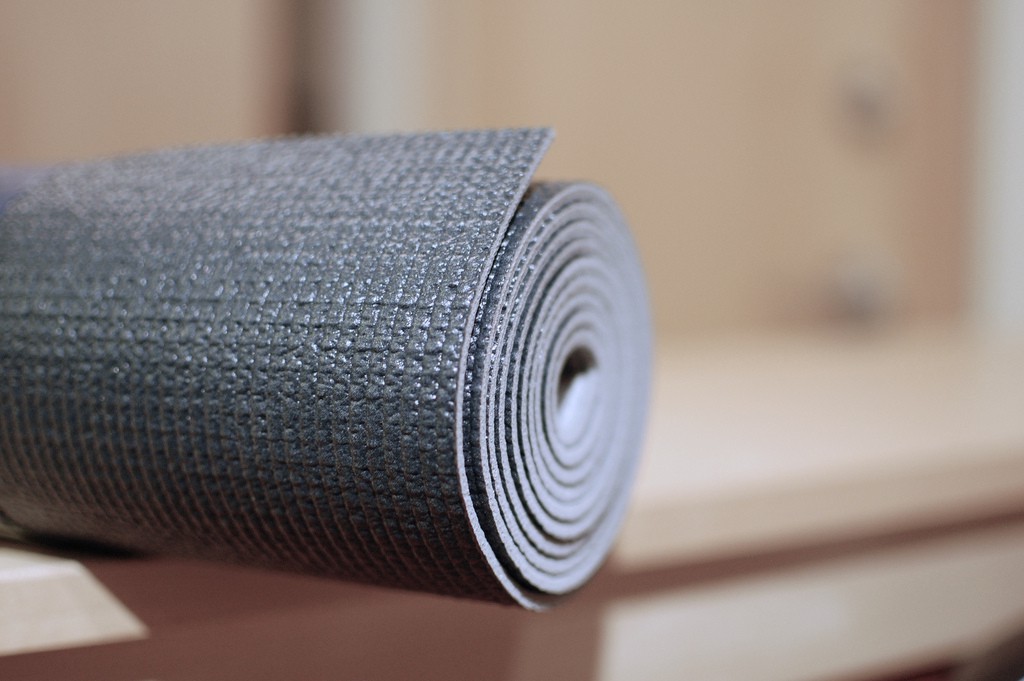 I can very barely touch my toes on a good day—and that good day usually includes me jogging, and trying to stretch my back and shoulders as much as I can for several minutes. I used to be able to do tumbles, side splits, and even front splits, but that was back when I was in elementary school and went to karate three times a week. We used to stretch for ten full minutes before doing any drills or going over the day's activities. Doctors would often gently remind me that regaining some of my flexibility would do wonders for my back issues, and for the muscle pains that came with carrying around equipment.
Thanks to having an internship where I sit at an office desk for several hours a day, my legs and back have been feeling a lot more stiff than usual. So I began searching around online for different yoga classes near my home in Queens. I was floored by the costs. A month of classes was equivalent to a month of groceries—which for me, is between $60–$100 a month and helps illustrate the meager student budget I'm working from. In NYC, stretching comes at a price, and a pretty steep one, just like our $116 metro cards and ever-rising rents. Paying for several classes a month isn't something I can afford.
So, this summer, I began to do what I usually do when I'm in a pinch. I began researching. One link lead to another, and another, and it turns out that New York City has just as many free yoga classes as it does pricey, studio-esque classes.
I started, of course, by plugging "free yoga NYC" into Google. That search led to a few outdoor yoga events in Manhattan. I saw one was in a park and decided to look up New York's Parks and Rec website to see what other free events were out there.
New York City Department of Parks & Recreation
A lot of them, as it turns out. I narrowed it down to fitness events and came across a whole list of free workout classes and yoga events, and went to two classes in June. I also made time to attend three classes in July.
A yoga studio walking distance from my house gives classes for $15; another studio that's a train stop away from my home gives classes for $17 each. One near an area of Manhattan that I hang out in had a sign that promised discounted yoga classes. The discount turned out to be $25 a class. Regular price at that studio was over $30.
By attending free city-organized classes, I saved between $75–$125 on yoga. If I meet my goal of attending four classes in a month, I'll probably be saving over $60 a month in yoga classes. In the case that I ever want to actually work towards becoming the flexible goddess that I've always dreamed of being, I'll try to go to more than those four classes.
A Facebook post took me to a beginner's yoga Meetup group that meets several times a month in Central Park. Since I began my search, I've found even more meet up groups for free yoga across New York on Meetup. I've also found other kinds of free workout classes on the website and I've already made a note to include a few of the weekend ones into my schedule once I begin my final semester of graduate school.
I've also found free yoga classes via local blogs and news websites. I follow a lot of local websites on Twitter, and a lot of them are in a Twitter list that I use for reporting and linking to other articles that I write at my internship. Local groups on Facebook have also been a great resource for finding free or cheap yoga classes in different neighborhoods. The more active groups will have members who will respond to questions. It was on one of those groups that I learned of yet another yoga class that was held in a park in Manhattan during the summer. Though not all groups are as active or know a lot about yoga, searching for different neighborhood groups that correlate to my neighborhood or one nearby makes me more likely to find a class.
I've heard the arguments that claim free yoga classes or free workout classes aren't very good. The instructors apparently don't try as hard and it won't make much of a difference in my physical health if I were to go to those classes. But to be honest, attending those classes will be better than attending no classes at all. I can make the most of a free class if I choose to. Some of those free classes even provide attendees with mats so they don't have to buy one. I have a mat, but if I didn't, it would be difficult for me to go out of my way to pay for a decent one that won't fall apart after three uses. As a complete beginner, those classes are a lot more non-threatening. I don't feel like I have to cover myself in Lululemon clothing—or even know what I'm doing—to learn how to stretch effectively.
Overall, I'm amazingly grateful that I was able to find ways to maintain my physical health without having to pay a whole lot. It's made me feel like more free and cheap classes should be available. I've even started helping friends research where to find classes near them. We should all have the opportunity to stay fit regardless of our income level, and I'm glad that free yoga has helped make that possible for me.
This article is part of our 'Summer Series' collection. Read more stories here.
A native New Yorker, a sometimes writer, and a full-time journalism grad student at CUNY J. Follow and connect on Twitter @AngelyMercado
---
Support The Billfold
The Billfold continues to exist thanks to support from our readers. Help us continue to do our work by making a monthly pledge on Patreon or a one-time-only contribution through PayPal.