The SX Scorpion Bass Guitar Chronicles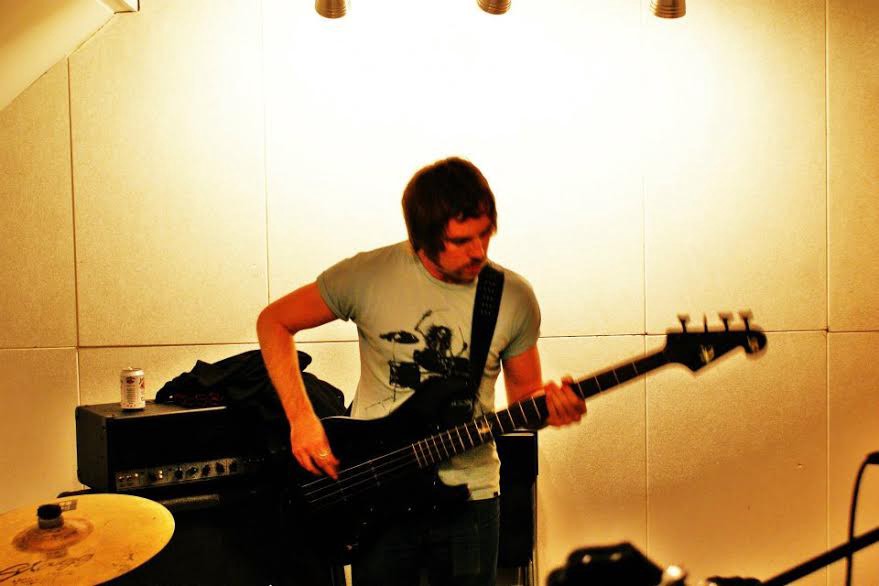 The SX Scorpion: a little-known, four-stringed chunk of wood with a jet-black finish, the shape of a Fender Jazz bass — and possibly the best thing I've ever bought, in terms of value for money.
My SX Scorpion bass most likely started its life in Japan, and was forged in a rock factory along with its brothers and sisters. Before long, the Scorpion was coated in bubble wrap and shipped over to an exotic land called New Zealand. On arrival, the axe was displayed in the window of Wellington's Weta Guitars; that's where I come in.
Brand New Price Tag: $300 New Zealand: around $204 US based on the exchange rate in 2006
One night I was stocking shelves at The Warehouse when my eccentric friend Dave, a 60-odd year old man with a raspy voice, a 50's Teddy Boy hairdo and tight leather pants, came up to me to tell me about this sweet scorpion clad bass he had tinkered with in Weta Guitars.
"Ahhh, it's a reaaaaaal beauty maaan, ya know. You've gotta go down there and pluck the strings on it, ya knooooow. Buy that axe, man. You've got to," said Dave like an excitable pup with a throat infection.
"I'll have a butcher's (look) tomorrow." I replied.
With my first weekly pay cheque from The Warehouse (around $300 NZ/$217 US after deductions — I ended up being very hungry that week) burning a hole in my back pocket, I walked on down to Weta Guitars the following afternoon to get my hands on the legendary Scorpion bass. To cut a long story short, it was slick, menacing and played like a dream — I parted with my cash almost instantly.
The next day, I checked into another rock shop in town to pick up my Behringer bass amp ($500 NZ/$340 US bought on credit) and wheeled it up what seemed to be the world's steepest hill to test out my new rig at my mate Joe's (an exceptional blues and rock drummer) place.
We jammed for hours and although I had to live on water and noodles for the week, it was well worth the sacrifice.
Weekly slot playing bass at the Cuba Street Café in Wellington: paid in beer, shakes, and burgers
Even though I frequented the place, it was some time ago and I can't remember its name for the life of me — so I'll simply refer to it as the Cuba Street Café (as it was based just off Cuba Street).
I was playing my SX Scorpion through a portable amp in my front yard when a Spanish backpacker, lured in by the striking looks of the bass, approached me. He said he could play the guitar and ran to his rented estate car to grab it. He was good — in fact, he was very good.
We sank a few beers and ventured into town to meet his friend, who worked at the Cuba Street Café. I sat and watched the two converse in Spanish for a while and afterwards they both came over to me and asked if I wanted to join them as part of an instrumental trio, playing at the café every Thursday evening, indefinitely.
When I found out the pay was beer and burgers I jumped at the chance and our weird Spanish blues-rock, burger-devouring jam band was born: bass, guitar, and—believe it or not—trombone.
Our residency lasted around three months, I pretty much had a shake, a burger, and four beers every time we played, which at the time came in at a total of $30 New Zealand (around $20 US). So, all in all, my bass helped me to make $360 (around $244 US) in food and drink. I had made my money back, in a roundabout way, and my bass hadn't let me down once. The only drawback was that, after so many gigs, I temporarily went off burgers.
Pick-ups and strings added: a grand total of $210 New Zealand: around $140 US based on the exchange rate in 2008
I had been jamming with Joe and recording a few demos in my bedroom for a while and wanted to get on stage. Joe and I got talking to Cormac, one of the eccentric day shift workers from The Warehouse, and he told us that he needed a rhythm section for his new project, Killing Bear.
Although it wasn't quite like the stuff that we were making, we did like the music's hard edge and energy, plus we got to jam regularly with an accomplished guitarist. Not wanting to get lost in the sea of Wellington bands floating their way through the circuit at the time, we decided to embark on an adventure to play house parties throughout the city and make a name for ourselves.
Before we booked ourselves a load of house party gigs, I decided to take my plank down to Weta and get it suitably suped up for the task ahead. Wanting to achieve a warm yet gutsy sound, I opted for a pair of DiMarzio DP409 Virtual Vintage Heavy Blues- style pick-ups, plus thick Ernie Ball strings. The Scorpion sounded perfect, but it did cost me almost as much as it was originally worth. Luckily, I made some of it back by giving bass lessons to a kid in Newtown ($15 NZ/$12 US apiece) — I tried to show him the fundamentals but he just wanted to learn Smoke on the Water. I lasted three lessons before he got bored.
As Killing Bear, we played three or four epic house parties before, let's just say, our creative issues got in the way. We disbanded after just five months. It was okay while it lasted.
Homeward bound: excess baggage cost $40 New Zealand: around $27 US based on the 2009 exchange rate
A year or so had passed and for one reason or another, I decided to make the decision to go back to the UK, for good. During a bitter winter, I locked myself away in a home studio with my mate Chris and churned out eight new demos, most of which were originally arranged using my SX Scorpion.
One particular song, titled Get Out, was played on a local radio station the morning I left for the airport. With a tear in my eye I said goodbye to the emerald hills of Wellington and braced myself for the smog of the big smoke. I had plenty of time to be nostalgic — the journey took over 30 hours.
When I got to the baggage belt at the other end, my bags came out almost instantly, but my bass was nowhere to be seen. I waited for an hour before checking with the baggage clerks, who told me that my Scorpion was in transit somewhere and they would have to trace its whereabouts.
My heart sank. Was it gone forever?
Of course it wasn't, that bass is pretty much indestructible. But I didn't know that at the time; I could have cried my eyes out.
Anyway, after a somewhat desperate, slightly heated airport based discussion, one of the officials told me that it was probably floating around China somewhere. "Brilliant," I thought, "I'll have to dust off that rusty old Ibanez when I get home."
To cut a long story short, I received a phone call a week later to confirm that my bass had been pinned down, and it would be sent directly to my home address. Sure enough, a few days later, a jazz-shaped brown parcel turned up in the post.
Servicing and Superficial Repairs: a total of £45 ($65 US)
I eagerly unwrapped my bass like a hungry man opening a packet of chips and there it stood in all its battered glory.
There were a couple of nicks in the body, a pick-up was loose, and one of the machine heads was hanging off, but it was salvageable, so I took it to a local guitar repair shop and got it serviced to its (almost) former 2006 glory. It looked a little haggard, but the Scorpion still played like a dream, so much so, that it only took around half an hour to piss off my neighbours — I bet they wanted me to get straight back on a plane down under.
Yeti and The Bollocks EP: made a total of £140 ($202 US) profit from physical sales
As I said earlier, back when I was holed up in that home studio, I recorded eight demos. I was sitting back in the UK at a loose end, wondering what the heck to do with myself, so I decided to pick four of the strongest tracks from the bunch, home master them and make them into a product. For some reason, I settled on the name Yeti and The Bollocks and called it The Didymo EP (named after an odd and rather a destructive pond creature which is native to New Zealand).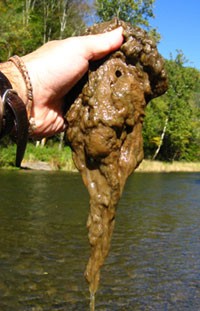 I had a friend of mine produce the sleeve graphics for me, bought blank CDs and cases and paid for the printing. Not only did I get sleeves printed, but I also decided to produce novelty beer mats, which was was a decent enough idea until I discovered that the mats turned to mulch as soon as any moisture came in contact with them. I worked through the night, frantically putting my EPs together while chain drinking Strongbow (it's less like cider and more like battery acid) and in the small hours, my completely unknown Yeti and The Bollocks EP was officially born.
Promotion came in the form of a lazy MySpace page and a few emails. ITunes wasn't much of a thing at the time, so I hit the streets of Slough and Windsor and, with my plastic bag in hand, began to peddle my CDs in true vagrant fashion. I managed to flog a large amount to friends and family, plus a few to keen passers-by for fluctuating prices. The printing and physical costs came to a total of around £30 ($43 US), and I managed to shift £170 ($245 US) worth of stock (I'm still not sure how), so the songs I created with my SX Scorpion bass earned me a reasonable amount of pocket money. Making and selling the CD killed a few days of boredom too, which in a way, is priceless.
Conclusion
Shortly after my days of masquerading as Yeti from Yeti and The Bollocks, I pulled my socks up, got a new job, moved to the Big Smoke, and joined a band — and the rest, as they say, is history.
Money Lost—and Lessons Learned—From My First Band
It would take me all day to detail every single peak, trough, triumph, mishap (like leaving my Scorpion on a 43 bus and having to chase it up the road to retrieve it while wearing ridiculous Cuban heels), repair, loss, and profit, so I will finally cut to the chase:
All in all, it's probably safe to say that my Scorpion bass has cost me more money than it has earned me. I believe a rounded rough calculation is that I'm around £300 ($430 US) down, which isn't too bad. and its current market value is now £80–£90 ($115–$120 US), but what I've gained in memories and experience is priceless.
Since buying the bass, I have made some of my best friends and been to places I would have otherwise never seen. I even met my wife as an indirect result of playing that bass. Through all of the dings, dongs, dents, misplacements, abuse, and occasionally neglect it's been through, I still use it today. It never lets me down and it still sounds as sweet as it did a decade ago. I would like to see a Fender Jazz go through that much punishment and still play that well.
Dan Hughes is a North London based writer with a penchant for oddball fiction, the bass guitar, beer, Bukowski and traveling to strange places. You can find out more about him by getting lost in his Catchy Space.
---
Support The Billfold
The Billfold continues to exist thanks to support from our readers. Help us continue to do our work by making a monthly pledge on Patreon or a one-time-only contribution through PayPal.