Meet the $300,000 Handbag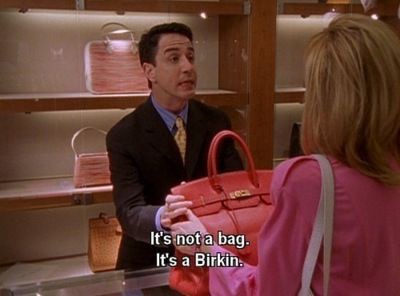 The New York Times reports that last week, someone paid $300,168 for a handbag. A handbag. $300,168 for a handbag.
Oh, I'm sorry, for a Birkin.
$300,168.
$300,168!!!!
Who Would Pay $300,000 for a Handbag?
This particular b̶a̶g̶ Birkin was a "12-inch Hermès Birkin matte Himalayan crocodile handbag, with white-gold hardware set with 245 F-color diamonds weighing close to 10 carats." It was sold to a private collector at a Christie's auction in Hong Kong.
It was sold for $300,168.
You might be thinking, "Well, that sounds insane," but you would be wrong, you parasite, you pleb. After all, "Lizard skin is having a moment right now." Also, a Birkin isn't a bag, it's a car:
"There is just something about a Birkin," he said. "It's like owning a Mercedes-Benz: When you close the door of a Mercedes, it sounds different than a Toyota. And that's what Hermès customers know and buy into. To many of our customers, to own this bag is to achieve a sense of competence like nothing else."
Oh, sorry, no, it just sounds like a car. A $300,168 car-like bag.
Then again, I'm relying on a dormant 401K to get me through retirement, and I use grocery store totes to lug my stuff around, so what do I know?
It might seem ridiculous to some to treat a handbag as an investment, but for a Birkin collector like Emily Chan, a Hong Kong-based investment banker, it is one worth making. She owns more than 50 of the bags, purchased as a V.I.P. customer from the Paris, Hong Kong and Tokyo boutiques, as well as on secondary markets, via auctions. "Birkins are both an investment and a fashion accessory to me," she said. "Birkins are like currency: You can cash out any time."
I'll rue the day I scoffed at this when I'm trying to trade my 2007 Zara pleather purse for the last of the world's clean drinking water.
---
Support The Billfold
The Billfold continues to exist thanks to support from our readers. Help us continue to do our work by making a monthly pledge on Patreon or a one-time-only contribution through PayPal.