The Cost of Buying Emergency Shorts: An Update
How bad would it be if I started to game the system to get maximum retail discounts?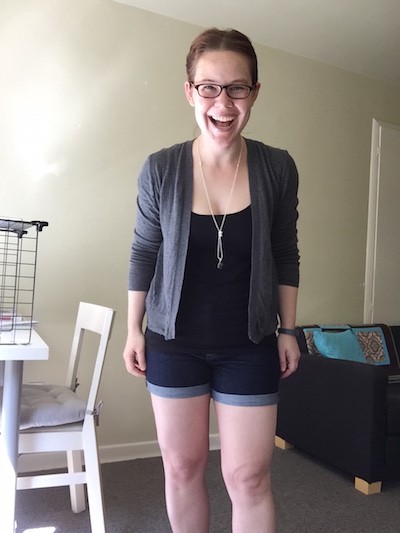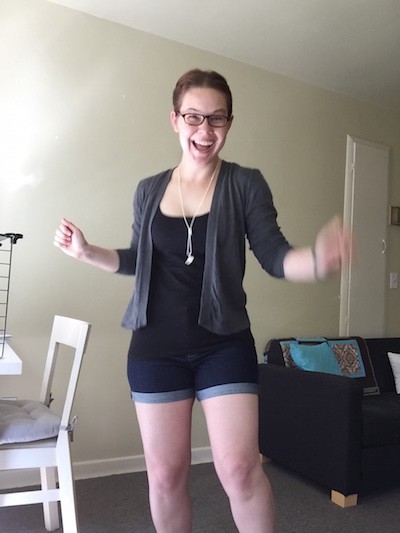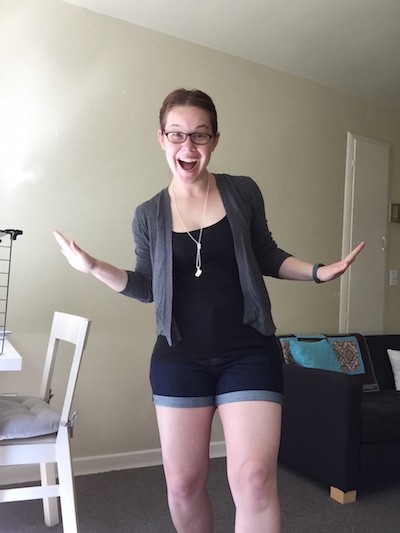 So here I am in the $10 "emergency shorts" that I bought from Old Navy last week (note also my wire cube "standing desk" and the fact that my necklace pendant is a tiny laptop, I have perhaps internalized my work a little too much).
As you might remember, I bought three other items from Old Navy in that same online purchase—because they were on sale, because I'd get free shipping, and because that's how shopping works—bringing my purchase total to $48.97 and getting me $20 in Old Navy Super Cash to use towards whatever shopping I inevitably do next month.
If I had purchased the $10 shorts by themselves, adding $7 shipping and 9.6 percent sales tax, it would have cost me $18.63.
But here's what happened next:
One of the items I ordered sold out before they could ship it to me, so I got a $10.18 refund and a 10 percent off coupon.
Two of the remaining three items fit okay but not great, and I returned them in-person at my local Old Navy for a $26.85 refund.
That means my $10 emergency shorts cost me $11.94—$6.69 less than they would have cost if they were the only item in my cart—plus I got to keep the $20 in Super Cash and the bonus 10 percent coupon.
I had three thoughts, in order:
I should always order enough items to trigger the maximum stackable discounts (free shipping, Super Cash, whatever else the stores are offering) and then return a bunch of stuff and get refunds.
That's got to be way unethical.
But the stores plan for us to do things like that, right? They have whole teams of math people figuring that kind of thing out? If they've got return policies, they are prepared for us to make these kinds of returns.
So, Team Billfold: this is a bad idea, right? I should not start down the dark path towards retail discount arbitrage? Or… do a lot of people secretly do this, and I just figured it out?
---
Support The Billfold
The Billfold continues to exist thanks to support from our readers. Help us continue to do our work by making a monthly pledge on Patreon or a one-time-only contribution through PayPal.