Show Us Your Grocery Receipts: Wegmans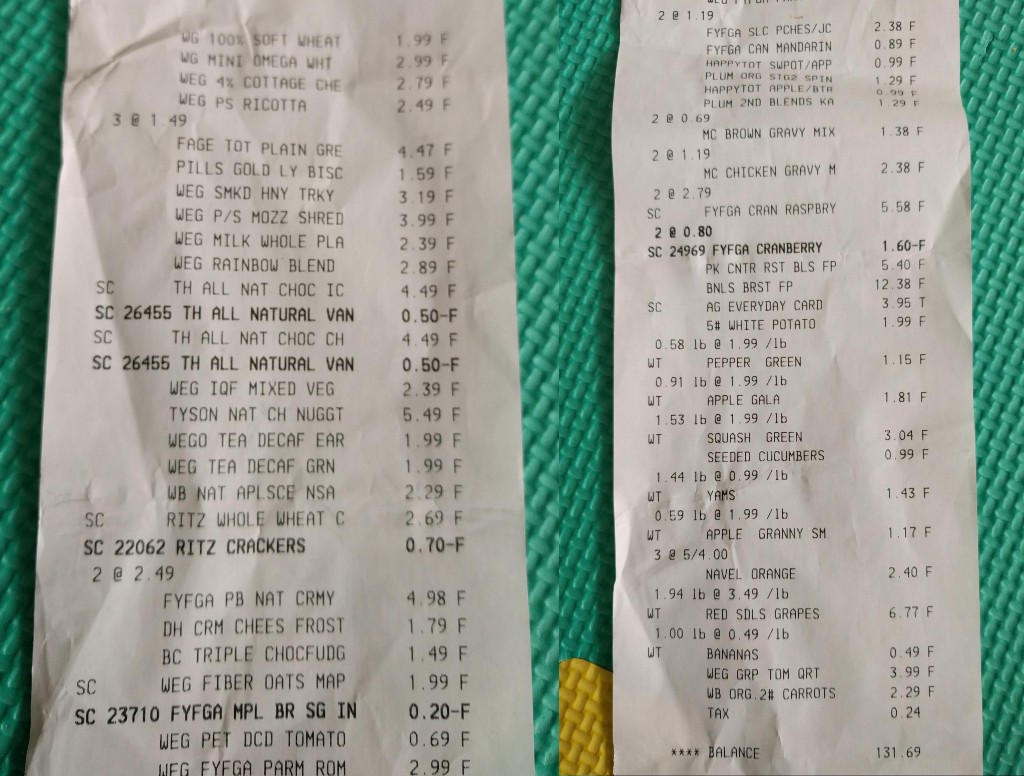 Billfolder Jen MacCormack shares her grocery receipt from a Wegmans in Columbia, Maryland:
This is an average grocery run to Wegmans. We're a family of three — two adults and a toddler — and I normally buy groceries twice a month, with short stops in between for milk and bread and anything else I've run out of. Or anything I've developed a sudden inescapable craving for during the drive home from work (this month it's been a lot of parmesan garlic pita chips).
This is a very typical Wegmans cart for me: meat, produce, cheese, ice cream, and tea. I've also got the usual toddler staples like applesauce, chicken nuggets, and squeeze pouches. For the most part I buy the house brand to save a few bucks. I don't often bother with meal planning, because I don't have time for much cooking. Dinners are usually a chunk of meat, a starch, and a vegetable, and that keeps my grocery list simple.
This isn't anywhere near the whole story, of course, because I shop at other places. I visit Costco once a month or so for instant meals like frozen pastas and rotisserie chickens, and for lunch foods like yogurt and granola bars. It's also where I buy shampoo, coffee, and cat litter. I get diapers and all the rest of my medical/beauty/hygiene supplies at Target. All told, I'd say my average monthly food-and-household-needs budget is about $600 a month.
I am impressed that Jen's food-and-household-needs budget is only twice what mine is, and she's got three people to feed (and household need)!
Also: after fourteen installments, I'm not going to number these anymore. I'll still keep sharing them—and you can still keep sending your receipts to nicole@thebillfold.com—but I'm not going to be all "PART TWENTY-ONE" or anything. We'll just call this "Show Us Your Grocery Receipts" from now on.
Previously:
Show Us Your Grocery Receipts, Part Thirteen: Military Base Commissary
---
Support The Billfold
The Billfold continues to exist thanks to support from our readers. Help us continue to do our work by making a monthly pledge on Patreon or a one-time-only contribution through PayPal.