Scavenging the City, One Bottle at a Time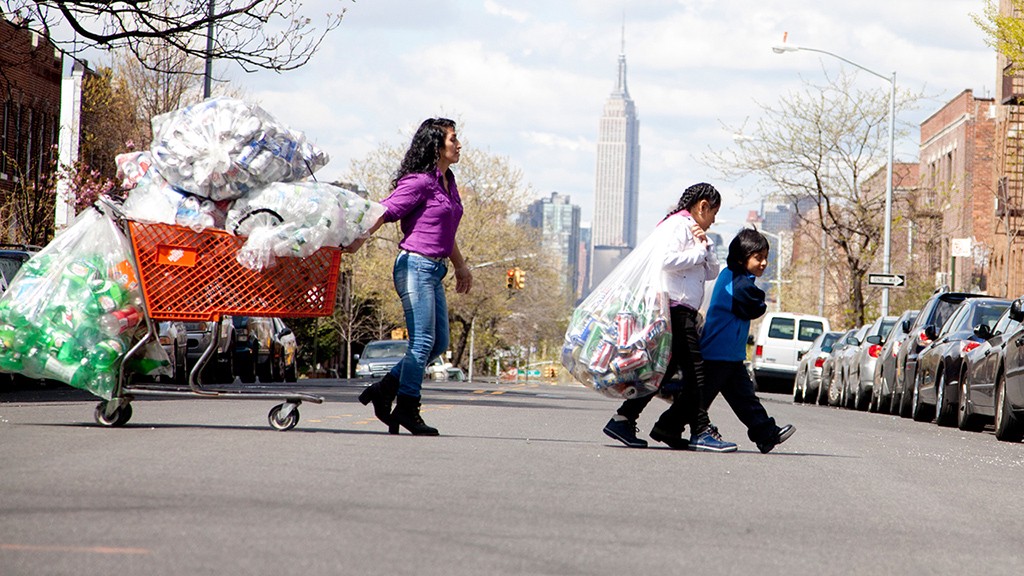 As a New York City native, I've learned creative ways to save and make money through my environment. In my predominantly immigrant neighborhood in Queens, watching people lug bottles and cans to the supermarket is a familiar sight. I'd watch people wait around, especially after block parties and street fairs, in hopes of snagging a few bottles or cans. Even though they only bring in about 5 cents each, a few bags can bring in over $20.
When I was in elementary school, my mom began collecting cans during a difficult time. At first, my siblings and I were embarrassed. We didn't want to be associated with the ladies and their shopping carts full of sickly sweet-smelling bottles. But when we went with her and were handed cash at the supermarket, I changed my mind.
Towards the end of college, before I began graduate school, I started collecting bottles and cans from recycling bags on the street. I'd hold on to my own bottles, and if I visited a friend's house I'd take theirs along as well. I got over my embarrassment quickly.
In large cities, recycling bins are everywhere: in front of people's houses, inside schools, and on street corners. I started snagging a few bottles here and there, and began putting bottles aside from the large recycling bin in my father's building. There was a birthday party, baptism, or get together every month in some part of the building, and those festivities always came with recyclable cans and bottles, so I'd pinch a few and add them to my stash.
Some days I'd stand in line in the supermarket parking lot for only a few minutes in order to exchange my bottles; other times, I'd wait for almost an hour, often trying to negotiate the tricky or broken machines with other women, many of whom don't speak English. I'd hear people on the line telling others that they were hoping to get extra bottles the following week for rent money. Many had jobs, but the rent waited for no one, and the higher it climbed around Bushwick and Ridgewood, the more they collected.
I didn't know that according to the City of New York and our Department of Sanitation, we are considered thieves. And that what I'm doing is technically illegal.
New York City Fights Scavengers Over a Treasure: Trash
I never saw the harm in recycling for money. It was good for my pockets and good for the environment. In March, de Blasio announced he wanted to eliminate NYC waste sent to landfills by 2030. Apparently, "scavengers" make it difficult for the city to assess recycling goals. I'm all for eliminating waste, but not at the expense of people like myself or my neighbors, trying to make ends meet every way we can amid rampant displacement and rising prices. As resources for our homeless population diminish, recycling is one of the few options left.
Illegal or not, bottle hunting made a huge difference when I was saving up for graduate school. Penalizing people for trying their best to provide for themselves and their families is just going to make the issue worse. And until they find another, better way, I'll continue scavenging, regardless of what the city thinks.
A native New Yorker, a sometimes writer, and a full-time journalism grad student at CUNY J. Follow and connect on Twitter @AngelyMercado
---
Support The Billfold
The Billfold continues to exist thanks to support from our readers. Help us continue to do our work by making a monthly pledge on Patreon or a one-time-only contribution through PayPal.