Making Fiverr Work for Me
How a freelance writer profits from offering simple tasks on Fiverr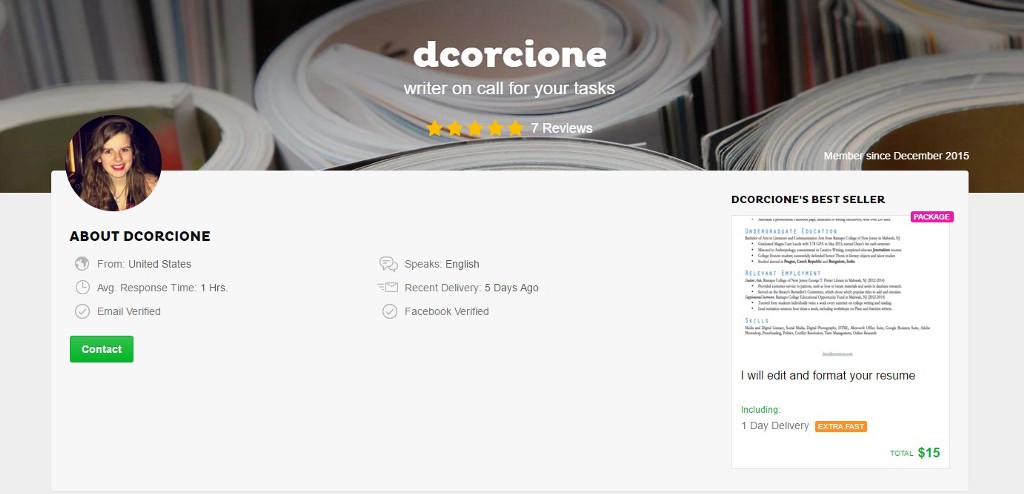 I started my career as a freelance writer last year. When I signed up for a few freelance writing Facebook groups, I started hearing the same advice, over and over: stay away from content mills, or companies which recruit writers to create web content for inadequate pay. I'm told I deserve more pay, and I'm relieved other writers understand my ability without having to prove it. I also hear working for little to no pay brings down the worth of the freelance writing community as a whole.
But I know that every dollar counts, and if I want to increase my income, I have to figure out what works for me—even if it goes against traditional freelance advice. So, when I started signing up with gig economy sites like Poshmark and Dog Vacay last year, I also set up an account at Fiverr. I didn't have any expectations on what I'd make from Fiverr; I was just trying to increase my income any way I could—along with my $12-an-hour desk job, my freelance assignments, the clothing sales, and the dogs.
Fiverr isn't a place for exclusively $5 tasks anymore. When creating gigs, you can give clients the option to add-on different services. For instance, you can charge more for projects completed within a certain amount of days, and for revisions. There are also package deals, where you can include revisions and other services a specific client wants.
Creating a profile required little time and effort. There's not anything too unique about my profile that separates me from other users. I verified my email and Facebook account, and added "writer on call for your tags" as my tagline. I'm under the assumption that my clients find me from either searching the website or finding my social media accounts where I advertise services. However, I've never personally known a client.
Am I "bringing down the worth of the freelance writing community" with my Fiverr gigs? On my Fiverr account, I don't offer the usual freelance writing tasks, such as writing a blog post or copyediting someone's manuscript. I offer different services than I would as a freelance writer, and I make sure these services are worth my time.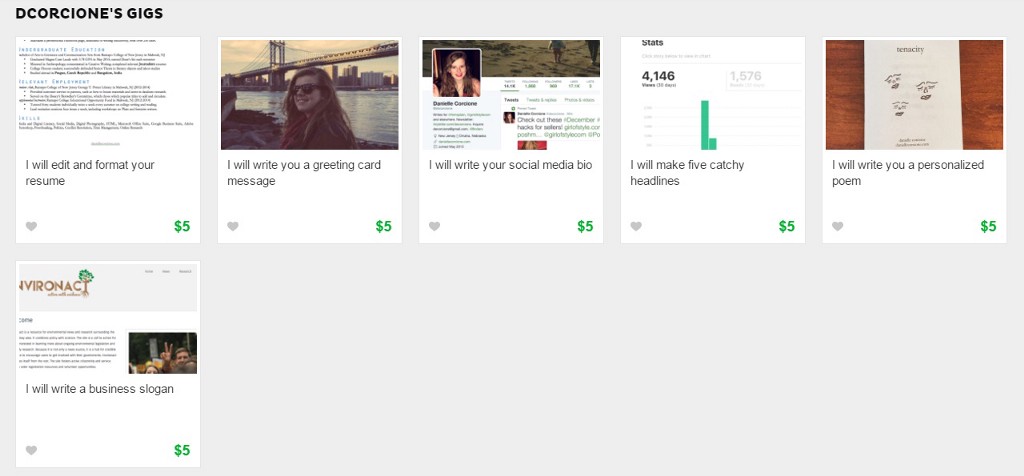 On average, I charge $25 to reformat a resume, which normally takes me less than an hour. Although the package deal advertises $15 on my profile, I utilize add-on services. I charge $5 per page, and my clients usually come to me with four pages; they want the task completed in a timely fashion, and pay an extra $5. I'm not a graphic designer, and I'm only using Microsoft Word, butI can make resumes look appealing. Not everyone is creative like I am; not everyone wants to spend time playing around with resumes. I think a lot of people out there could do a better job than me, too. I'm fine with that.
I don't just reformat resumes, either. Someone paid me $10 to write the inside of their fiancé's birthday card. Other services include writing a personalized poem for a special occasion, revising Twitter bios, composing five catchy headlines, and creating a business slogan. All these tasks take just minutes of my time. I am happy to provide a service worth $5 — and if you want the job done quickly, I'm happy to charge you a little more. My clients appear to be pleased with my work, and so am I.
Are content mills ever okay? I think so, but the situation varies. Fiverr is a unique site that also recruits non-content gigs, although it started from a content-based model. Although I haven't invested as much time into other content mills, Fiverr is a little different from the rest, especially in the way it's shifted from the $5 task model.
It's important to understand that as a freelancer, it's easy to be taken advantage of. It's easy to be conned into an underpaid rate for a time-consuming task. However, I found a way to make Fiverr work for me. I profited from a site that otherwise recruits writers towards cheap labor. In the past few months, I've earned approximately $175 from Fiverr for about six hours' worth of work — that's nearly twice as much as I make in a day at my desk job now.
I like Fiverr because I'm in control of what services I offer and I always have the power to back out of a request. I would never offer the services I would to editors, publications, and other higher-paying writing clients. I intend on sticking with the site, since I always appreciate the extra income, especially for very little time-consuming work. In the near future, I plan on exploring other unique ways to offer my writing and other creative talents through simple tasks. If you're looking for an alternative type of income as a freelancer, I wouldn't scratch off Fiverr right away.
Danielle Corcione is a freelance writer located in Omaha, Nebraska. Follow her on Twitter: @decorcione.
---
Support The Billfold
The Billfold continues to exist thanks to support from our readers. Help us continue to do our work by making a monthly pledge on Patreon or a one-time-only contribution through PayPal.