Learning to Love and Master Rewards Cards
I've had a credit card ever since I was in college (this was back in the pre-financial crisis days when banks set up tables on college campuses and essentially handed out credit card approvals to just about anyone, regardless of the amount of student debt they had just taken on, or the fact that they weren't yet earning steady income). I wasn't thinking about building credit, nor was I funding some kind of lifestyle I couldn't afford; it was simply there in case of an emergency and had that "Starry Night" painting on it that nearly everyone I knew at the time chose.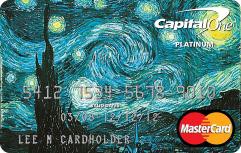 I had seen too many people in my life get themselves mired in debt while using credit cards, and didn't want that for myself, so I spent most of my twenties making purchases with cash or debit. But then I started reading stories about people using credit cards to rack up reward points to use for travel or cash back (like our own Annie Nilsson), and thought that maybe I could also be one of those people who paid off their credit cards every month and got something out of it (yes, the paying of the balance in full every month is important because paying interest negates whatever rewards you're getting).
I asked around and did a bunch of research, and it seemed as if lots of people were recommending getting a card associated with an airline loyalty program because of all the opportunities to "double" or "triple" your miles. I ended with a cash back card with no annual fees.
A few days ago, The Wall Street Journal's Scott McCartney wrote about how the New Year is a great time to rethink our rewards credit cards, specifically, airline credit cards, which may not be as attractive because of the way frequent flyer programs have changed recently. McCartney:
Airlines say they made the change to better reward their best customers: business travelers who pay high fares and now earn far more miles. United and Delta said they would be issuing fewer miles to passengers overall, and that should make it a bit easier to find available award seats since there will be fewer miles chasing free tickets.
For people who travel only a couple of times a year, a credit-card change may be in order. "Cash-back is becoming more and more attractive as programs get watered down," says Brian Kelly, who tracks travel loyalty programs as The Points Guy.
McCartney also writes that credit cards with annual fees are also becoming popular due to the generous bonus perks associated with them.
I decided to ditch my cash back card for two other rewards cards: the first being a Chase Sapphire Preferred card, and the second being an American Express Premier Rewards card (both cards require an excellent credit score). The Chase card has an annual fee of $95, but I spent enough to get 50,000 bonus points. The American Express card has a $195 annual fee, but comes with a $100 annual credit with an airline, and I also spent enough ($1,ooo in the first three months) to get 50,000 bonus points on this card.
Why the two cards? They both have their own perks and restrictions, and I try to work them in my favor: The Amex gives me double points at the grocery store, while the Chase card gives me double points every time I reload my subway pass, or triple points if I shop at specific stores. Amex points are directly transferrable to airlines like Delta, AirFrance, and Cathay Pacific, while the Chase points are directly transferrable to airlines like Southwest, United, and Korean Air. There are entire websites dedicated to getting the most out of your points from these two cards and many more, and I'm still learning how to best use them. I'm just hoping to use all these points I've racked up to pay for a great vacation somewhere this summer.
We'd love to hear about any positive experiences you've had with your own rewards cards. Tell us below.
---
Support The Billfold
The Billfold continues to exist thanks to support from our readers. Help us continue to do our work by making a monthly pledge on Patreon or a one-time-only contribution through PayPal.