Holiday Giving: Heart-Melting Stories About People Using Money For Good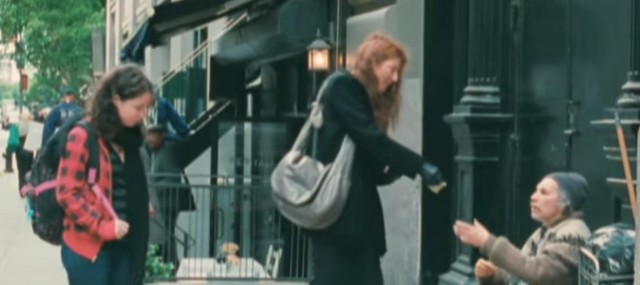 The world can feel like such a shrunken-hearted place these days, with terrorist attacks on one hand and, on the other, governors and candidates alike taking stands against helping out widows and orphans. But there are also stories — smaller ones, maybe, individual acts of kindness — that make you proud to be a person.
Like this one, about the Toronto couple who decided to cancel their wedding and use the money they were going to spend to help Syrian refugees instead.
Samantha Jackson and Farzin Yousefian had planned a traditional wedding for March — complete with a gorgeous venue, a caterer and other vendors — costing tens of thousands of dollars, Jackson told ABC News today.
But the two decided to toss their plans after realizing the money could be used for a cause close to their hearts and greater than themselves, said Jackson, a doctorate student studying public policy.
"We were in the midst of wedding planning in September when thatdevastating photo of 3-year-old Aylan Kurdi found on a beach came out," Jackson said. "Like so many other people, we became acutely aware of how bad the situation was getting and how important it was to act and do something positive, so we canceled the wedding and redirected the funds."
Or this one, about the boy in Texas who was saving for an iPad but who felt so bad when he heard about how a mosque had been vandalized that he gave his money to them.
seven-year-old Jack Swanson had the intellectual and emotional maturity necessary for his humanity to rise to the occasion when he decided to donate the $20 he had in his piggy bank to the vandalized Center.
Swanson's mother, Laura Swanson, told local KXAN, "We were talking in the car how someone smeared poop on their church and that was a really, really awful thing to do and we had a good conversation what churches are for and how everybody's churches are important."
EVERYBODY'S CHURCHES ARE IMPORTANT. I'm going to cry. It's the hormones, I'm sorry. Anyway, the Muslim community then responded by doing the most amazing possible thing.
Mosque members have since come together to give young Swanson an early gift for the holidays — the very iPad he had been saving his money for in the first place.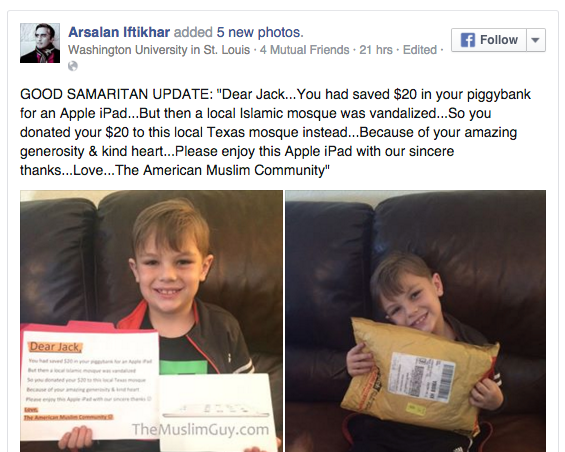 Talk about casting your bread upon the waters, huh?
Last but not least, there's a guy in Manhattan who owns a hardware store and he's been welcoming refugees for years — with jobs:
For decades, [the store, Wankel's] has hired people who came to the United States fleeing violence and persecution.
"People coming from really bad situations, trying to make a better life in America," said Sean Wankel, 32, vice president of Wankel's. "Or a life."
The refugees come to Wankel's through resettlement agencies like Catholic Charities or the International Rescue Committee and stay for a few months or years as they get their bearings in a new world. On a wall map, colored pins mark the three dozen countries from which the Wankel workers have come. …
Mr. Wankel was asked if his business had room for Syrian refugees.
"Certainly," he said. "If they are coming through the International Rescue Committee or Catholic Charities, I'd do it. They have a tough life. If I was in Syria, I'd want to get the heck out."
Your holiday-season stories don't have to be this topical or to tug this strongly on our heartstrings, but we want to hear them anyway! How do you handling charity around this time of year? Do you have anything special, or routine but lovely, planned?
---
Support The Billfold
The Billfold continues to exist thanks to support from our readers. Help us continue to do our work by making a monthly pledge on Patreon or a one-time-only contribution through PayPal.