Joss Whedon Made More Money With 'Dr. Horrible' Than 'The Avengers,' Unbelievably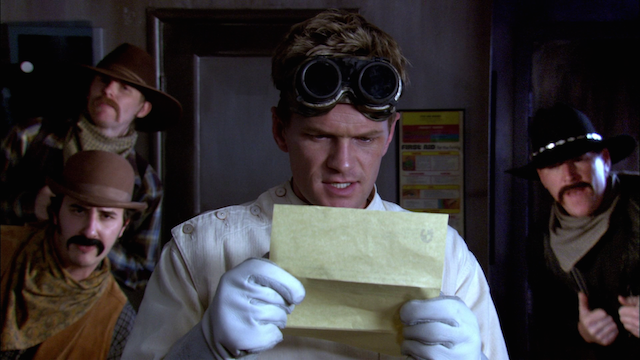 Okay. Let's compare two scenarios.
1) You decide to write, direct, and produce a 45-minute web musical. You fund the musical's production out of your own pocket. It is free to watch online.
2) Marvel hires you to write and direct a summer blockbuster that becomes the third highest grossing film of all time.
Which one should make you more money? As Vulture reports, it's not the one you think:
Joss Whedon shared an eye-opening fact during Saturday night's reunion of the "Dr. Horrible's Sing-Along Blog" team: He's made more money from his independently financed 2008 Internet musical than he did from writing and directing Marvel's first blockbuster "Avengers" movie.
I want numbers. Who has numbers? From Forbes:
It's not clear what Whedon made from Dr. Horrible, but Whedon was likely paid in the very low seven digits for the first Avengers.
Okay, I counted to seven on my fingers and got $1,000,000. Whedon was paid a low million for Avengers and still made more on Dr. Horrible? Where did this money come from? DVD sales and T-shirts?
It gets even weirder. As the AV Club notes, Whedon ran Dr. Horrible like a Kickstarter project: in the red.
While it's not shocking to hear a studio famous for not wanting to pay people anything didn't exactly pony up the big bucks, it's insane that his deal was so chintzy, a $1.5 billion-plus movie netted him less than a homemade musical that couldn't afford to pay much of its crew until after the fact.
HOW IS THIS EVEN. Seriously. I want to see some spreadsheets here. Whedon shared a few Dr. Horrible numbers with Forbes in 2012:
The initial investment was about $200,000. The budget with everybody actually being paid was about $450,000. With the movie and the soundtrack and everything we've been able to do with it, we made over $3 million with it.
Okay. I guess it makes sense. If "we" made over $3 million in 2012, all Whedon would really have to do would be to clear a little over $1 million on his own by 2015. It may just be, as unbelievable as it sounds, "do what you love and the money will follow."
As will the 1000+ True Fans, one of whom recently became a Certified Genius. As Vulture reports:
Whedon said he was floored after he wrote "the dorkiest fan letter" to "Hamilton" maestro Lin-Manuel Miranda and found out that Miranda was a big "Dr. Horrible" fan.
Maybe we'll get to see Neil Patrick Harris play King George in Hamilton someday — and maybe, if Joss Whedon is ever short on cash, he can finally produce that Dr. Horrible sequel.
This story is part of The Billfold's DIY Month.
---
Support The Billfold
The Billfold continues to exist thanks to support from our readers. Help us continue to do our work by making a monthly pledge on Patreon or a one-time-only contribution through PayPal.