For Good or For Ill, Health Care Spending Is My Vice
by Ruzielle Ganuelas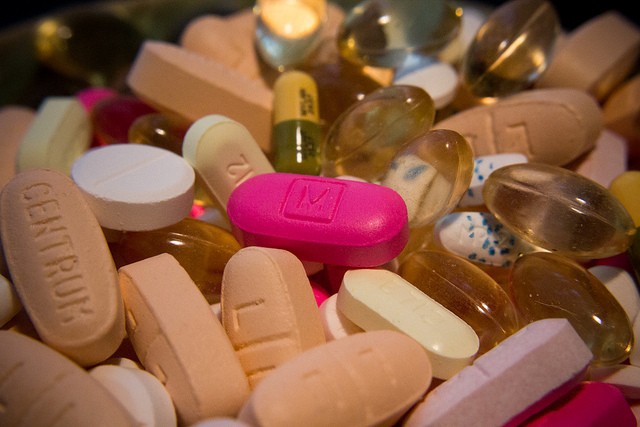 I hit the peak of my health care spending in the last three years. Between work, life, relationship, and school stress I had enough maladies real or imagined to keep me going to various healers, medical or otherwise. In these three years I've established relationships with:
— A dermatologist
— Two general practitioners
— Two naturopathic physicians (one of whom is also my acupuncturist)
— Three massage therapists
— Two hypnotherapists
— Countless medical assistants and receptionists
— Countless aestheticians
Not to mention the many health and body care products I've purchased. Luckily, almost all of my health care people are covered under my insurance, and at $20 a visit, I'm only too happy to see them again.
I haven't seen my acupuncturist, who is also now my primary care ND, in over two months. She was worried about me. I'm one of her best clients. Her name is riddled all over my Aetna claims form, along with my massage therapist, and until about last year, my uber-fancy dermatologist for my chronic acne.
Two months is a long time for me not to see a health care professional. The past few years have given me numerous maladies, such as a lower back injury. Since I couldn't get time off work, I swallowed 6–8 Advils a day. When I got home, I rubbed Arnicare over my back and took a sleeping pill so I could forget about the pain.
It took over a month to get better, and I was constantly on a massage table to alleviate the pain. I went so frequently I became privy to my massage therapist's personal life. She was also going through her Saturn Retrograde, and with it, the demise of a three-year crappy relationship. She found her true love soon after.
Once my lower back healed, my wrists decided to bug me with low-grade tingly pain. At work I picked something up, nothing heavy, and a sharp pain went through my whole right arm. When my wrists were not in pain, my fingers and joints hurt. I was literally falling apart. I looked up acupuncturists to see if they could fix me, and — though I hate to admit it — I picked my acupuncturist based on two things: her practice is close to my house, and she looks like someone I could be friends with.
Since my insurance covers acupuncture, I only pay her $20 a visit. When I first saw her over two years ago, I went every other week. Every time I experienced a random ache or pain, I went on Schedulicity to book my next appointment with her. I'm down to monthly visits, and — hopefully — even less than that in the future.
In between acupuncture appointments, I had regular dermatology appointments. My hormonal acne became a full-fledged attack that I hadn't experienced since I was a teenager. I was 28 years old; surely this should be over by now? My former primary care doctor ($20 a visit) gave me two worthless prescriptions ($10 a pop), so I decided to venture into private practice dermatology. I picked my dermatologist based on two things: his (a female dermatologist would make me too self-conscious) practice is in fancy-pants Bellevue, and he's old enough to have seen every kind of skin disease there is.
At this time, my hands decided to erupt in warts. I was constantly in his office, either for cryo surgery for my "stress warts" as he called them, or my crappy skin. Office visits are $20, and he wrote me countless prescriptions for zit-busting antibiotics and endless Retin-A (both $10 a piece). I filled my prescriptions regularly even though I didn't need them. I still have 3 bottles of Retin-A at home, which I will use up in about 3 years.
My prescription pills turned my mouth and tongue blue, and my dental hygienist gladly informed me it was a side effect of the pills I was taking every day. I looked for a naturopathic physician who might heal me with natural cures and not give me stuff that turned me into a Smurf.
I lost a lot of weight prior to seeing the naturopathic physician, which plummeted my blood sugar. She was concerned, so she booked me a few office visits ($20 each time) to discuss diet and natural supplements. I bought Chromium ($9.46) to stabilize my blood sugar, and economy size Vitamin D, because I live in Washington State ($23).
She also sold me on the idea of food allergies causing my chronic acne; my portion of the bill for the comprehensive allergy test was over $300. Turned out I had a red-alert dairy allergy and she put me on a non-dairy diet for 3 months. Afterwards, my skin cleared up dramatically; clearly, the most satisfying $300 I ever spent.
As wise people will tell you, physical ailments are outward manifestations of emotional and spiritual turmoil. My body was screaming for some TLC. I woke up in the morning with intense chest pains, and I fell asleep grinding my teeth. I missed work because of intense migraines, and I was exhausted every single day. I needed out, but I knew regular therapy won't help; I would end up psychoanalyzing the therapist to death.
By happenstance, I found out about hypnotherapy when I took a class at Bellevue College, I ended up taking a hypnosis class ($50) and was intrigued about how it could help me deal with my chronic unhappiness. I wasn't depressed per se, but I felt like someone took out some key light bulbs from my soul. I wanted to know why a romantic dinner was such a drag, and why work made me want to cry.
I went to see a hypnotherapist, and in her couch, she put me on a trance and I saw a movie-like screening of various childhood traumas all the way from when I was a newborn child. I cried non-stop in her couch when I went to see her, but ultimately, it got too exhausting crying to a stranger ($200).
After more Yelp-ing, I found another hypnotherapist in West Seattle. She's great, I highly recommend her. She has a more direct approach, with none of the crying-in-the-couch stuff. She was able to put my unwieldy anxieties under control. (Everything gave me an anxiety attack, including striking up conversations with co-workers, or "putting myself out there" in any way.) She's amazing, but she's expensive; my initial consult was $150, and each session afterwards is $100.
I'm happy to say that the last time I went to see a health care person was this month for my routine annual checkup (free with my insurance). I also had a follow up with my hypnotherapist. Big life changes made my anxiety flare up in a different tether, as she explained to me, and I needed a refresher. As I've started to realize what my trigger points are, I've become so much better at giving myself TLC, and self-care always returns dividends.
Ruzielle Ganuelas eats, blogs, and works in Washington State. Her dream is to finally make it to Paris.
This piece is part of a series examining our financial vices.
Photo credit: Steven Depolo
---
Support The Billfold
The Billfold continues to exist thanks to support from our readers. Help us continue to do our work by making a monthly pledge on Patreon or a one-time-only contribution through PayPal.