Flamingo Notebooks and Polka Dot Pens: My Office Products Obsession
by Erika Smith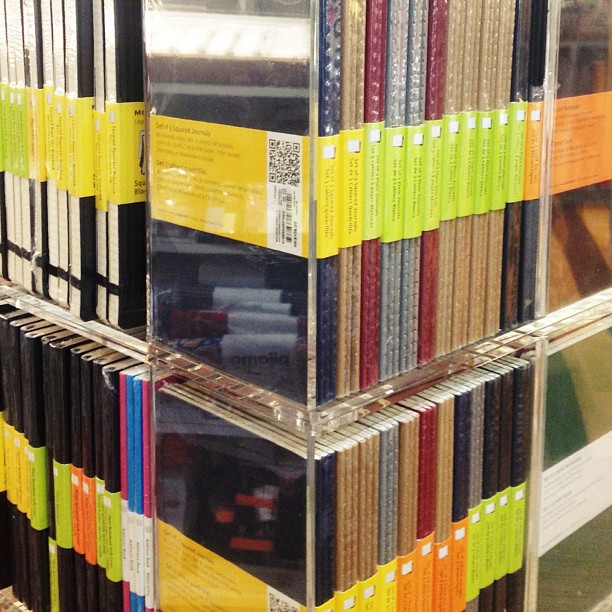 I write this in a self-described "seasonal, locally-sourced Brooklyn cafe" surrounded by notebooks, pens and two almost-empty mason jars. I already took a photo of my workspace and posted it to Instagram, with the hashtag #freelancelife. I'm three weeks out of leaving my full-time, salaried, 9-to-5 job to freelance, and I'm spending way too much money on the writing tools I think a full-time blogger should have.
Passion Planner, recommended to me by several people in the Femsplain writing class: $35.98, including shipping
Fancy, polka-dot pens from Spoonbill & Sugartown in Williamsburg: $10.88
Iced matcha latte so I can use this café's Wi-Fi and also feel Instagram-worthy and on-trend: $5.00
I could go on.
Why do I do this? I'm not a lifestyle blogger; I have less than 300 followers on Instagram. My handwriting is horrendous: I take plenty of notes in my pretty notebooks, but I can barely read them afterwards. There is absolutely no reason for me to buy fancy, expensive notebooks, pens, tote bags, and such. They're not useful at all — or at least, not any more useful than a notebook from the Target dollar section and a pen taken from bar trivia would be.
Except they're not here to be useful. In a way, they're weapons. I'm not talking about "the pen is mightier than the sword"; I'm talking about "fake it til you make it." My fancy pens are weapons against imposter syndrome. If my writing materials look like they belong to a professional writer, then I must be a professional writer, right? Right?
This vice didn't originate with my career move, but going freelance increased it. I've always had a slight weakness for cute stationary, but I used to buy one or two fancy notebooks a year, to be used exclusively for journaling, plus one Moleskine planner in the after-Christmas sales. Everyday to-do lists and outlines could go on whatever half-empty notebook was lying around the office. That's no longer true, because now I need a cute notebook for everything.
For me, buying a cute notebook is just like getting dressed up for a phone interview or "working from home" in a café instead of working from home in bed. If I feel more professional, I act more professional. If I look like a writer, I'm more confident that I actually am.
The notebook I'm currently using most often is a "Notebook Bestie" from Etsy seller Ashley Shelley. It's white with yellow flamingos printed across it, and there's a pink label on the front. It's sickeningly adorable — but inside it, my chicken-scratch scrawl is documenting some seriously exciting stories in the works.
Plus, one of my editors complimented it last week.
This story is part of a series examining our financial vices.
Erika W. Smith is a writer and editor living in Brooklyn. You can follow her on Twitter at @erikawynn.
Photo: See Ming Lee
---
Support The Billfold
The Billfold continues to exist thanks to support from our readers. Help us continue to do our work by making a monthly pledge on Patreon or a one-time-only contribution through PayPal.