The Cost of Adaptive Fashion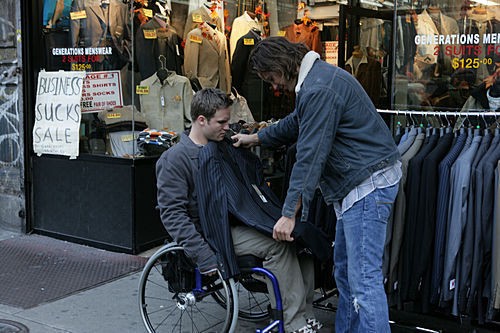 I've been thinking a lot about this Medium article by Liz Jackson on jeans designed for wheelchair users.
Here's the jist of it: jeans don't work as well on seated bodies as they do on standing bodies. Many of us have probably experienced this; the back gaps open, giving everyone a view of your underdrawers, and the front digs in at the waist and at the thigh crease. The stiff fabric encourages muffin-topping no matter how much weight you carry in your stomach, and when you're seated, all that room in your pockets — if in fact your jeans have functional pockets — disappears.
So fashion retailers such as Alter UR Ego, ABL Denim, and IZ Adaptive have started designing jeans to accommodate and flatter a predominantly seated body. Specifically, jeans for people who use wheelchairs.
As Jackson writes:
Features of Alter UR Ego jeans include a high waisted back, a tummy control panel, pockets on the thigh, straps for ease of dress and a catheter opening. Her first jean is not a skinny jean as one might expect. Bootcut jeans tend to be a favorite for wheelchair users, many feel that it's a more flattering fit on a seated body.
Well, now I know one more reason why I prefer bootcut to straight-leg or skinny jeans. Jackson notes, and aptly so, that when products are created to meet the needs of people with a specific disability, people without that disability regularly respond "hey, this product solves a problem for me too." Some parts of life, like stiff denim, are unnecessarily hard.
Then Jackson shifts the conversation to the potential exclusivity of products designed to include.
[IZ Adaptive] receives occasional emails from consumers offended by the price tag of an $89 jean. And who can blame them? Since the dawn of industrialization, the disability community has grown accustomed to relying on charity. It's a common misconception that people with disabilities can not afford a $90 price tag. Industrialization taught society that certain bodies cannot contribute. But it is my belief that the modern world just hasn't given those bodies the chance. Everybody encounters products they cannot afford. Every body encounters products they cannot afford.
Jackson states that fashion is, by its very nature, costly — and that this is a good thing.
Charitable assumptions have made it easy for retailers to turn a blind eye to people with 'other' bodies. If fashion for an able body is not charity then fashion for a disabled body should not be either. To assume otherwise is to underestimate and exclude a disabled consumer. This exclusion renders the disabled body invisible. An invisible body cannot be a fashionable body. And unfashionable bodies could not possibly support a market that includes IZ, ABL and AUE. The fact that IZ has experienced constant growth since 2009 shows that her consumers need not be underestimated. Yes, they are disabled. No, they're not invisible! Disabled persons, through their investments in inclusive products are asking to be seen.
What about the people who can't afford $90 jeans, though? If an invisible body cannot be a fashionable body, does that mean that unfashionable bodies are automatically invisible?
I'm stuck on this idea that people who use wheelchairs need to have this experience of not being able to afford well-fitting jeans; that "being seen" requires an investment in a fashionable product; that fashion only counts if it is purchased by consumers.
But I have a very limited perspective on this, for obvious reasons. To the rest of you: what do you think about Jackson's ideas on the intersection of fashion, consumption, ability, and visibility?
---
Support The Billfold
The Billfold continues to exist thanks to support from our readers. Help us continue to do our work by making a monthly pledge on Patreon or a one-time-only contribution through PayPal.