Small Luxuries: Putting Together a Starter Patio on a Shoestring Budget
by Phoebe Bronstein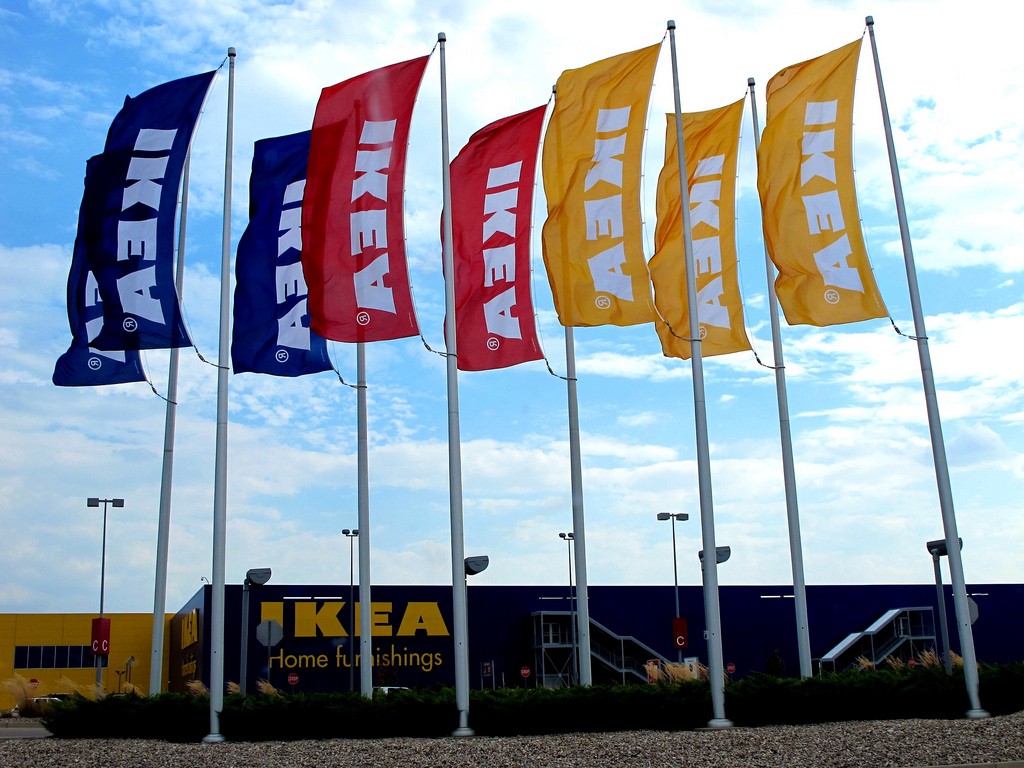 Ever since I moved to Atlanta from the West Coast a few years ago, I've been drawn to the Southern culture of front porches. Even when it's too hot to move, sitting outside with a cold glass of wine sounds completely amazing — as does watching the world go by and participating in the life of your street. But since the duplex apartment where my husband and I live lacks an actual porch, I have yet to really partake in the glory of outdoor living.
But, then we got married a few months ago and received a $100 bill as a wedding present. I had never seen one until that moment and initially wasn't sure what to do with it aside from thinking it was super cool and crisp and a little intimidating.
My husband and I are both teachers, and money that's not earmarked for a particular expense — from bills to the dog to savings to the oh-shit fund — is quite unusual. Part of me wanted to make the practical choice and throw it at a summer power bill. But, my mom has always taught me to permit myself small splurges (and sometimes big ones) in the name of living better within reason. Thus, after an evening on Apartment Therapy, I decided to spend the $100 on creating my own patio.
This task proved to be a challenge, since patio furniture is shockingly expensive, even on Craigslist. A set of wicker chairs for $900? No thank you. Sure, I would love a beautiful farm table with worn staining, but I certainly didn't have $1,000 to spend. So my first step was to seriously adjust my expectations. This would need to be a small and modest patio — a starter patio. But I could still make it comfy and usable. Here is what I found out in my quest for some outdoor living within a modest budget.
Size Really Does Matter.
It turns out that a lot of patio furniture is oversized, built on the assumption that the purchasers have plenty of outdoor space and perhaps a Rockefeller-esque country estate. Alas, we don't. My starter patio was going to be squeezed in by the side of the duplex, in front of the driveway. I needed furniture that could fit into a small area and allow our neighbor's car to clear it when he pulled out of the driveway.
Thus, I decided to brave Ikea — a place that always feels a little nightmarish to me, given its lack of natural light and maze-like formation and my dislike of shopping in stores — where I had found (after a lot of research) some affordable and cute patio furniture options. I brought along a friend to help out and keep me on task amidst the mountains of buildable furniture.
Plan Your Route.
Before heading out, I made a list of exactly what I wanted so that I wouldn't be tempted by everything Ikea has to offer. I decided to start with finding a plant. After all, I wanted to add a little nature to the black-top driveway. But given my history of having trouble keeping even succulents alive, I wanted one that was low maintenance. We found a plant with big green leaves and a tropical feel that I would only need to water once a day (a Monstera plant for $16.99).
Next we rolled our giant cart over to the patio furniture section at the front of the pick-up area of the store. But despite my well-laid plans, I found myself striking out: no wine crates for storage, no small wooden patio tables. I could only find two folding chairs that fit with my idea of the patio and price range: wooden slates with a black frame (TÄRNÖ chairs) that were $15/each.
Stay Flexible.
The next stop was Target, where I found a small mostly-matching black metal accent table in the garden section ($22). While it doesn't exactly match, it looks cool with the black frame of the chairs and has a bigger surface area than the one I planned to buy. I also think it even might be sturdier and more stable in a not-so-even driveway.
Delighted that I still had money left over before reaching my $100 cap, I hit up Lowes, where I discovered a cute, on-sale bright blue pot for my new plant and an ever-necessary Citronella candle (the mosquitos down here in the summer are terrifying and aggressive) all for about $14. All together, the patio cost me about $90, including tax. That meant I still had a little money to spare: I opted out of a watering can and instead bought a bottle of wine to drink on my new patio. Then, I promptly up-cycled the wine bottle to water my new plant.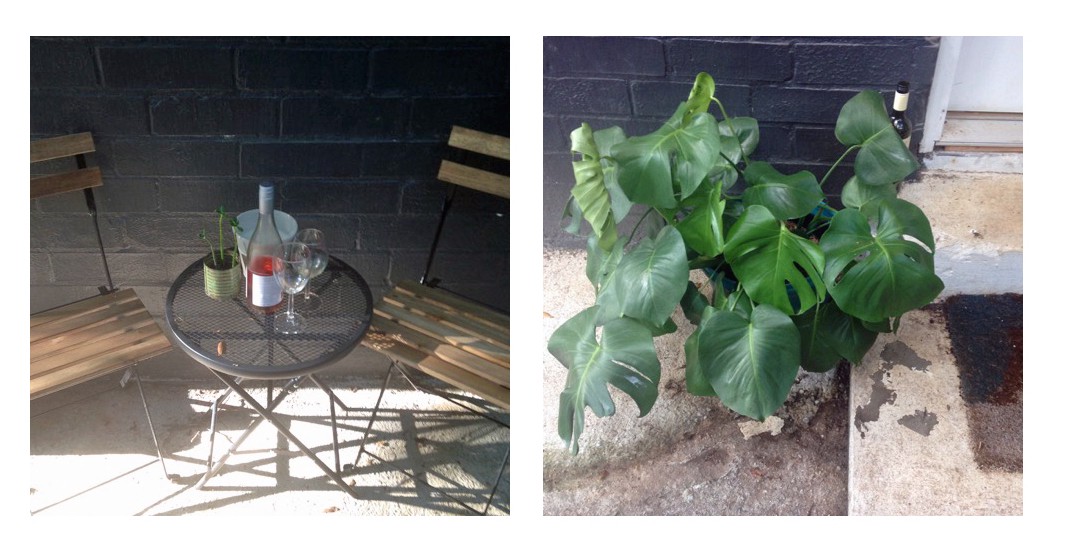 Starter Patio Reflections
There are definitely even cheaper ways to build a starter patio. I found a free table on the street a few years ago and re-painted it teal blue, and it could have certainly been repurposed for the great outdoors. However, it felt more celebratory in this moment to splurge a bit on furniture that I'm hoping we will have for some time and really enjoy.
What I learned from this project is that it's possible to afford myself small luxuries with a plan, a clear spending limit, and reasonable expectations. For me, the best way to make sure I didn't go over that limit was with cash — an unusual thing for me to carry around these days in a world and wallet full of plastic. When the cash ran out, my spending was done.
Building a starter patio on a budget required some investment: it involved serious research, a lot of time on Craigslist, driving all over town, and discovering that I have a strange inability to open Ikea folding chairs. But my quest to create a fun, cute, and comfy outdoor space for under $100 was totally worth it. In fact, I'm having a glass of wine out on the patio as I write this right now — Southern heat and mosquitos be damned.
Phoebe Bronstein lives in Atlanta, teaches college writing and feminist media studies, and blogs about pop culture at Girls Like Giants.
IKEA Photo: Frankie Leon
---
Support The Billfold
The Billfold continues to exist thanks to support from our readers. Help us continue to do our work by making a monthly pledge on Patreon or a one-time-only contribution through PayPal.