SeekingArrangement, Ashley Madison, & The Way We Pay For Sex Now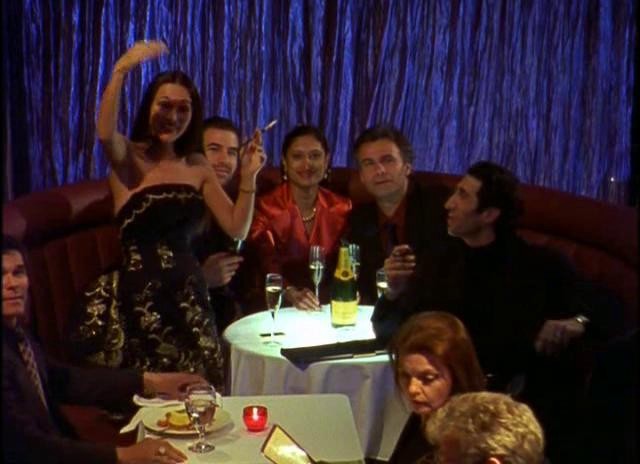 Carrie, join us! Sun, sex, and syphilis for all!
You've read about Sugar Daddies before, I know, but trust me, you haven't really experienced the phenomenon until you've read about it as described by the thoroughly delightful Taffy Brodesser-Akner:
Sugar dating is the oldest dynamic around: Rich person contracts poorer but younger/hotter person into some combination of obligations that includes but is only rarely limited to straight-up sex. As long as people have had money and other people have wanted money, this has been a thing. But technology has affected this mini-economy twofold: First, as with any Etsy shop, anyone with a good to sell can now easily intersect with someone who wants this good; and second, it has created a culture of righteous entitlement, in which a fringe thing feels mainstream when you find enough people who participate in it.
SeekingArrangement is just one of several sugar-dating sites, but a popular one. On all these websites, the splash page features a beautiful young woman, elegant but with sideboob, and either she's overtly dangling a piece of jewelry or she is wearing it. She looks into the camera. Each time, a man, older, nearing silver status, is looking right at her, unable to take his rich, priapic eyes off her. He has the beginnings of male-pattern baldness: baldness that says, "I've lived, I have money, here is a bracelet." He is about to lean into her neck, maybe take a big old bite out of it, and she hangs back, only for a moment, only to tell us her secret, which is: "Look, I got a bracelet."
Sex obtained, and often paid for, via the internet is really having a moment right now, what with this playful, lengthy profile in GQ, which, despite its flip tone, also humanizes the people on both ends of the sugar relationship — mostly, anyway; I'll be giggling all day about the antics of "Scrooge McFuck." And, of course, the whole Ashley Madison scandal.
Here's an NYT explainer in case you were on vacation this summer or just doing something more worthwhile than feasting on piping hot gossip.
The release of stolen data from Ashley Madison, a dating website marketed at would-be adulterers, promises to roil the marital lives of its members.
It has also underscored the troubling limitations of Internet privacy.
On Tuesday, hackers appeared to make good on a threat to release what they said was 9.7 gigabytes of account and credit card information from 37 million users of the site.
What information was released?
The data includes members' names, user names, addresses, phone numbers and birth dates as well as details of credit card transactions. Member passwords are encrypted, but specific users could be easily targeted for decryption, according to Quartz.
Profiles filled out by users could also contain embarrassing information about their sexual preferences.
The breach also included users of Established Men, a separate site aimed at women looking to date rich men. Both sites are owned by Avid Life Media.
The data dump included accounts set up by TLC star and family values advocate Josh Duggar, who paid a grand total of nearly $1,000 to enable his online cheating, and has, since the expose, apologized to Jesus, America, and his wife, in roughly that order.
He's far from the only hypocrite / guy who's too dumb to use a fake address: the NYT adds that "more than 15,000 email addresses in the breach were hosted on United States government and military servers, The Hill reported." These are the men leading and protecting our great nation, and they can't even be trusted to get a burner Hotmail account before forking over funds online to enable them to cheat on their wives. Heaven help us.
According to a fun new analysis in Gizmodo by Annalee Newitz, they were almost definitely wasting their money the whole time, too:
Ashley Madison was a far more dystopian place than anyone had realized. This isn't a debauched wonderland of men cheating on their wives. It isn't even a sadscape of 31 million men competing to attract those 5.5 million women in the database. Instead, it's like a science fictional future where every woman on Earth is dead, and some Dilbert-like engineer has replaced them with badly-designed robots.
Those millions of Ashley Madison men were paying to hook up with women who appeared to have created profiles and then simply disappeared. Were they cobbled together by bots and bored admins, or just user debris? Whatever the answer, the more I examined those 5.5 million female profiles, the more obvious it became that none of them had ever talked to men on the site, or even used the site at all after creating a profile. Actually, scratch that. As I'll explain below, there's a good chance that about 12,000 of the profiles out of millions belonged to actual, real women who were active users of Ashley Madison.
As our friends at the Hairpin put it in brief, "Haha, statistically speaking, ZERO percent of Ashley Madison users were actually women."
Male users would have been better off shelling out for an XTube subscription or doing like Scrooge McFuck and procuring a sugar baby. At least then they would know they were getting what they paid for.
---
Support The Billfold
The Billfold continues to exist thanks to support from our readers. Help us continue to do our work by making a monthly pledge on Patreon or a one-time-only contribution through PayPal.