I Have No Idea How Much My Wedding Cost (And I Helped Pay)
by Anonymous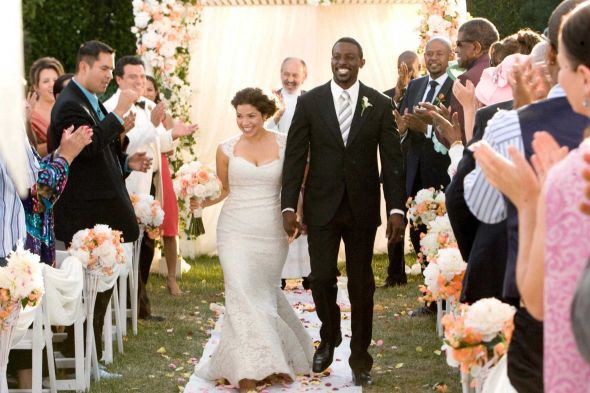 My parents were never good with money. What they taught me about finances, they taught me by showing me what not to do. So it was no surprise that my parents didn't have anything saved for my wedding.
My mother has always been a very frugal person. You have to be when you're 18, married with a two-year-old, and you live in a camper. She has four siblings, so there was never much to go around when she was growing up. Because of this frugality, the one thing I knew about my wedding was that it would be cheap. I should probably say "inexpensive," but I was 23 and Pinterest didn't exist yet.
There was no alcohol, for instance. We got off easy there by having it in a state park, where alcohol is not allowed; we didn't have to look like cheapskates. I'm sure there were people saying that we should have had it anywhere else so that we could serve booze. You'd be surprised how hard it is to figure out how to get married on the beach without doing it in a state park or a resort, however. And I knew a resort was out of the question, as there was no way my parents or my fiance and I could come up with a chunk of change for something like that.
My mother-in-law tried to convince me to have it at a resort, but the bland seafoam and coral banquet hall where she wanted to have the reception may as well have been in Omaha for all the beach-y atmosphere it provided. No, I wanted to do it on the beach, and we did it cookout style (or barbeque-style, depending on where you're from). I think she would have paid for it, but I wasn't comfortable with that, nor was I interested in such a high-class affair.
This difference of opinion carried throughout my entire 18-month engagement. The first "wedding-y" thing my mom did was buy me a spool of lavender ribbon after I mentioned lavender as a possible wedding color. (We ended up going with "pool" and "cornflower"). The first thing his mom did was create an entire binder full of ideas for every single aspect of the wedding, including sketches of the cake and color swatches. It was a bit overwhelming, to say the least.
I think I ultimately shot down a lot of her good ideas because a) they were waaaaayyy too expensive, and b) as I put it, "This is my wedding, for Christ's sake. She had her own wedding 25 years ago!" The custom-baked seashell cookies she drew up, frosted with our wedding colors and individually wrapped with matching ribbons were absolutely adorable. But did I want to spend $500 on cookies? No. Our favors would be personalized matchbooks, which would also function to light our "going away" sparklers that we used in lieu of rice or bubbles.
I'm a pretty simple girl. I come from a humble background, and I didn't want my wedding to become some country-club affair that didn't represent me at all. I thank God each and every day that Pinterest was not yet invented, because the binder would have been triple its size. Ultimately, to appease my mother-in-law a bit, I made a few concessions.
Rehearsal Dinner
I made no concessions at all here, because the groom's family gets to do it how they want, but I did say "absolutely not" to having it at a seafood restaurant, because I'm allergic to shellfish and I don't like fish. I did "let" my mother-in-law rent a condo and throw it there, serve catered barbecue and decorate it more elaborately than the reception.
Rehearsal Dinner Costs, including tablecloths, centerpieces, and other decor: $200-$300?
Carolina Barbecue for 50ish people: $400?
Condo: ????

Flowers
I'm not a big flowers person, mostly because I think it's stupid to pay money for something that will be dead in a few days, so I let my mother-in-law have free rein with the flowers. We agreed on white roses. She ordered 5 bouquets, 3 boutonnieres, and 6 corsages. She bought seashells and painstakingly painted each one with glitter and then sent them to the florist to be included in the arrangements. We used candles as centerpieces, so there were no additional flowers.
Florist Costs: $500? This is a rough estimate based on a Google search almost 7 years after the fact.

"Welcome Bags"
I think these are a thing? It is something my mother-in-law was very passionate about, so I gave her free rein here too. She bought a ton of tote bags in our wedding colors and stuffed them with beach towels, brochures for things to do in the area, bottled water with customized labels, hand-made customized first aid kits, along with needle and thread and extra buttons. She added snacks, sunscreen, and a ton of other stuff I'm sure I'm forgetting.
The kicker is that she handmade a fold-open map to the venue for each bag. They were adorned on the front with hand-constructed paper sandcastles with my fiance's and my initials. I can only imagine how long it took her to trace and cut each piece out of sandpaper (this was before Silhouette) and then affix them with 3D tape and write our initials.
Cost: Tons of time and money! $$$

Venue
Since we were married in a state park, we had to pay admission for each of our guests to get in. At $4 per person, with 75 guests, this came to $300. I think my in-laws paid half. My family covered all the decor and serving dishes, with the exception of the bathrooms.
The bathrooms were your standard public-park restrooms, with missing doors and questionable locks. I purchased three white shower curtains on clearance that we hung for privacy, and my mother-in-law insisted on doing the rest. She purchased two seashell mirrors to go over the shiny-ish metal that was affixed to the wall already, and then created some kind of center-piece type of decoration to go by the sink. She brought in fancy soap and created a basket for each restroom containing things like safety pins, tampons, bobby pins, breath mints, Tide Pens, tissues, and hair spray.
Decor, Etc.; Shower Curtains: 3 @ $13.98 = $41.94
Other Bathroom Stuff: $150?? Maybe more. Those mirrors were pretty fancy.
Centerpieces, Candles, and Twinkly Lights: $200–300?

Music
We made CDs, my sister-in-law borrowed a set of speakers and mic from her fraternity, and my new uncle pushed Stop and Play when necessary.
Music Costs: $2 for the blank CDs? I plead the fifth on where the actual song files came from.

Clothing
My aunt made my wedding dress. I think the pattern was $50 and the materials were about $200. My groom wore khaki pants and a white button-up. Cost: maybe $100, and that is being quite generous.
I bought some glittery white flip flops to wear at the reception. Cost: $6.99. My rehearsal-dinner twinset and capris were all on sale, totaling less than $30. My day-after dress was four years old and had been worn to my cousin's wedding.
Clothing Costs: $386.99

Food
My mom and I went to Sam's the day before and loaded up 3 shopping carts with hot dogs, hamburgers, buns, chips, sugar cookies to be topped with cheesecake filling and fresh berries, punch ingredients, and charcoal. We made and froze dozens of pigs-in-a-blanket a few weeks earlier.
This is one of the awkward money moments I remember. As we walked to the checkout, my mom began to frown and started doing some calculations. She confided in me that she couldn't pay for the food. There wasn't enough room on her credit card, and she didn't have enough in the bank.
Here I was, 1–2 days before My Big Day, being made to feel bad about what all this was costing. Most of what my family and I had paid for was as-we-went, so it didn't seem like a big deal to me. Later I would find out that both my and my fiance's family racked up considerable credit card debt for our "simple, laidback" wedding.
Food Costs — Sam's bill: $400?
Salsa from a local Mexican place: $10
Wedding Cake: Made by my best friend and maid of honor's mother. I got exactly one bite during the reception, and no one thought to pack any for us to take to the hotel that night. When we stopped at my grandma's on the way out of town, she gave us a cooler filled with the leftover salsa (which later ended up leaking all over my husband's wallet and nearly ruining our marriage license), but she never mentioned that she had the wedding cake. We found out when we were 50 miles out of town. I don't think we paid for the cake, but we did send the baker an Applebee's gift card after the fact, so let's say $50.
Food Total: $460

I'm sure there are plenty of other miscellaneous expenses I'm forgetting. My maid of honor did my hair and I did my own makeup, but I did pay for a spray-tan and have my finger- and toenails done. My mother-in-law likes to tell me how she splurged that week and got a haircut and highlights at a fancy boutique place, and ended up spending $250 to look how she normally does when she spends $50, including tip.
My in-laws paid for us to rent a car to make the 500-mile drive from our home to the beach. They "felt better" knowing we were in a reliable vehicle. I suspect they also paid for our room at the Hilton on our wedding night, as I don't remember seeing it show up on my husband's and my joint bank account.
Lodging and Transport Costs: $500?
In addition to the one bite of cake we each got, we never had time to eat, so on our wedding night, we ordered pizza and Greek salads from the only place that would deliver to our hotel room.
Cost: $35 plus tip on a Visa gift card that was a wedding gift
These costs don't include anyone else's clothes, lodging or travel, or the truly elaborate wine-fueled Bon Voyage party my mother-in-law insisted on throwing the next day, complete with another cake, which was not nearly as tasty as the wedding cake. They also don't take into account the check we wrote the preacher, the rings, the guest book, the aforementioned sparklers and matchbook favors, the thank-you gift for my aunt, the hotel room we had to get for our dog because he didn't have the required vaccinations to be boarded, or the cost of the intricate message-in-a-bottle Save-the-Dates, the clearance home-printed invitations, or the hand-stamped and cut thank you cards (you can guess who made which).
My aunt did all of the photography for free, which is one thing I would change if I could go back. Not that her pictures aren't beautiful, but she was stressed about missing a photo and was unable to relax and enjoy the ceremony. If I could do it over, I would splurge and take out one more credit card, or maybe swallow my pride and ask my in-laws to foot the bill for a professional.
But in the end, it's only one day, right? Or would it have been worth the $2000 to have perfectly edited, blog-worthy photos of my $5,000* day?
*This is a very, VERY rough estimate.
This story is part of our Wedding Season series.
Anonymous had an allergic reaction at her bachelorette party and missed the part where there would have been strippers. She has been happily married for 7 years and would like to never throw a wedding again, please. She would, however, love an excuse to wear her wedding dress again, if someone could create such an occasion.
---
Support The Billfold
The Billfold continues to exist thanks to support from our readers. Help us continue to do our work by making a monthly pledge on Patreon or a one-time-only contribution through PayPal.