Why I Don't Regret Getting Scammed In China
by Mai Wang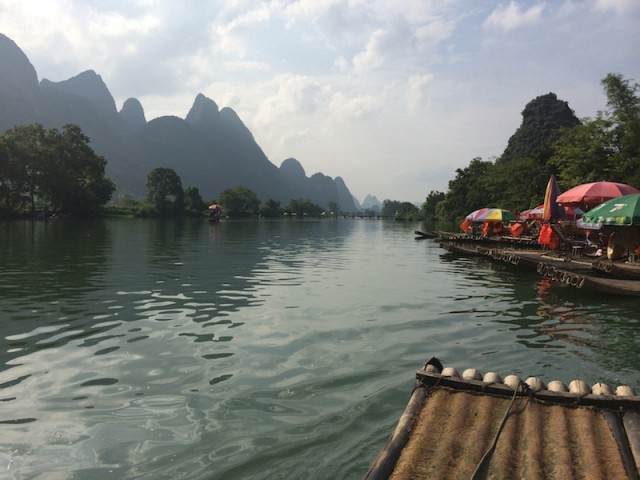 When my relatives abroad heard that I was going to China for two months on a writing fellowship, they had two reactions. First, they were amazed that American universities had so much money they could afford to pay a graduate student to go on vacation. Second, they warned me not to travel alone.
They told me that Chinese criminals would recognize me as an American instantly, even though I was born in China. "You look too naïve and trusting of strangers," they explained. "You have the face of someone who's asking to be robbed." So I made a few concessions and agreed to hire a driver and tour guide for the leg of my trip that took me through the south. I booked the seven-day VIP journey through a travel agency, and it cost me around 6,000 RMB — or what my retired aunt earns in two months through her government pension.
I knew the journey was out of reach for the typical Chinese citizen, but I didn't know how indulgent it was until I found myself checking into a five-star hotel in the city of Guilin. The hotel had a nightly fountain show and an all-you-can-eat breakfast buffet for 100 RMB that included sushi, stir-fried noodles, and pickles. I ate until I was bursting, and I was not the only one. All around me, Chinese families and newlywed couples devoured heaping plates of everything. Everyone in China likes to get their money's worth.
After breakfast the first morning, I was greeted by a stocky middle-aged woman outside my hotel who vaguely resembled my mother. Her appearance reassured me, even as she led me to an unmarked van with darkened windows. "I'm your tour guide, and my name is Little Flower," she said as I sat in the rear seat. She pointed to the driver, who was smoking a cigarette. "And this is Zhang Dog Meat." I couldn't bring myself to repeat his name and I couldn't figure out if Little Flower's nickname for him meant that she considered him above or below her.
As we drove from site to site, I realized that Dog Meat was a chain smoker. He never spoke and only acknowledged me by flashing rare smiles in the rearview mirror, revealing his stained teeth. Sometimes Little Flower took out a bottle of a bright green liquid, held it up to his nose, and waited as he inhaled deeply. She explained it was meant to ward off drowsiness, which I did not find reassuring.
Later, I found out that Guanxi locals only append the label "Dog Meat" to someone's last name if they consider him or her to be a close friend. I wanted to be friends with my tour guide and driver too and forget the differences between us. I didn't want to be reminded that I was lucky enough to have an American passport and could regard my impending unemployment back home as "taking time off to write." But Little Flower didn't let me maintain the illusion that we could be equals for the duration of the trip. She stared at my Kiplinger backpack, a hot brand in China, and declared that she had the same one, only hers was a knock-off.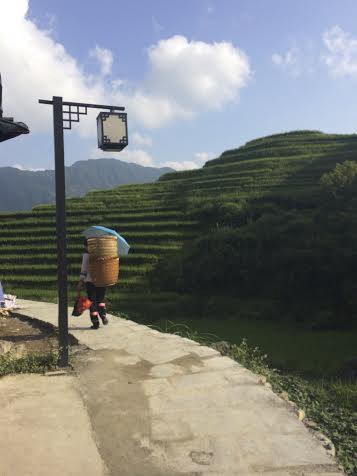 In America, I would have cured my guilt by leaving a huge tip at the end of my vacation, but tipping is not a custom in China. Instead, tour guides and drivers make a living by taking their customers to pre-selected restaurants and shopping centers, and then taking a cut of the proceeds from the owners. That was how I found myself eating a tilapia cooked with the scales left intact that cost 200 RMB and spending 800 RMB for a mysterious mountain herb that looked like a kitchen sponge and allegedly prevented infertility, a condition I had never worried about before.
I wondered how much money Little Flower and Dog Meat made every time I bought something, but her carefully composed smiles and his long silences betrayed nothing. So I said nothing in return, even when I was blatantly scammed before I visited the famous Longji Rice Terraces.
As we prepared to board the van for the long ride into the mountains, Little Flower took me aside. "We're taking you to a great restaurant tonight," she said. "Do you want to order their local specialty — chicken steamed in a bamboo pole? They slaughter the chicken just for you, so I have to let them know in advance. It costs 350 RMB." I did the math. 350 RMB was over 50 dollars, which would buy me dinner at a fancy restaurant back home in Boston. But I had a feeling that saying no was not an option, so I agreed. Little Flower looked happy as she took out her cellphone and called the restaurant owner.
When we got to the restaurant, Little Flower and Dog Meat took their seats at another table, and while they were distracted I snuck a glance at the menu for ordinary customers. The same chicken dish I was eating cost 175 RMB. The dish lost its flavor, and I wanted to confront Little Flower and Dog Meat. When I looked over at them again, I realized they were both eating a simple dish of noodles. I couldn't bring myself to start a fight.
After a while, being ripped off stopped bothering me. Chinese tour guides know how to charm and disarm their clients. As she guided me across the mountain paths, Little Flower asked me questions about my life in America. I told her that I was not considered rich back home, and she didn't believe me. "But only rich people can afford a private tour," she said. "You're a VIP." I insisted that I was only an ordinary student. Then I asked her about her life. She told me she spent half of her time traveling with tour groups, then told me a joke: if a boulder dropped on a Guilin local, who would it most likely kill? The answer: either a tour guide or a bus driver, because that's what everyone did for a living.
I asked her if she wanted to find a different job, and she shrugged. "The only other option for a person like me is to find work in a factory." Despite the much-touted economic advances of the past thirty years, there were not enough good jobs in Southern China for women who wanted to remain in the same city as their families. Little Flower said she supported her two-year-old daughter and an elderly mother back home.
After chatting with her, I realized that I knew very little about what it actually meant to be an ordinary Chinese person, one without an office job or Party connections. We talk about the rat race in America, but in China, I kept thinking about a special dish Little Flower promised to make for me if I visited her at home. It was called Three Yelps. "You take a baby mouse and dip it in boiling water. That's the first yelp. Then you skin it. That's the second yelp. The third yelp is when you bite off its head and swallow it while it's still alive."
This story is part of our Travel Month series.
Mai Wang is a writer and recent graduate of the MFA program at Boston University. She avoids Facebook, but you can find her on LinkedIn.
---
Support The Billfold
The Billfold continues to exist thanks to support from our readers. Help us continue to do our work by making a monthly pledge on Patreon or a one-time-only contribution through PayPal.