Domestic Partnerships In An Age of Same-Sex Marriage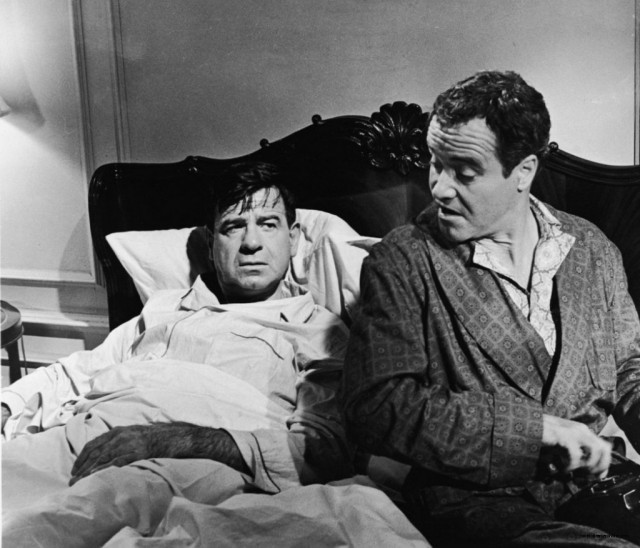 Remember how, in the 11-year ramp up to marriage equality in the US, various states — and, more importantly for our purposes, businesses — offered consolation prizes functional alternatives to their workers, such as civil unions and domestic partnerships? Well, now that we're post Obergefell, what happens to those benefits? Not everyone wants to "upgrade" to marriage simply because it's available. Will domestic partnership-type arrangements still be honored by employers?
The Times consults its Magic 8-ball and replies, "Don't count on it."
Though it is unclear what most employers will decide, some companies are likely to deliver what feels like an ultimatum, at least to some: Marry within a certain time frame, or lose your partner's health care coverage.
Some large employers — including Verizon, Delta Air Lines, IBM and Corning — already have. They rescinded domestic partner benefits to employees living in states where same-sex marriage was legalized and replaced it with spousal coverage. Last July, Verizon gave its employees until the end of the year to decide whether to marry. IBM gives employees a one-year grace period, though a spokeswoman said the time frame was under review; Delta said it provided a grace period as well, about two years. And some states have sought rollbacks as well.
Many employers extended the benefits only to partners of gay employees because they did not have the option to legally wed. Plenty of other organizations, however, extended domestic partner coverage to opposite-sex couples as well — and those companies are expected to maintain the benefits more so than those that offered them only to same-sex couples.
"With no legal barriers to same-sex marriage, it is likely some employers will eliminate their benefits for unmarried same-sex partners," Todd Solomon, a partner at McDermott Will & Emery who has written a book on domestic partner benefits, said.
How many possibly affected people are we talking about? More than you might think.
According to the Human Rights Campaign, two-thirds of Fortune 500 companies offer domestic partner benefits to employees with same-sex partners, and 62 percent of those companies also extend the benefits to workers with opposite-sex partners.
More broadly, about 35 percent of all private sector workers had access to domestic partner benefits for same-sex partners in 2014, according to a National Compensation Survey from the Bureau of Labor Statistics. And 30 percent of workers had access to benefits for opposite-sex partners.
Employers have to draw a line on whom to cover, but as ideas change of what a family is, it may become more difficult to delineate exactly where those lines should be.
Domestic partnerships have always been something of a gray area, as we've covered here on the 'Fold. Couples who form one can find themselves punished at tax time:
the laws in most states treat your domestic partner differently than your spouse. This is where the pretend imputed income comes into play: "The estimated value of the employer's financial contribution towards health insurance coverage for non-dependent same-sex partners must be reported as taxable wages earned."
Yes, you read that correctly. So when I opened my W-2 for 2014, the top number was … high — much too high. Filing your 1040 is the one time in life when you don't want your income to be significantly higher than you expected. I worked up a quick calculation using that wage number and found that I suddenly owed an extra $3,500 just in federal taxes.
Can't afford to go without insurance. Can't afford to buy insurance. Can't afford to the pay the taxes on insuring your partner.
Still, many couples — hetero as well as not — find that domestic partnerships work for them and don't want to scramble to make what should be romantic, or at least thoughtful and considered, decisions for desperate reasons.
Employers are in the process of figuring it out, so feel free to lobby yours, if this is something about which you have an opinion. Meanwhile, I consulted a Magic 8 ball of my own.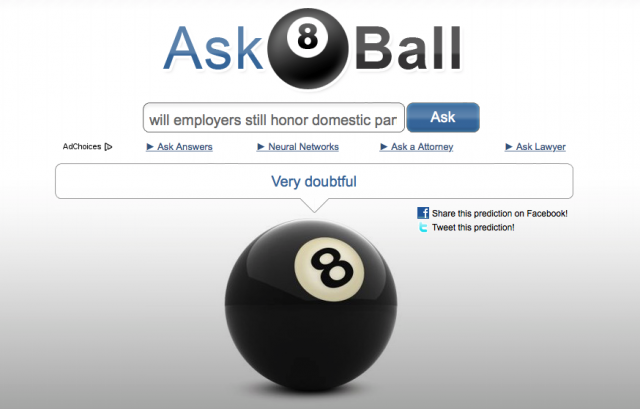 Logical follow-up question: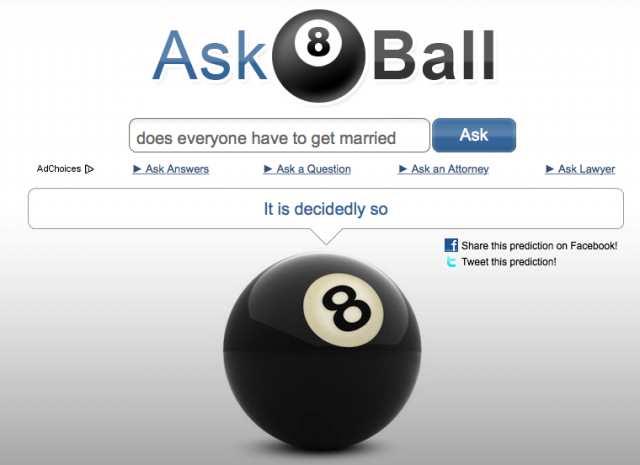 Sorry, y'all. But on the bright side, congratulations!
---
Support The Billfold
The Billfold continues to exist thanks to support from our readers. Help us continue to do our work by making a monthly pledge on Patreon or a one-time-only contribution through PayPal.