Scraping a Living at a Crêpes Restaurant
by Kathleen V Gudmundsson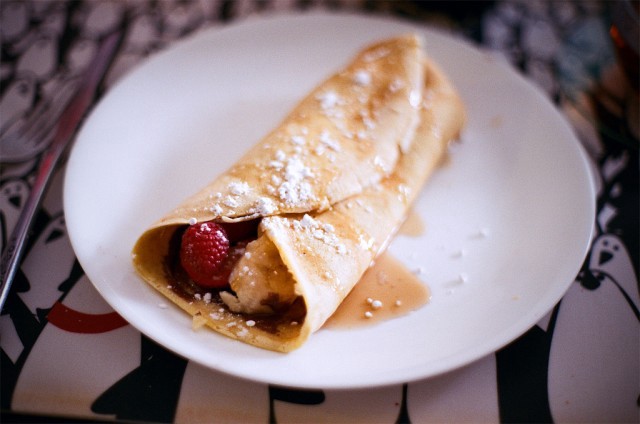 "Are you afraid of getting burned?" asked my supervisor as I gingerly lifted a floppy, undercooked crêpe with a spatula. I looked at it with dismay as it fell apart. She swept it off to the side with one long motion of her own spatula, greasing the griddle again. "I'm not," she said as I struggled to spread the thick buckwheat batter evenly on the huge griddle.
"I love cooking, and I'm especially good at making crêpes," I'd told the cheery woman who interviewed me in the spacious restaurant whose specialties were crêpes and chocolate desserts. I'd visited this restaurant over the summer when one of my best friends from university was visiting Montreal; after overstuffed smoked-meat sandwiches, we'd ducked out of the heat and into the dessert place a couple of blocks away, where we'd lingered over chocolate-raspberry milkshakes while a waiter with an adorable French accent doted on us. I'd sent my résumé to the restaurant that same week, thinking that it would be the perfect place to work. I'd applied a second time after seeing a NOUS EMBAUCHONS ("Now Hiring") sign in the window, and my persistence paid off. I started the first week of December.
My colleagues were almost all younger than me (I'd just turned 25), a mix of Francophone Quebeckers and French nationals who had landed in Montreal on working holiday visas. When something went wrong in the kitchen, the Quebeckers would curse, "Ostie de crisse de tabarnak," while the French cried "Putain de merd-euh." I stuck with "shit shit shit shit shit" as I mopped up the batter oozing over the sides of the griddle or nursed another cut on my finger in the back of the kitchen. The knives we used to chop fruits and vegetables came from the dollar store, so I was averaging a couple injuries a week.
My French was definitely improving, although most of my colleagues talked to me like I was a child. "Can you cut the pineapples?" one asked me one day, making exaggerated cutting motions and drawing spiky leaves above her head with her hands so that I would understand which fruit an "ananas" was. Never mind that I'd been studying French since I was 13. The waiter who was all smiles in the dining room kept his fiery temper for the kitchen staff. "You expect me to serve this?" he'd ask, and I knew that I'd need to spoon the fruit and ice cream off the top of the crêpe and start decorating it again.
I kept applying for other jobs, but finally grudgingly offered the restaurant full-time availability. For $9.65 an hour plus tips — 4% of whatever profit the restaurant had made during the shift — I chopped, cleaned, and made a lot of crêpes. By the beginning of February, I had five shifts a week and wasn't overdrawing my bank account any longer to pay half the rent for the furnished basement apartment I shared.
By that time, though, I was crying almost every day, whether it was because I saw a baby in the metro ("I'll never have a baby of my own," I thought to myself, "because I'm pathetic and don't even have a real job") or because I was convinced that I'd never get into graduate school. I cried over muffins that came out salty and stopped cooking at home. Diagnosed with "failure to adjust," I was on the waitlist to meet with a social worker at the local clinic and was prescribed anti-anxiety medication that was supposed to tide me over until a professional could meet with me. The pills didn't help me sleep on the creaky twin mattress. I still found it difficult to adjust to shift work — sometimes waking up at eight to get to a morning shift, sometimes falling into bed at three. I told myself that even if I hated the job, even if I had nothing better lined up, I needed to keep the job until I was really good at it, rather than leave because I couldn't hack it as a short-order cook.
By mid-March, I could chop a pineapple or pack bags of cheese, sixty-five grams each, as fast as anyone else. I could make four perfectly cooked crêpes at the same time: a Provençale, no egg; a complète with extra cheddar; another with ham and spinach; and a dessert crêpe covered with three ladlefuls of chocolate swirled together. I received benevolent smiles from the waiter in return. I was used to the cheap knives and I could carry a pile of plates, steaming from the dishwasher, with bare fingers. My colleagues had warmed to me after I brought my mp3 player to work and played Québécois music while we cooked. What's more, I'd been accepted to a graduate program, and an unseasonably early spring was warming the air enough that I could walk most of the way home without shivering.
So why didn't I feel better? When I left work each day, the crying and anxious thoughts started again. I woke up nauseated most of the time, so I usually ate only one meal a day, after I'd already been working for a couple hours. One week that April, I had four interviews, including one for a museum job I desperately wanted. I wasn't offered any of them. My estranged grandfather had just died, but I hadn't even known that he'd been ill. The only time I called in sick to the restaurant — 15 minutes before I was to show up for my Saturday night shift — was two days after I found out. My roommate and her best friend dropped acid and went for a long walk while I sat at the table, crying uncontrollably, unable to vocalize why I felt so hopeless. When I went to work the day after, even though I'd spent the night on the phone with a crisis hotline, my roommate couldn't figure out where I'd gone. But what else was I supposed to do, other than keep going to work? If I wasn't showing up there, what purpose did I have?
I found a new roommate who lived on the top floor of a brick triplex on a tree-lined street. My father sent me enough money to buy my own bed, with a mattress that didn't sag. I walked through a park to get to my new metro station and talked to the man who stood there feeding the squirrels. I started eating breakfast before going to work. Sometimes, when I was training new staff, so young they'd just finished high school, I felt like a counsellor at Camp Crêpe. It was a far cry from the stress I'd felt when I was learning the job the winter before. I sometimes went for drinks with my colleagues on Saturday night, but more often than not just walked out of the restaurant at one in the morning, crêpe batter and white chocolate smeared on my leggings, while women in impossibly high heels waited outside the clubs. I walked 20 minutes to get to the stop for one night bus, then switched to another bus that dropped me off a 15-minute walk from my new apartment. When I got up the stairs, I took a shower, washed my uniform apron by hand to get the chocolate stains out, and staggered to bed.
I decided that I would quit at the end of July, a month before starting school again, and planned the most extravagant trip I could with the little bit of money I'd been able to save. I thought I might miss the restaurant once I'd left. "Of course I'll come back and visit," I told them: the grumpy waiter, the woman who had hired me, the teens I'd supervised as they practiced making picture-perfect crêpes. I took a train east and wandered the beaches of Prince Edward Island and the hills of Nova Scotia, dancing to fiddles and watching my hair curl in the sea breeze. When I got back to Montreal, I had to borrow money to eat while I was waiting for my student loans to come in, but I didn't care, because I was so happy to not be working at the restaurant any longer.
It's been three years, and I have yet go back to that restaurant. Sometimes, walking down the Main on a summer evening, I walk by it as the door swings open; I catch a whiff of those crêpes and I feel nauseated. So I make them at home now, from my own recipe, melting butter to grease the pan rather than relying on Crisco. I fill my crêpes with spinach and Gruyère, or apples and Oka cheese, and top them with maple syrup I pick up from the Jean-Talon market. I have time to wander the stalls there, an ice cream cone or custard tart in hand, now that I don't work weekends.
This story is part of our food month series.
Kathleen V. Gudmundsson lives in Montreal, where she takes full advantage of public transit, hipster coffee shops, and Portuguese rotisserie chicken. Despite the suggestions of her friends and colleagues, she has no plans to open a restaurant. You can find her on Twitter at @kathleenvguds.
Photo: Laura D'Alessandro
---
Support The Billfold
The Billfold continues to exist thanks to support from our readers. Help us continue to do our work by making a monthly pledge on Patreon or a one-time-only contribution through PayPal.