How Important Is It To Love Your Living Situation?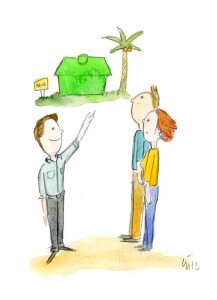 Nicole's apartment-seeking adventures got Mike and me talking about our own housing histories. Apparently when it comes to where we live, I'm a romantic and he's, well, not.
Mike: I've never fallen in love with any of my apartments. It's always been more like, "This works!"
Ester: Hmm. I've *always* fallen in love with my apartments.
Mike: lol wait is that true
Ester: It is, actually! I get very serious about real estate. You know that.
Mike: I mean, I like my apartment, but I don't love it.
Ester: Hm. Have you ever loved an apartment?
Mike: Hmmm. I just flashbacked through all my apartments and I will say, no.
Ester: That's so interesting! We must have different approaches to living situations.
Mike: I suppose my priorities are more like: Good kitchen, decent light, rent that doesn't make me want to scream.
Ester: Those are good priorities!
Mike: The loving can come later, but it hasn't really. I also suppose the "loving" part really doesn't matter?
Ester: I usually want all of things plus laundry on site, some measure of charm and/or outdoor space, transit accessibility, friends nearby, and an atmosphere that's pretty quiet. Well, it depends! It matters to me.
Mike: I think that's a lot of pressure!
Ester: It is a lot of pressure while I'm searching but I have never failed to find it, which is kind of comforting.
Mike: Well, you are living lots of other people's dreams. A washer and dryer in your own apartment! That is one New York City dream.

This is not to say I find apartment hunting to be an unalloyed pleasure. As I have written about for the site before, I particularly dislike having anything to do with brokers:
Once, when surveying an apartment with a broker, I mentioned my husband (Mr. Ben had graduated to that status by then) and the broker cut me off to exclaim in his Fran Drescher-like voice, "No. No! You're a baby!" At another sub-par apartment, Fran lost his temper with me when I said, "For $2,000, we'd like a large one-bedroom in a building with laundry and an elevator."
"Forget it," he snorted. "You'll never find it."
Another broker at a place I liked refused to give me the paperwork at all when he found out I was married. "Sorry," he said, sounding anything but. "I don't like giving wives applications without their husbands present."
I ended up with a roomy garden apartment with a huge private backyard and a washer-dryer for $1,800. (Suck it, Fran!)
I do really enjoy the satisfaction of making it to the end of the scavenger hunt and then getting to live there.
I have also been extremely lucky to have some measure of choice about where and in what circumstances to live. Not everyone can prioritize prolonging the hunt until they find that special someone, apartment-wise. Not everyone wants to! But, in my case, however grueling the search and however long it takes, it is worth it to me to come home every day to an apartment I feel excited about, rather than one I feel like I'm settling for. Extra-especially if I can do all that without having to pay a broker's fee.
---
Support The Billfold
The Billfold continues to exist thanks to support from our readers. Help us continue to do our work by making a monthly pledge on Patreon or a one-time-only contribution through PayPal.