Brunch-ian Economics
by Jinna Wang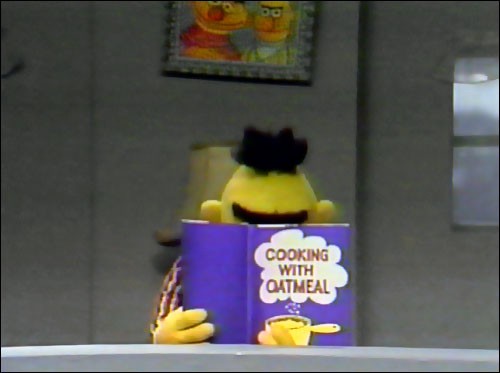 Most weeks, around Wednesdays or Thursdays, I receive the following message: "Brunch this weekend ☺?"
Unless the occasion is a friend's birthday, my usual response is: "Sorry…already booked!" I don't feel guilty about my white lie. I simply hate brunch.
I confess my hatred of brunch only to my closest friends, and even then, I get the inevitable reaction:
"But how could you hate BRUNCH?" they would stare at me wide-eyed, as if I had confessed that I hate Beyonce. For the record, I think she is okay.
I like bacon, eggs, and any valid reason to start drinking before noon, but I detest spending $30 for approximately $5 of value. Seriously, check out the breakdown. The chart on the left shows a typical brunch order for four with 17% tip. The chart on the right shows the cost of groceries for the same items, cooked at home.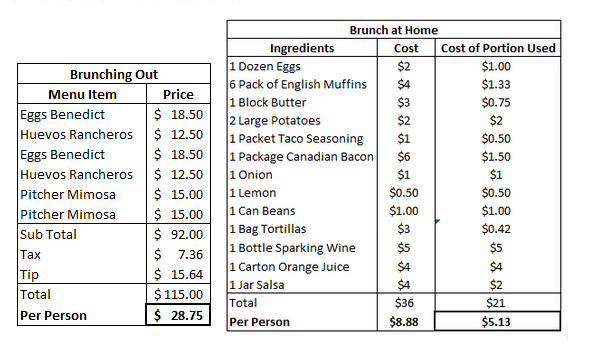 Low cost items such as eggs, potatoes, and pancakes are easy profit drivers for the restaurant industry. That combined with the standard 3–5x mark up for alcoholic beverages makes brunch an easy financial decision for the restaurant. On the other hand, a nice profit for the restaurant = bad value for us.
My most brunch-addicted friends go brunch at least once a week, at least 50 weeks out of the year. The bill for a standard brunch outing easily surpasses $30/person, but we'll round down to $30 for ease of calculations. $30 * 50 = $1,500/year, and that's not taking into account the 3+ hours of lost productivity resulting from the standard drunch (that's drunk brunch for short). For anyone with a freelance-friendly skill and a side-hustle, those three hours could turn into hundreds of dollars.
There are many things I can buy with $1,500, including but not limited to:
Pay 1 month's rent in my shared East Village apartment;
Buy groceries for an entire year from Trader Joe's / Key Food. Whole Foods is still out of the question.
Fund a week's vacation in Europe, airfare included
As much as I can see the appeal of going out for brunch (catching up with friends, great Instagram opportunities, no clean up), the same experience, or at least a similar experience, can be easily created at home for much less. If Rachel can host a brunch for 40 people in a small apartment, we can at least try to host a brunch for four.
Recipes:
All ingredients are listed under the "Brunch at Home" table.
1) Huevos Rancheros (2 servings)
Total Prep Time: 15 minutes
– Dice Onion and potatoes and fry in a tablespoon of butter over the stovetop
– Add the beans to the skillet and 2 Tbsp of Taco Seasoning (Trader Joe's has a great one!)
– In a separate skillet (or the same skillet if you are lazy), fry up two eggs sunny-side-up
– As you fry the eggs, microwave 2 cups of salsa (1–2 minutes)
– Place 1 tortilla on each plate, divide the beans + onions evenly, place a fried egg on each, and pour warm salsa over the eggs
– Salt and pepper to taste
Cost per serving: $3.70
2) Eggs Benedict (2 servings)
Total Prep Time: 30 minutes
Hollandaise:
– Melt 7 Tbsp of butter in a saucepan
– In a separate saucepan, combine 2 egg yolks and 1 Tbsp water, and 1 Tbsp lemon juice, whisk vigorously until volume is doubled
– Heat the egg yolk mixture over low heat, and whisk in the hot butter one Tbsp at a time until the mixture is smooth.
– Note: The yolks should thicken rather than curdle, if you find the eggs curdling, take the pot off the heat immediately, and whisk in a Tbsp of cold water.
Poached Eggs:
– In a pot, boil water and lower the heat until the water is at a bare simmer
– Add 1 Tbsp lemon juice into the water
– Crack an egg into a small bowl and slip the egg gently into the water
– Repeat step 3, taking care to keep some distance between the two eggs
– Turn the heat off and cover the pot with a lid, the eggs should be perfectly cooked (runny yolk in the middle) after 4 minutes
– Gently lift the poached eggs with a slotted spoon
The Assembly:
– Melt 1 Tbsp butter in a skillet, half and toast 2 English muffins in the butter
– Remove the English Muffins and place onto separate plates, use the residual butter in the skillet to fry 2 slices of Canadian Bacon until bacon is crispy on the edges
– Place the Canadian Bacon on toasted English Muffins
– Gently place a poached egg on each English Muffin
– Spoon warm Hollandaise over each egg
– Salt and pepper to taste
Cost per serving: $2.83
Mimosas (2 Pitchers)
Total Prep Time: 3 minutes
– Chill both the sparkling wine and orange juice well
– Combine the two in equal parts
– Serve in champagne flutes
Cost per person: $2.25
In my experience, the key to a successful home-cooked brunch is to have groceries on hand, and to start drinking after the majority of the cooking is done. In less than an hour, you could make brunch for yourself plus three! You'd easily wait in line for an hour for brunch at a restaurant, why not save time on your commute, hone your cooking chops, and save a ton of money by brunching at home?
This story is part of our food month series.
Jinna Wang is a freelance writer living in New York. Follow her non-brunch cooking adventures here.
---
Support The Billfold
The Billfold continues to exist thanks to support from our readers. Help us continue to do our work by making a monthly pledge on Patreon or a one-time-only contribution through PayPal.