A Cupcake Decorator Gets Fired for Being a Hero
by Marne Litfin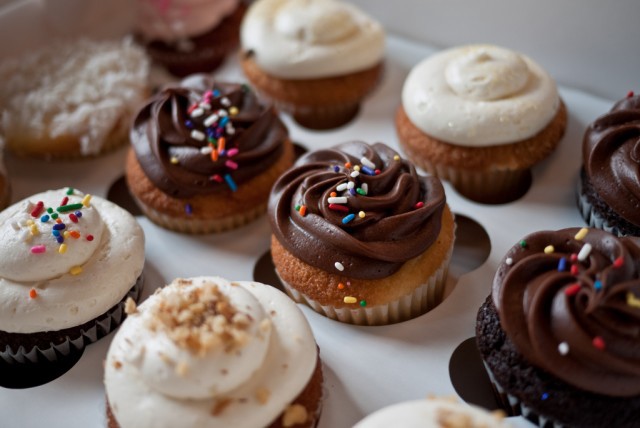 For three sweet weeks in 2008 while the economy was on the brink of extinction, I decorated cupcakes. The job — froster at a cupcakes-only bakery — came from my roommate, who worked there on weekends. She was working part-time at the ACLU during the week. The decorator job opened up when she got a full-time spot campaigning for Death with Dignity.
"It's fine," she explained. "You don't have to talk to anyone; you don't do any actual baking — just icing. Sometimes you do special orders, but those are just different colors. We used to do custom writing. The policy changed after I did an order for a retirement party and had to put 'Way to go, Yolanda!' on six dozen cupcakes."
"Yolanda?"
"It's fine. And you get to take home a box of leftovers after every shift."
"You're giving up your ration of free cupcakes for full-time Death?"

And so I became a nightshift cupcake froster. I walked out the door to start my workday just as my roommate was coming home at the close of hers, dragging in boxes full of signatures and a trunkful of cheeky picket signs behind her: "LET ME R.I.P.!" My shifts ended at 3 a.m. Streetlights lit up nothing and no one in particular; the roads glittered. Seattle's neighborhoods, little sprawls connected by pithy backed-up veins, smushed together in an 80 m.p.h blur while I sailed home along empty streets. Jittery from too many red velvet seconds, windows down and crusty-eyed, blasting "Don't Stop Me Now," trying to stay awake until I fell through the front door and crashed.
I had two co-workers, a pair of guys in their early 40s who did the baking. I worked in the front of the shop, patting frosting on the muffin tops in swoopy shapes and having my way with the sprinkles. They worked in the back; I worked next to the espresso machine in the front. They had their sweaty, hairy forearms elbow-deep in butter yellow batter all night long. They never ate the cupcakes. I practiced my palette knife maneuvering and slammed cupcake seconds into my gob at five minute intervals. We all made $9 an hour.
We were on our own; the managers never worked nights. The shop was empty and clean (the baristas got paid a dollar an hour less but had to mop before they shut the place down at night). Everything was quiet — lights off, gleaming counters crumb-free, chairs upturned and sleeping. A single pendant light illuminated my little workshop of buttercreams and sugar decorations. I was like Gepetto, tinkering alone in the workshop. I could wear headphones. Though it was technically food service, I barely noticed. Until I got fired.
During the job interview I'd mentioned to my manager that I had a prior commitment and would need to take a few days off, three weeks after starting the job, if they chose to hire me.
"I'm, um, having a small surgery sort-of?"
"How can you sort-of have surgery?"
"Um, I agreed to donate bone marrow. To someone with cancer."
"To someone in your family?"
"No, just someone. Anonymous. I'm healthy, they're sick, I don't have — "
The manager waved off my clarification, winced, and thought about it for a minute.
"If this is a one-time thing, then it's… probably fine."
"You'll probably never hear from us" is what the National Marrow Donor Program (NMDP) tells you when you sign up to be on their registry, which takes nothing more than a cheek swab and two minutes of your time. But when they do call you (on a groggy, August afternoon a few weeks before your roommate gets you that bakery gig, and you're moseying around a camping goods store during business hours trying on backpacks because you're in between things) they'll remind you over the phone where and when you signed up.
Here's how that conversation goes:
"Sorry, how did you find me?"
"You joined the registry in April of 2006, ma'am?"
"When did I do that?"
"Yes, ma'am. Let's see … this was in … Ohio. Oberlin, Ohio?"
Fuck. Bingo.
"Oh. Shit. That's right. … I was in college, I was going to rugby practice … I was early. I stopped at a table in front of the library to kill some time. I got a red pamphlet from you," I went on, pouring my life story out to the other end of the line. "It said to expect to never hear from you again. Don't people stay on the list for 30 years and never get called?"
"Ma'am, are you still interested in making a donation?"
This is probably a mitzvah, I thought. And I'm certainly not busy.
"Yes? I guess? Sure?"
"That's great. We're testing eighteen people who could potentially be a match for an anonymous recipient; it's more likely that you'll go back in time and get into Harvard than end up the actual donor, but let's go through a few questions. Have you ever been to England or been a gay man?"

I went to a local hospital later that week for a pre-screening, chest puffed. A quick blood test. Still unemployed, but potentially containing extremely important biological material. I deflated when it was just a couple of tubes to fill. No cookies, no juice box afterwards. The phlebotomist shooed me out the door: "Thankssomuchwe'llcallyoubye!"
Two weeks later, the NMDP called again. The chances were 1 in 20,000-ish, but there was a lady out there with leukemia and we were a perfect match. Was I still interested in making a donation?
"Should've applied to Harvard," I thought.
Donating bone marrow is something of a process. You don't get paid (there are places where you can sell your bone marrow. Spoiler alert: it fucking hurts). When you donate, you're going to enough appointments for a few weeks. It almost feel like you have a job. Because all of the meetings are about you, and how healthy you are (and in my case, how my potassium levels were a little low, so could I please eat two bananas a day for the next couple of weeks to see if we could bump it up?), you feel like a precious, shining star all the time.
There was a physical, an EKG, an STD check, a pregnancy test, a battery of blood tests, a handful of consultations to explain the procedure/prevent lawsuits, meetings with the donor coordinator to sign documents, and multiple trips to the pharmacy and grocery store to procure iron supplements, narcotics (for pain!) and high-protein vegetarian foodstuffs for before and after. All I ate were swiss chard and black bean tacos, plus two bananas a day. A week prior to the surgery I donated a unit of blood — banked for me. Should I need a transfusion after the surgery, they'd toss it back in. These appointments were happily sprinkled during my designated sleeping hours away from the bakery; I was bloodshot and sugar-shocked, and didn't give a shit. I am doing a good thing. If I don't know what to do with my life or if I never help anyone or change anything again, I will have done this, I often thought. I was borderline ecstatic.
Most people who donate bone marrow don't have it removed from their hips anymore; what's more often done now looks a lot like a blood draw. The technicians spin out the parts of your blood that they need and the rest gets pumped right back into your meat sack. You go home four hours later, juicy as a chicken breast. My donation was part of a study to determine the best type of donation for acute myeloid leukemia, my intended recipient's diagnosis. I got assigned to the surgery group. I consented.
The NMDP representative who coordinated my donation, a woman who my grandmother would have referred to as "a real spitfire," was standing over my gurney after the surgery when I came to. She presented me with a bit of unofficial compensation: a plain white mug with the word "hero" stamped on the side, stuffed full of chocolates. She couldn't say where she was headed, but she was carrying a cooler (the kind you fill with tuna sandwiches and take to the beach) containing my bone marrow and she was headed to the airport. "We got a liter!" she cheered, and shook the cooler.
I spent the rest of the day receiving blood transfusions and hydration. I watched Michael Phelps win one gold medal after the next on tv, and a friend dragged me home late the next day. It took ten days for me to fully recover; on my first day out and about I walked the eight blocks, slowly, to a party at a neighbor's, sat on a porch and rewarded myself with an ice cream sandwich. I lifted my shirt and showed off the remaining green and blue and brown flecks the drill had left behind to anyone who asked. I mentioned the hero mug; "they said I'm a hero. They didn't say it. But I have it on a mug." Until I moved away, my friends introduced me to strangers as, "Have you met Marne? She's a hero."
Every day that I was away from the bakery, I called to let them know — first that I was bedridden, then that I was dizzy but standing, then that I was standing but not walking without limping. Five days turned into seven turned into ten. I wasn't dumb. Food service, even the beautiful candyland kind, is still food service. You can't make mistakes. You don't get sick. You don't elect to donate bone marrow to strangers in the weeks before you get hired and then actually do it. Though once you've donated bone marrow, you feel a little more certain that your life is bigger than your food service job. One in 20,000, right?
The last time I drove over to the bakery, it was mid-August and the sun was setting. I headed to my station and wondered if I was going to get called to the principal's office. I waited.
The manager was pacing in the kitchen and headed me off from the bin of clean aprons and called me upstairs to the office. I followed her up the garret stairs to a little paperwork-lined room with a single computer, nestled in a pile of cupcake-themed T-shirts and swag stacked up to the ceiling. "Take a seat," the manager gestured to a folding chair.
She looked at the floor.
There's a woman somewhere getting an IV drip of my blood and guts, I thought.
She sighed. "Yeah, we need to talk…"
I have four puncture wounds and they're still weepy, I thought.
"I'm so sorry, I really don't want to have to do this, we just really needed just someone right away, A little more reliability, I know, I'm really sorry about this, I just, we hired someone else."
My marrow is circulating through someone else's body, I thought.
"Can I have my check at least?" I asked. I got up and left.

I walked with a slight limp out of the bakery. I wafted home, whipped up. I'd never been fired before. The wounds closed up eventually.
A year and a half later, the NMDP rang me up one last time. I was riding a city bus, headed home from my new job. The anonymous recipient of my donation, a woman in her 40s, the coordinator said, was in remission and doing well. She was expected to make a full recovery.
This story is part of our food month series.
Marne Litfin has never met the woman who received her liter of blood and guts. She remains a member of the National Bone Marrow Donor registry. She no longer has any interest in commercial baking. Contact her at marneasada@gmail.com.
Photo: Nate Steiner
---
Support The Billfold
The Billfold continues to exist thanks to support from our readers. Help us continue to do our work by making a monthly pledge on Patreon or a one-time-only contribution through PayPal.