The Cost of Driving My Parents Home from the Hospital
by Douglas Light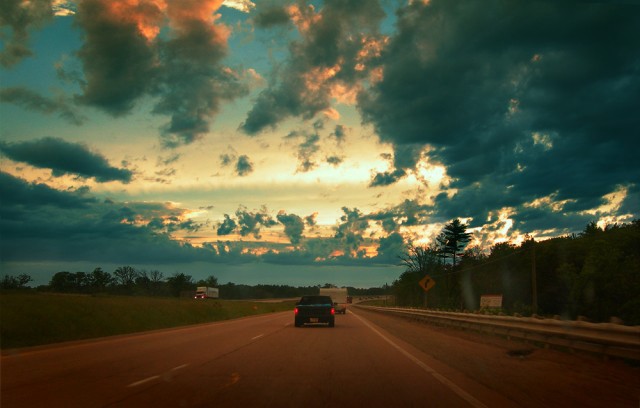 My sister called crying. "Do you know where Thomasville, Georgia, is?" she asked. It was 5 p.m. on a Sunday. She lived in Memphis near my folks, and I lived in Harlem far from any family.
"I've never even heard of the place. Why?"
"Because you're about to go there," she said.
Both my parents were in the ICU at Archbold Medical Center in Thomasville, my father with a broken neck and my mother with a fractured lower back. A truck had smashed into their SUV as they drove home from their Florida vacation.
"Are they going to be all right?" I asked.
The phone line fell silent, and for a moment I thought I'd lost the call.
"Just get down there," my sister said.
Founded in 1826, Thomasville has an oak tree that's over 300 years old and a population of less than 20,000 people. Nestled in southwest Georgia, it's an hour's drive north of Tallahassee, Florida.
My plan: fly into Tallahassee, rent a car and drive up. But an hour's search for flights online left me cold. The next one left the following day and ran $1,000, and it wouldn't get me into Tallahassee until late. I wouldn't make it to Thomasville until after 7 p.m., a solid 24-plus hours after my sister's call.
I checked the distance, direction, miles, and estimated driving time. Thirteen and a half hours straight drive. I could be there well before noon Monday and not have to bankrupt myself doing so.
By nine that night, I was pulling out of the Budget Rent a Car at LaGuardia airport in a subcompact that promised stellar milage.

My parents moved from Florence, Alabama, to Memphis to be closer to my sister and her two girls. "It has some nice weather at times," was the way my mother described the new city. She missed Florence where my parents had a community, friends, and activities. In Memphis, they had good barbecue restaurants and a mounting fear of violence. They also had a camper and Sophie, a maltipoo lapdog.
When the truck crossed the dividing line on the rain-wet road and smashed head-on into my parents, the entire front of their SUV was scorn off. The camper, hitched to the back, ripped free from its coupling and rear ended them, crushing the back of the vehicle. It was a one-two wallop, front then back.
Slammed about, the seat belts and airbag held my parents in place.
Sophie, snug in her carrying cage, launched through the front window. "They found her 20 yards from the wreck," my sister said from the road. Thomasville was an eight-hour drive for her. My maternal uncle was also on the way, driving down from Indianapolis. We'd all converge within a couple hours of each other.
"Sophie's alive?" I never much liked the dog, but still I cared. For my folks sake.
"She's better off than mom and dad," my sister said. We both laughed out of stress.
"God, I hope you make it past D.C.," my sister said.
"Why?"
"There's a snowstorm on the way."
It was the first I was hearing about it.

I've been to D.C. once, for business. My sister, her girls, and my folks had visited on vacation. They'd had a terrible time. "Mom picked the hotel," my sister said. "Went to triple A and had them book it instead of just going online."
My sister said the room smelled like a urinal cake. The pool was murky. "The girls didn't even want to get in the water."
"So you didn't swim?" My nieces loved swimming.
"Oh, mom swam," she said. "And ended up cutting her foot on a broken bottle."
Driving south, I saw the first flakes of snow around Baltimore. As the snow grew heavier, the traffic slowed. The first car spun out around midnight, careened off the road. The second soon followed.
With my windshield wipers on high and my foot skipping from the brake to gas to brake again, I plowed my way toward the nation's capital. The 40-mile trip took nearly two hours, and when I finally conceded to the storm and night, it was hard on 3 a.m.
Pulling off the highway, I parked out front of a hotel and weighed my options. Get a room, crash for three, maybe four hours, then get back on the road. Or crank the driver's seat as far back as possible and try for some sleep.
I broke out my new credit card.
The hot shower felt amazing. The sheets even better.
When I woke at 7 a.m., it was still snowing.

I rolled into Thomasville just before 10 p.m. on Monday night.
My uncle and sister had arrived that morning and spent the day at the hospital with my folks. "Join us at the bar," my sister texted. They were at the Outback Steakhouse near the hotel, but I couldn't get in. The restaurant had locked its doors at 10 sharp.
My sister had left a key for me at the front desk. We'd be sharing a room that night.
Lying in bed watching TV and snacking on cold room service onion rings, I realized two things: I was too exhausted to sleep; I had forgotten to pack socks.

My father came through surgery successfully. My mother, on painkillers, sat in a chair across from my father's bed. "It's a small break," she said of her back. "A hairline fracture. The doctor said that operating would only make it worse."
Propped up with hard plastic neck brace, my father greeted me groggily. "Sorry you had to make it down." It was a Midwestern trait that ran deep in my folks, the feeling that they were constantly imposing on you. I could see their gravestone reading: Hope we didn't bother anyone.
I asked if I could get either of them anything.
My father lifted a hand. "Water."
I filled his cup and positioned the straw so he could drink.
My mother shifted in her chair, searching for a comfortable position. "Do you think they've got corn dogs here?" she asked. "For some reason, a corn dog sounds really good about now."

I needed socks. I needed T-shirts and a fresh pair of pants. I'd stained my one pair of jeans when I'd accidentally sat on my mother's mustard-drenched corndog. Why she'd set it on the chair and not the table, I can't say.
My parents needed things, too. Clothing, toiletries, all items lost or destroyed in the wreck.
I parked out front of Walmart. Outside of cities, space isn't an issue. "Up" doesn't really exist. Want a 10,000 square-foot building? You get a one-story building with a 10,000 square-footprint.
Roaming Walmart's austere and lonely aisles for a solid hour, I didn't find anything I wanted, but I found everything I needed.
Exiting the store, I realized I'd forgotten two things: where I'd parked and what my rental car looked like.

When I'd had my appendix out at age 12, I spent four nights in the hospital. My father had a titanium rod inserted in his neck and was out in forty-eight hours. Medical progress.
My sister, needing to get back to her family, left Tuesday night for home, taking Sophie the dog with her.
The plan was for my uncle, me, and my folks to spend the night in the hotel and then — fresh from a good night's rest — start our journey to Memphis the first thing the next morning.
To say I woke up Wednesday exhausted would imply I'd experienced sleep. I didn't.
My uncle had his own room. I stayed with my folks, helping them to the bathroom, guiding them back to bed, and tending to their needs. At 5 a.m., my father announced that he needed to go back to hospital. The pain was too much.
"Rest," I said. He took another pain pill.
Irritable, wiped out, and worried, I knocked on my uncle's door at six.
He was dressed and packed. "We ready to go?"
"My dad can't make it. The drive will kill him."
My uncle nodded slowly. "We're leaving," he said, "in an hour."
Before the doctor released him, he told my father that there'd be discomfort.
"Discomfort?" my father said.
"Pain," the doctor said. "You'll feel like you were hit by a truck."
"I was hit by a truck."
Helping my father into a sitting position in bed brought tears to both of our eyes. My father was in agony. I was in agony seeing him in agony. "Listen," I said, "I know you're hurting, but we have to get you home."
He swallowed deeply. "If you think we can make it."
"I know we can," I lied.

While not as injured as my father, my mother was still a mess. Her chest was the color of eggplant, bruised from the airbag and seat belt. It hurt her to breath. "Take a pain pill," I said.
"I don't like them."
"There's a lot of things you won't like," I said. "But you're going to have to do them if you want to get through this."
She took a pill and climbed gingerly into my uncle's car.
I wrestled my father into my rental, buckled him up, and dropped his seat back. He instantly fell asleep.
Our trip began.

"We've got to stop," my uncle said. We were in the parking lot of a Piggly Wiggly. I'd hoped to push through, make the entire journey in a single day. I'd expected my father to be the one who made our travels tough, but my mother proved me wrong. She'd been vomiting for five hours straights, the pain pill reacting poorly. "My floor mat can't handle much more," my uncle said.
We made it to Tuscaloosa, home of the University of Alabama, and stopped for the night. Finding a room took effort. All the hotels were booked for the U.S. Track and Field John Mitchell Alabama Relays.
After an hour calling and driving around, we found a place.
"Do you have a wheelchair?" I asked the front desk manager. After the trauma we experienced getting my father from the car to the restroom at McDonald's, I knew he'd be hard pressed to walk all the way from the parking lot to the second floor room.
"A wheelchair?" the manager asked.
We improvised. I loaded my father onto an office chair with rolling wheels. "Hold your feet up," I told him, pushing him through the lobby. When I hit a patch of rough carpet, I nearly dumped him face first onto the floor.
My folks and I got a handicapped suite with low beds and hand rails in the bathroom. My uncle took the room across the hall.
After settling my folks in, I went to the food court in the mall across the road and got them dinner.
"Thank you," my father said, holding a spork full of mashed potatoes. "For everything."
My mother nodded in agreement.
"Call if you need anything," I said. My uncle and I decided to step out and grab a drink at the TGI Friday's in the mall.
At the bar, my uncle and I shared nachos and laughed at the the absurdity of day. "I love my folks, but I can't — " My phone chimed, cutting me off.
My mother. Calling.
I answered, worried. "What's wrong?"
"It's your father," she said, her voice spiked.
"What happened?" Motioning to my uncle that I needed to get back, I headed toward the exit.
"It was an accident," she said, "but he drank my Coke. If you could get me another on your way back, I'd appreciate it."

We arrived in Memphis at 11 a.m. Friday morning and trundled both my folks into their home. "I'm heading on," my uncle said, having said his goodbyes. He climbed back in his car. Indianapolis was seven hours away and he wanted to be home by dinnertime.
My sister came over, and we talked logistics. "I've spoken with their doctor and I've lined up an aide to come help," she said. "Plus I've taken a leave of absence from work."
"I can stay another week," I said. "More if I have to."
We decided I'd come back in a week and a half to give my sister a break.
That afternoon, I dropped the car at the nearest Budget rental location, telling them I'd had an emergency and couldn't drive it back to New York. Then I went online and bought a one-way ticket from Memphis to New York for 5:45 the next morning.
I took care of the goodbyes before my folks fell asleep for the night.
The cab picked me up at 4 a.m.. The cabbie, a woman with neon yellow nail polish, was chatty. Her shift was ending. "Closing it down after you," she said. She only drove weekend nights and was a secretary for a construction firm during the week.
"You like driving?"
"You mean do I like picking up drunk strangers and driving them home?" she asked. "Love it!"
We laughed.
For a solid 10 minutes, we drove in silence. Then she said, "Sometimes, I dream about just driving on. Just keep going and not coming back ever, you know?"
We stopped at a red light.
"You could," I said. "Head to New Orleans or Florida. Sit on the beach and drink cocktails."
Night had ended. Morning struggled to begin.
Her eyes caught mine in the rearview mirror, locked on me hard. "Yeah, well…" She tapped a photo of two young girls that was taped to the dashboard. Her daughters. Her family.
The streets, empty, glistened from the street lamps. No one else was on the road. We could blow through the red.
Still, we waited. We waited for the light to turn green — waited for the signal to say, go, go, go.
Costs
Rental car: $345
Gas: $112
Hotels: $374
Food: $171
Alcohol: $67
Clothing/Supplies for my folks: $189
Clothing/Supplies for myself: $71
One-way flight: $374
Cabs: $127
Total: $1,830
This story is part of our relationships month series.
Douglas Light co-wrote the screen adaptation (The Trouble with Bliss) of his debut novel (East Fifth Bliss). The film stars Michael C. Hall, Lucy Liu, and Peter Fonda. His story collection, Girls in Trouble, won the 2010 Grace Paley Prize. Blood Stories, his most recent collection, was published in March 2015. His new novel The Wobble will be published in 2016. Visit www.douglaslight.com for more information.
Photo: Faramarz Hashemi
---
Support The Billfold
The Billfold continues to exist thanks to support from our readers. Help us continue to do our work by making a monthly pledge on Patreon or a one-time-only contribution through PayPal.