Paying Me To Go Away: Crowdfunding A Writer's Residency
by Courtney Gillette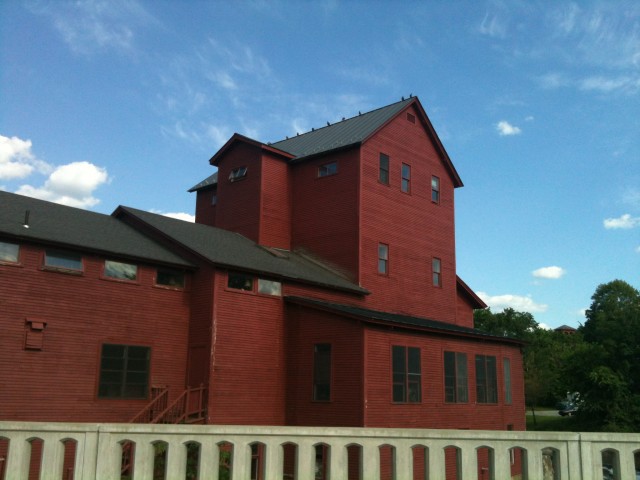 On my way into Penn Station, my suitcase tipped over and went bouncing down the empty escalator, spinning out on the linoleum floor below while passengers on the up escalator raised their eyebrows. I had four bags with me, and that was packing light. For one month I'd be living in Vermont, revising a book I had written — or at least that's what I was supposed to be doing.
"What if I nap the whole time?" I worried to friends the night before. We were crowded around a long table at a Mexican restaurant in Brooklyn.
"That'd be okay," one friend said.
"That's not going to happen," another laughed.
I've been applying to writers' residencies for more than ten years. The idea of being presented with a chunk of time away in some idyllic place to write and write and write feels like fantasy, the same way I feel about maybe owning a beach house or being debt free. Possible for others, but probably out of reach for me. I've filled out dozens of applications over the years, honing them from the predictable ("I'm looking for the immeasurable gift of time and space") to the specific ("I'd like to revise the second draft of my memoir in progress, Teaching & Drinking.")
My tolerance for rejection grew strong, so that an e-mail which opened with "Unfortunately," was quickly archived and crossed off my list. Then there was the day two years ago that I received an e-mail that began, "Congratulations!"
I clapped a hand over my mouth before reading any further details, looking around the coffeeshop I was in to see if anyone was watching. I had been awarded a four week residency for the month of April at a writer and artists' colony in Vermont. There was just one catch. They weren't able to offer me a fellowship, and instead offered a scholarship package that paid for half of my residency. The other $2,000 would be up to me.
I turned it down.
I couldn't justify it. I tried, talking myself in circles before the deposit was due, thinking, what if I put it on my credit card, what if I applied for another grant to pay for it? Would it be an investment, would it be worth it, or would it just be a financially stupid idea, to pay money to go away for a month in which I would not be paid to work? My day job was a full time salaried gig at a nursery school, and I could bank my ten personal days and spring break vacation for the residency. But I would still come up about $1,000 short in docked pay. Plus, I'd be paying rent, a ConEd bill, a phone bill, and my student loan bills for the month I wouldn't be in New York.
"You have the whole month of August off," one of my writer friends pointed out. "Just make your own residency here."
I tried, but it wasn't the same as disappearing, leaving behind the brunch dates and the litter boxes and the gym membership and the groceries. When April rolled around, I felt a pang of regret: I'd made the wrong decision, despite everything. If some New England place wants me to come write there for a month, I should find the money and make it happen.
Every year I apply for two to three residencies, and last summer I decided to throw my hat into the ring for the same Vermont residency that had offered me a half-scholarship. This past August, the same e-mail turned up in my inbox ("Congratulations!") with the same scenario: no fellowship, but a half-scholarship and a price tag of $2,000.
I made a plan to save up the money, but on my meager non-profit nursery school secretary wages, saving $1,700 in six months was not easy
I scraped together the $300 deposit, paid it, and told myself I would figure the rest out later. I made a plan to save up the money, but on my meager non-profit nursery school secretary wages, saving $1,700 in six months was not easy, especially considering the repayments for the damning student loans I'd borrowed for my MFA. When the invoice for the remainder of my residency tuition appeared in early February, I had only saved about $900. That money could float what I'd lose in wages by taking a month off, but I had no idea how to pay the tuition balance.
"Why don't you raise the money you need?" my friends asked. I balked. Who was I to ask all my hard working friends and family to donate money so that I could go sit my ass in a cabin in the woods and write my selfish alcoholic memoir? If I wanted to write a book, I needed to do it on my own time. And if I wanted to go to a residency, I needed to keep applying for the ones that wouldn't cost anything for me to attend.
"Just ask for help," my friends coaxed me. "See what happens."
I asked for the time off, which my work graciously allowed, going so far as to hire a temp to cover my position while I was away. Then I set up a Go Fund Me page, which included the Doris Lessing quote I kept tacked above my desk: "Whatever you're meant to do, do it now. The conditions are always impossible."
I raised the $1,700 I needed in one day.
It was humbling: teachers from the school I worked at, ex-girlfriends, an aunt in Arizona, some musician I once met at a wedding, mentors, my retired father, poets I'd done readings with, my freshman year roommate. People showed up. People were happy to help. In fact, because I did such little sharing of my fundraiser, when friends and family found out about it after the fact, they were disappointed they hadn't had the chance to chip in.
No one ever wants to equate money with love, because that is gross, but I'd be lying if I didn't feel very loved that day.
No one ever wants to equate money with love, because that is gross, but I'd be lying if I didn't feel very loved that day, and beyond. I always wound up writing in a vacuum of self-doubt and determination, and asking for money to write pierced that vacuum, giving me a boost of confidence. People loved me, and people wanted me to write. For months, I'd been hating on my manuscript, trying to revise on weekends, but only falling into despair. This residency may not be what I thought it would look like — some great juror sweeping me up and deeming me worthy of time and praise — but it could be just what I needed to finish the damn book.
My writing studio for the residency was a cozy, quiet office with a wide window, overlooking a river. Meals were provided three times a day in an old mill across the street. All I had to was sleep, and write, and eat, and take walks, and think about art and writing and everyone who loves me.
On the first day in my studio, I hung up a piece of paper that said, "These people believe in you," followed by an extensive list of everyone who supported me by chipping in or sending me encouraging e-mails or telling me it was okay to ask for help. I've always loved that writing is affordable, without any expensive equipment or processes needed to make it happen. There's no doubt that I want this to be the only time I ask for financial support. There are other residencies and opportunities out there that I'm capable of, and I feel closer to them now, steady on the foundation of how many people believe in me here and now.
Courtney Gillette is a writer and ex-teacher, as well as co-host of the reading series The Hustle in Brooklyn.
---
Support The Billfold
The Billfold continues to exist thanks to support from our readers. Help us continue to do our work by making a monthly pledge on Patreon or a one-time-only contribution through PayPal.