Adoption Fees, Court Costs, Taxes: The Hidden Costs of Same-Sex Parenthood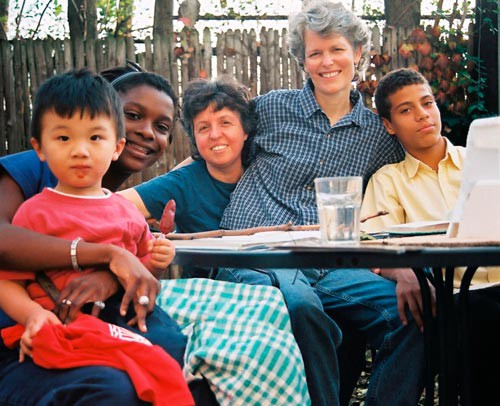 All happy families are alike. This one is from the great doc "Off and Running."
In honor of both #RelationshipsMonth and the fact that the Supreme Court is currently tussling with the issue of Same-Sex Marriage, I spoke to journalist and small business owner Julia Reischel about her experiences being a queer wife and mom in two different states, pre- and post-DOMA, and, specifically, the hidden costs of same-sex parenting.
In Boston in 2008, with the help of what's called a "known donor," Julia's then-girlfriend Lissa got pregnant with her daughter, Ruby. Shortly after Ruby's birth, Julia told me, "Lissa adopted her own biological child." Why on earth would someone have to formally adopt her own biological child? "The best way to sever the known donor's parental rights is to do an adoption. We did it with his complete consent. That was part of the contract; he didn't want to be on the hook for child support and we didn't want him to have a scintilla of control."
In 2009, Julia said, "I decided I wanted to marry Lissa and adopt her kid. Lissa ended up adopting her again at that point because the judge didn't know the difference. It's ridiculous! It's farcical." Costly, too, though not as costly as the process could have been, since they benefited from free help offered by Harvard law students.
"I married [Lissa] in 2009 on Ruby's first birthday, 'cause we're cool like that," said Julia. "Then it took six months for the paperwork to go through, a long time. There was a really long wait-list.
"I was waiting to quit my job and move away and we were waiting for the adoption to go through before I did that. We couldn't just move to New York and re-file for adoption because New York didn't have gay marriage at that point. It was inadvisable, so we waited. It cost me a good six months; I was just waiting around at my job, waiting to quit. As soon as it happened, I gave my notice."
Lissa was freelancing and parenting at the time, and the cost of health care was one of the main reasons the family had to move. "The reason we decided to leave Boston and start a small business in New York is because health insurance was too expensive," said Julia. "At the time, New York had subsidized health insurance for small businesses; we enrolled in that. At my job in Massachusetts, their health insurance wouldn't cover my wife because she was not a man. (The health insurance company was based in Minnesota [which didn't recognize same-sex marriage].) The details of this were so confusing but essentially Lissa could not be covered because we were gay. We would have had to buy her independent health insurance."
What about Romneycare? "Romneycare wasn't affordable either because we made too much. Because Romneycare thought we were married, we didn't qualify."
In other words, they were trapped in a bureaucratic cul-de-sac straight out of Brazil: because the state did recognize their marriage, the family made too much money for Lissa to qualify for state insurance through Romneycare, so she couldn't get covered; but because Julia's health insurance through her job did not recognize their marriage, Lissa couldn't get covered through private insurance, either. There was nothing to do but move.
As Julia put it, "There was no risk in leaving that job and starting a small business because of our weird family situation.People are loyal to jobs if for no other reason than for the benefits, but once that last net was cut from us, there was no reason to stay."
Now, in New York, "we're on Obamacare. We buy subsidized coverage. It's horrible but it works. Yay! I've never had good health insurance in my entire life."
What was their 2009 wedding like?
"We went to City Hall and had a party in the backyard. $2000 for everything. Lissa sewed our dresses out of curtains."
"Our marriage was exactly like a straight marriage," said Julia. "We went to City Hall and then had a party in the backyard. Only about $2,000 for everything. Lissa sewed our dresses out of curtains. I was like, 'Fuck this, this is stupid.' I didn't want to spend any money. But she said, 'You are not getting married in pants.'
"This has nothing to do with being gay; I just didn't want to make a big fuss about getting married. I was refusing to spend money on a dress or any outfit. She insisted that we needed to wear special clothing though and so her compromise was to go all out and make these tremendous complicated dresses with trains. She bought the trains new but she had the curtains lying around already. We paid $500 for a photographer, $500 for goat meat from the jerk chicken place. It was really delicious. And chairs! We rented chairs.
"Lissa found a Baptist church in Rhode Island that was going out of business on Craigslist. A new pastor was coming in and ripping out all the pews and selling them for nothing, so Lissa snapped up eight pews and rented a Zipcar truck and loaded them up and brought them back. So we had pews in the backyard. Our friend who is now a monk officiated. He's a doll. A gay monk." (Is that allowed?) "You know, it's complicated. He did not have any official authority to do this; but he was the spiritual element of our wedding."
In 2010, shortly after the family moved to a small town in the Catskills, 100 miles north of New York City, New York legalized same-sex marriage. Then Section 3 of the federal Defense of Marriage Act fell. The result? A vastly easier tax situation and a lessened tax burden.
"The most exciting thing about having DOMA struck down is that our taxes went down by half," said Julia. "Last year was the first year that our taxes had federal and state marriage on both of them. That was miraculous, amazing." While the entirety of DOMA stood, they had had to file jointly on the state return and separately on the Federal one. "One of [us] had to choose to claim the kid. On my withholding at my job, one of us had Ruby as a dependent and one of us couldn't. Taxes are the place where this really actually matters.
"2014 was the year that DOMA was gone, so that was the year that we filed jointly everywhere. It was very simple. Our accountant only had to file one return, and it saved us $1000 to $1500. That was the most exciting thing."
Of course, not all couples nationwide see the same benefits. "People in Mississippi still have a nightmarish tax scenario," said Julia. "You're doing a fictional thing: you're pretending to be both married and not-married." To do that, you need a really good accountant.
Other hidden costs of same-sex parenting for women who want to bear children can include whatever assistance is necessary to get pregnant in the first place.
"We can't just fuck until we have a baby; that's not an option for us."
"The cost of having a baby if you're infertile — as I am — is really expensive. We can't just fuck until we have a baby; that's not an option for us. I wish it were. The cost of medical care and fertility treatments mean that I can't do that. We have [another] known donor and I've been getting inseminated every month and it's not working. So I'm not having a kid. I'm choosing not to put hormones in my body, and that's a decision being forced upon me by the cost. I'm deciding not to.
"IVF costs $9,000 — $15,000 for one shot. And that's not covered for me."
Lissa might get pregnant again but, "at 38, about to turn 39, she's about to age out. We're deciding now whether to try."
In the meantime, Julia and Lissa are happily raising their little girl in a small mountain town. Have they experienced any issues integrating? None so far. "She's in the local public school. They give us free education and free after-school childcare. They're accepting to a fault! They don't mess with me ever. They're super nice, the nicest people. If you're bringing a kid to a dying school system, it doesn't matter who you are. They will shelve whatever issues they have and welcome you to the community. Public education has been fabulous for Ruby and fabulous for us, fabulously free."
This story is part of our relationships month series.
---
Support The Billfold
The Billfold continues to exist thanks to support from our readers. Help us continue to do our work by making a monthly pledge on Patreon or a one-time-only contribution through PayPal.