The Sistercation
by Megan Reynolds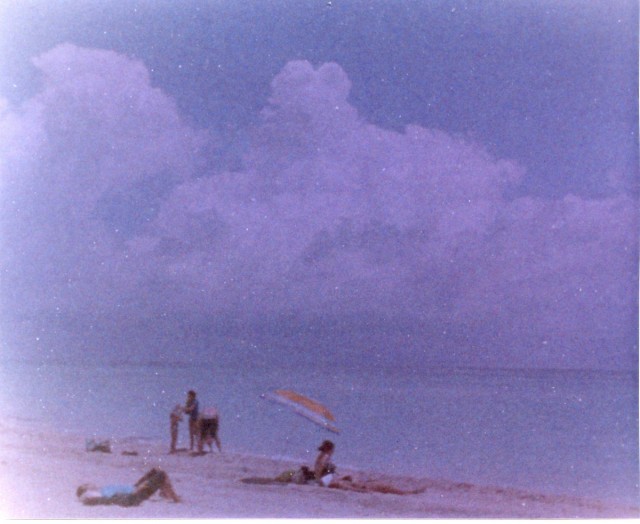 My sisters and I decided to go to Miami one night, sitting in my living room while watching "Property Brothers" and arguing over whose turn it was to get up and get the chips from the kitchen. We had never been on a trip together, alone, and it was the only time that we had the funds to do so. The excuse was Shaina's birthday, but really, after the ceaseless cold, the thought of sitting on a beach with the sun on our faces was too much to resist.
We booked the tickets after frantic Gchats and countless planning emails, researching deals and looking at travel packages. We made extensive lists of pros and cons, detailing possibilities. The night we actually bought the tickets, money was an issue for one of my sisters, who kept insisting in louder and louder tones that purchasing the ticket was totally fine, though her tone assured us it was quite the opposite.
"I'll just move some money around so that I can pay rent in March," she told me over a cigarette on our roof. We had left the others inside, uncomfortable in the air that was heavy with our fight.
When we came back inside, it was resolved. Jenny put a lot of money on her credit card, and we all transferred her money as quickly as we could.
Vacation is expensive. Miami is not a cheap city. Usually when I travel, I stay with friends. Hotels are special occasions, reserved for the rare business trip, and are therefore a luxury — a private time when I can eat room service that I'm not paying for in a bathrobe while watching cable. Before we settled on a place to stay, I floated the idea of an Airbnb. I found a houseboat in Key West that seemed charming, but became less so once I realized that we'd be trapped on a boat smaller than my bedroom for four days, bobbing in a harbor with no privacy and little chance of escape. It didn't matter, in the end. Our hotel room was basically the same size, but it was a block away from the beach and around the corner from a deli that sold guava pastelitos for $1 and thick slices of bread pudding that we ate during naptime one day, tucked into our beds and watching cable.
The first day we arrived, the air was thick and soupy in a way that we hadn't felt in a long time. My sister Jenny was on the phone the minute we landed, issuing directives to her coworkers who were clearly suffering mini-meltdowns in her absence. As we got into a cab, she barked something about Swiss funds and smoothly opened the back door and slid in, cutting me off at the pass. I sat in the front and watched palm trees and blue skies zip by as we sped over the causeway.
Traveling with friends is laced with anxiety, because money is always an issue. I have a problem when I'm anticipating a vacation: I start spending money before I've even left Brooklyn. Things purchased in advance of the vacation seem totally worth it, so I spend with reckless abandon at the drugstore, buying travel sized shampoos and magazines. Making a budget works, but it's hard when you've blown it before your plane has taken off, on taxis and airport snacks and packs of gum.
I have known my sisters for their whole lives, but I have never travelled with them. When we got to the hotel and headed to the pool the sun was setting and the sky was streaked hot pink and purple. We were in a pool despite the chill in the air. When a man came around and dropped off two mojitos to a couple sitting across the way, arms entwined, sharing a cigarette, we flagged him down. The drinks he delivered poolside were exorbitantly expensive, $16 for a mojito and $8 for what was assuredly a Tecate poured from a can into a plastic cup.
"It's a vacation!" we told ourselves. "This is how it's supposed to be."
Money fell out of our pockets at every turn. The hotel charged $10 to rent a beach towel and a chair, which we did, because the sand is hot, and we didn't think to pack towels ourselves. The food we got that day came from a taco truck a ways down the beach, past fancier resorts with cabanas and side tables attached to those big, wooden lounge chairs with cushions instead of plastic slats. My sister ate a salad that tasted like a hamburger, and I paid far too much money for a frozen lemonade that was inordinately refreshing.
To be honest, we spent most of our money on food, as we do when we are at home. Our budgets were drastically different, as are our stations in life, but somehow, we made it work. Traveling with friends is a different experience, and you're expected to adjust your personal finances to meet the needs of everyone else. I've been the person on group trips who somehow has $150 to spend for the next four days and find myself nursing one beer very slowly at a bar, or not going out to save what little money I have. It's not that I'm expected to spend as they do, because we are traveling together. It's just that the older I get, the worse I feel when I somehow don't have the money to go to dinner every night and buy all the beer for the weekend.
With family, it's different. The veneer of respectability, the reluctance to speak about things that matter like whether or not you will be able to fend for yourself before your next paycheck disappears. I can safely indulge in my frequent, under-the-breath budgeting without feeling like a weirdo. On this trip, we were all in a safe space, safe enough to tell each other that no, we didn't want to go to that restaurant because it's too expensive, and yes, we'd rather eat these sandwiches at a sandwich stand next to a Walgreens that looks like a spaceship. That's the way vacation should be.
Megan Reynolds lives in New York.
Photo: Phillip Pessar
---
Support The Billfold
The Billfold continues to exist thanks to support from our readers. Help us continue to do our work by making a monthly pledge on Patreon or a one-time-only contribution through PayPal.