The Last Days of Target Canada
by Erica Taddeo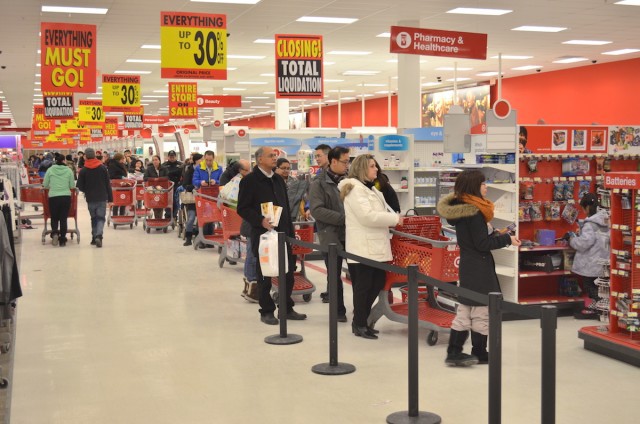 When Target, the popular American discount retailer, arrived in Canada, it was doomed from the start. Target made the mistake of launching its stores in locations that used to house Zellers, a Canadian-based discount retailer that found itself struggling in the 2000s after the arrival of Walmart Canada. The end of the Zellers chain was lamented by a generation who probably hadn't been to a Zellers in over a decade. Zellers had a few things going for it: their candy was cheap, which was a blessing in my college days, and they stocked the coveted red Canada mittens every Olympics. That's about as good as it got. The stores had faded gray walls, which were poorly lit by aging fluorescent lights. A lot of the things they sold weren't of great quality. Many locations were flanked by a diner that looked like it, too, had seen better days, and maybe a health code violation. I know a couple who joked that if they were ever to break up, they would agree to do so in a Zellers diner, because the place just looked so depressing.
American commercials for Target were all red bullseyes and cheer, and they made me want to shop there. When I did, either on vacation or on cross-border shopping trips, I loved it. Everything was affordable, the clothes were nice, and they sold bags of candy bigger than my head. The stores were spacious, beautiful, and welcoming. I could pick up a macchiato and sip it while browsing through DVD sets that cost half as much as they did back home. My anticipation grew as Zellers stores were shut down and made over into Target locations.
After the grand opening, Target devotees were pleased — if not slightly disappointed — by the small differences between Canadian and American stores. New shoppers walked in and dismissed it as another Wal-Mart, which was a pretty reductive thing to say. Didn't these people realize that Target was so much better? They have better lighting, nicer stuff and a Starbucks! How could anyone not realize that an in-store Starbucks is better than an in-store McDonald's that hasn't changed since 1994?
The casual shoppers didn't stick around. The faithful stayed, despite problems with stock. Target's shelves were rarely full. I stopped in once a week between work and a writing class, even if I didn't plan on buying anything. If I knew I'd need hair gel or nail polish remover in the near future, I'd buy it as soon as I saw it rather than risk finding it out of stock next week. Some shoppers complained about pricing, saying that Target Canada was more expensive than its American counterpart (this is true of almost anything money can buy in Canada, but Target's prices were reasonable).
Despite its shortcomings, or perhaps in spite of them, shopping at Target was a pleasant experience. The store was clean, and the staff easy to find. They carried the capsule collections from Altuzarra and other fashion designers. Shopping at Target was the ultimate retail therapy, like that dream everyone has where they stay in a fancy department store overnight and try on all the coats (everyone has that dream, right?). There were no high school teens smearing lipstick on their faces, no preschool-aged children ignored by inattentive parents. There was just me, browsing and buying. I should've known that the dream would end; Target filed for bankruptcy in January.
The closeout sales started a couple of weeks later. Discounts weren't great, due to all the money Target owed its creditors. Maybe their stock problems were caused by the debt they owed to their suppliers. Most notable among their list of creditors? The nine million dollars owed to Carat Canada, a "media planning specialist."
Going-out-of-business Target looked an awful lot like Zellers, the store it had replaced. My former shopping sanctuary was a mess where screaming children were pulled along by parents who berated store employees for not offering lower prices. The Starbucks had already been deserted. I put away my shopping list and ignored my $80 budget. The cosmetics section (30% off) was crowded, so I spent as little time there as possible. Nearly everything I wanted was gone, anyway. I tried to find some peace and quiet and ended up in the clothing section. I spent over $200 on things I didn't want to miss out on. I knew what I was getting into — not-great markdowns, no returns or exchanges, long lineups at the cash register — and I decided that I was okay with it. I wish I could say the same of most of the other shoppers. I honestly have no idea how employees dealt with such belligerent customers knowing that they would soon be out of a job. Some locations have since put up signs asking shoppers not to abuse employees.
A week later, the cosmetics section had been cleared out. The aisles stood empty, cordoned off by caution tape like a crime scene. Unsold products, many damaged or open, had been dumped into large plastic bins. It was not a pretty sight. The entire store looked lonely, despite hordes of shoppers. Stress kicked in and I picked up a sleeveless maxi dress on one of the coldest days in February.
Since then, Target has closed off more and more sections of its store as stock sells out. The discounts are getting deeper and the stores look sadder and sadder. The once-shiny new stores are limping to a sad, quiet end, and no one will miss them but me.
Erica works as a subtitle editor and moonlights as a hockey blogger. She's going to miss Target when it's gone.
---
Support The Billfold
The Billfold continues to exist thanks to support from our readers. Help us continue to do our work by making a monthly pledge on Patreon or a one-time-only contribution through PayPal.